When a Black woman sees a void in the beauty industry that needs to be met, it's a known fact that we jump into full speed and fulfill the need. Founder, Carlyse Thomas of the Curly Cape did just that when she created a must-have product that will make women everywhere experience washing their hair that much better while…Check out her story below.
Can you share your "5 Things I Wish Someone Told Me Before I Started The Curly Cape"?
5 things I wish someone would have told me before I started The Curly Cape:
Even if you have not launched, still research and apply for all eligible small business grants.
Make sure that you have at least 3 months of capital set aside for expenses. 
Do not promote your business or product until you have a confirmed date on when you will be ready to launch.
If you choose to use a manufacturer, make sure that a Service Level Agreement or your Customer Requirementsare outlined in the contract prior to signing.  
Reach out to your network of family, friends and colleagues. You will never know if they are able to assist in the success of your business until you ask.
What is your "backstory"?   
The Curly Cape came to life (sort of) spur of the moment after my own personal experience during an infamous "wash day" routine.  It all started during a scheduled "wash day" weekend in October 2019.  If just the thought of wash day doesn't make most naturalistas already hesitant enough, I knew that I had a long weekend ahead with the process of taking out my crochet passion twists, detangling, pre-poo, shampoo, deep conditioning and then styling.  Furthermore, I have low porosity combination 4 type hair so I knew that the detangling and pre-poo portion of the process was not going to be a walk in the park. 
In the process of using a creamy conditioner and tons of water to pre-poo my hair, I became annoyed with the constant dripping of product onto my shoulders.  I was forced to constantly grab a towel to wipe the product and water from my skin. Desperately trying to find a remedy for this annoyance, I wrapped a towel around my shoulders hoping it would help with protecting my skin and tank top.  You would think this would be the solution to my problem, right? Unfortunately, it wasn't!  The towel kept falling off as I proceeded to twist my hair. Frustrated at this point, I blurted out "I NEED A CAPE!" And so, The Curly Cape was born!
What do you think makes your company stand out?
As a beauty accessory brand, The Curly Cape, LLC, is the only company that creates patented and trademarked products used to protect skin and clothes by absorbing water and liquid based beauty products used for the hair or face.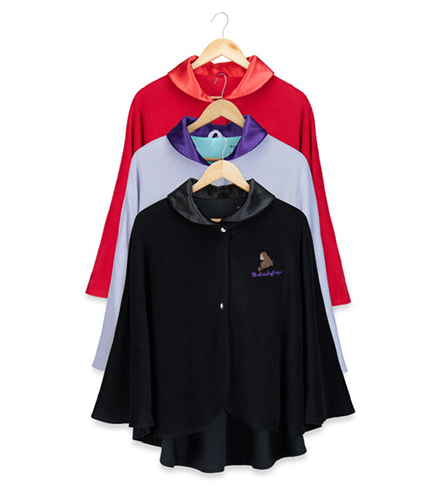 Can you share three things that most excite you about the beauty industry?
The top three things that excite me the most about the beauty industry are: 
The beauty industry has become more inclusive.  Compared to earlier years, it's nice to now see diversity in the market. It excites me to see that women of color with various natural hair textures are represented and that there are more products that cater to a broader audience. 
The beauty industry encourages people to be expressive. Many (including myself) look for ways to reinvent themselveswhether it be changing our hair or just simply trying a new lipstick color.  We all are looking for a form of expression in our day to day lives and I think that the beauty industry is one of the only industries that helps people promote their true identity.
The beauty industry is innovative. Every day, week, month or year we see a new trend that millions of men and women of all ages are eager to try or implement in their regular routines (which explains why I have so many beauty products in my cabinet).  It's exciting that the beauty industry is always changing; there is always something new and innovation breeds success.  
Do you have a favorite book that made a deep impact on your life?
This is a hard question. There have been so many books that have inspired me, but if I had to choose one it would have to be "Uninvited" by Lysa TerKeurst.  This book has assisted me with any feelings of rejection that I may have had or continue to experience as an entrepreneur promoting a brand-new product.
What advice would you give to other CEOs ? 
The best advice that I would give other CEOs is to never give up.
I know this advice may sound like a cliché but when a CEO is dealing with their tough days (weeks or even months) this is the best statement that they need to hear.  Speaking from experience, there have been many days where I felt like stopping.  Especially, after days or weeks without a sale or people blatantly stating that they do not see the benefit of my product. It was hard and continues to be a struggle at times; however, I have to keep telling myself that for every "no" there is a "yes"and it's impossible to get a "yes" if I stop what I am doing.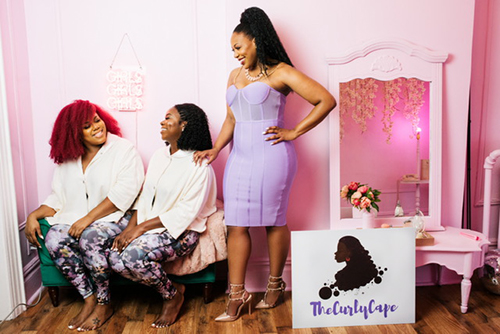 If you could send the Curly Cape to 4 women, who would it be? 
If I could send The Curly Cape to 4 women, they would be
– Michelle Obama 
– Issa Rae 
– Solange Knowles
– Teyonah Parris
Are you working on any exciting projects now? 
At this time, The Curly Cape, LLC is in the process of developing other hair grooming and accessory products for men, women and children.
Favorite quote that you live by?
"Perseverance is my motto" – Madam C.J. Walker
For more on The Curly Cape, click here.
All images by Kirra Cheers