Kharmony Fortune is the founder/CEO of Unlimited Possibilities Music & Talent. She is also known as the  youngest black woman CEO of a reputable management agency in Los Angeles! In addition to that, she's just recently launched her highly anticipated television series, The MELS – a dramedy following the self discovery journeys of three young girls who form a bond on the first day of high school.
How would you describe being the youngest black woman CEO in the city of Los Angeles, California.
I would describe it as an amazing opportunity! It's something I've worked hard for. I've always wanted to be an entrepreneur and to own my own businesses. I wanted to be in a position where I could be creative and help other people accomplish their dreams. I feel really honored.
What inspired you to find Unlimited Possibilities Music & Talent?
I've always had a business mindset, even as an artist in New York City. When I came to Los Angeles, I met a lot of people in the arts and I felt like there was a lack of direction as far as how to package themselves, find the right representation, everyone kind of came here with a common dream but with no direction. I thought it would be a great idea to have a company for artists. I wanted to infuse all of the knowledge that I learned over the years and by being an innovator, I created a hub for us. When we first came about, it was all word of mouth. We're a company made for creators, by creators. We've become a diverse, powerful, big family, and that was my goal! I'm blown away by the responses and how much we've grown, and I couldn't be happier with the progress of the company.
Tell us about the launch of the television series, The MELS.
The MELS is my baby! It comes from this production leg, Unlimited Possibilities Studios. It is my television series directorial debut currently in development. It features three beautiful brown skin girls from different upbringings that meet on the first day of school. We watch their self-discovery journeys and real life challenges between their homes and school lives. It's an inside look at the makings of black girl magic. The young women in the cast, DèLon Shaw (Netflix, Family Reunion), Keturah Gregg (HBO, Insecure), and Anisa Washington (Recording Artist) have been working in this business for years. I've watched them grow myself and this is their time to shine. Everyone has been so supportive, and we promise it's coming real soon! We have a lot of people interested so I'm super excited about it.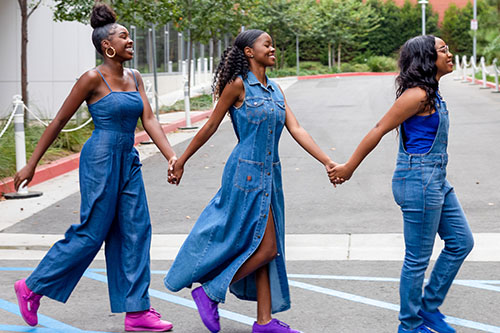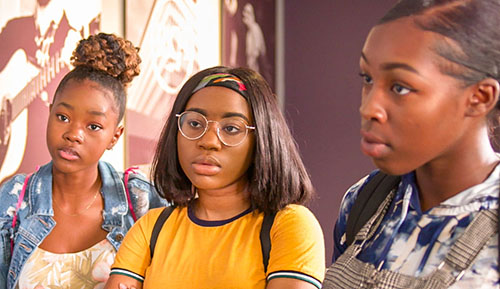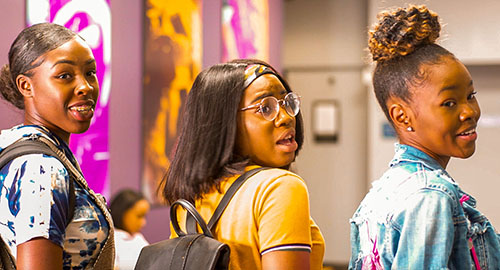 What are you currently working on? What can we expect to see from you in the future?
I'm currently producing two short films, Black Excellence and Gee!  UPMT launched two new divisions, a dance division as well as a queer divison. I'm partnering with people who are like minded to help push the visions forward, whether it's investors, producers, or creators. Reach out to us with your ideas!
For more information on Unlimited Possibilities Music & Talent, click here!
Stay connected with Kharmony Fortune by following her on Facebook, Instagram, & Twitter.
Photo credits: 
The Mels poster 
Photographer @basiabowen 
Graphics @goodley_productions
Headshots 
Photographer @tabiolophotography
goodleyproductions