In a world of grey, pops of color make our world vibrant and exciting. When that color is a bright RED lip, anything is possible. Women everywhere have been adapting and surviving to keep their businesses, families, and selves moving forward against all odds with a pop of color reminding them they are worth celebrating right now. Globally you can find women wearing t-shirt with a bright RED lip and "That Girl" across the front. What started as a way to honor a beloved matriarch has morphed into a global movement championing every part of womanhood.
CEO of That Girl, Natasha Lee-Maxwell, knows all too well what it means to adapt and survive in an unforgiving world. When you meet Natasha for the first time, you know you have encountered one of those people who will move mountains to help you achieve your dreams. She applies her expansive skill set and tireless work ethic to every project she sets out to conquer, whether it be personal, for her community, or for her clients.
A creative professional and business enthusiast, Natasha Lee-Maxwell is a Business Consultant, CEO of Make Your Dreams Come True Corp and Being That Girl, who is vivaciously taking the business world by storm. In her own words, here is her story and the story behind that iconic RED lip and anthem of celebration:
Can you tell us more about, who is Natasha Lee? 
Outside of what the business world recognizes me for, I'm a simple, classy, loving, stylish woman who loves Jehovah, Jesus and my 3 children, family and friends. I find joy in learning, laughing, dancing and enjoying life. 
You are truly a woman of many talents, was entrepreneurship always what you wanted to do? 
I've always known I wanted the freedom that comes from being an entrepreneur. At 8 I knew that waiting till I was 60 to play was not the path for me.
When I was an 8 year old diva, my mother encouraged me to work hard to achieve my goals. While walking to school one morning, she told me that the standard age to retire from work was 60 years old. Of course an 8 year old believes that's their entire life. I looked at my mother and explained to her that I would retire when I was 30 years old. She never doubted my ambition. She replied back, "WORK FOR IT!"
I did just that. Starting my company by the age of 23 was a dream come true for me. In 2006, I launched a virtual call centre hiring over 300 independent contractors globally to help me execute the goals of Fortune 500 companies and small businesses. 
You are a CEO, VP, Magazine Editor, Mogul Influencer, Community maven and your businesses are partnered with many Fortune 500 companies … How did this all come about? 
Sometimes it feels surreal honestly, it feels like just yesterday I was just a teen mom, finding my way. I've always loved to learn and to solve problems. I believe I am able to navigate my way into many industries because the work I do is extremely versatile.
I've been involved in the Business Process Outsourcing Industry in one way or another since I was a young woman. That experience afforded me the opportunity to discover solutions for multiple problems for various industries and companies simultaneously. 
Working in a variety of industries, while solving their problems, allowed me to foster connections in every corner of the business world. Those connections have turned into the relationships and partnerships you see today.
Let's talk a bit about your company, "Being That Girl" and what is the motivation behind it? 
Delores Stark, my mother, was known as "That Girl"  throughout my entire life. My mother would say "I'm that girl" whenever she felt or looked amazing. Her family, friends, and even her grandchildren knew her as being "That Girl".
My mother was BOLD, and THAT Girl was known for giving it to a person straight without a chaser. Her trendy woman fashion and style would turn heads. (Slayage day, noon and night). Her favorite accessory was her Red lipstick. She was elegant, stylish, and BEAUTIFUL inside and out!
My mother passed away 5 years ago. It was a devastating experience. My children and I witnessed her pass away right before our eyes. In the heart of my pain my Big Sister Amishi and I thought to turn my mother's alter ego 'That Girl' into a t-shirt.
Her love for the colors BLACK, WHITE & RED lipstick is the inspiration behind the logo design and choice of women's fashion, including trendy plus size clothing.
Initially, this brand was created to keep my mother's legacy alive. The brand quickly emerged from t-shirts to inspiration. 
For over a decade, I have provided a source of women empowerment to motivate women to collaborate over compete, to grow together, to explore their passions and visions together. Our primary goal is to support the success of women from youth to adulthood while empowering them through fashion, media outlets, education and business.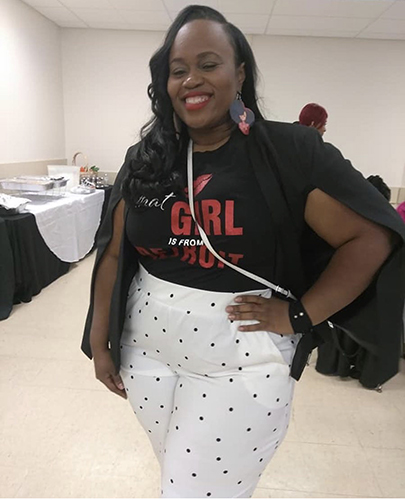 The t-shirt line symbolizes more than fashion, what is the true meaning behind the, "That Girl," t-shirts? 
To celebrate every woman who feels like she's "That Girl". A woman who celebrates her accomplishments whether it's their career or graduating school, building a business or motherhood. "That Girl" celebrates the dopeness of women globally. This is why we love partnering with other women and their organizations. 
I am grateful to partner and be an ambassador with The Female CEO of the UK, OnMogul based In New York and Walker's Legacy (Madam CJ Walker Foundation). More than anything Being That Girl will show the world a unity of women of all races, sizes and experiences working together for one common goal and that's to win together! 
Our shirts celebrate women in every light including: That Girl is a Boss, That Girl is From Detroit (all cities and countries available), That Girl has her Masters, That Girl is Boo'd up, from success to lifestyle That Girl celebrates all things women. 
What would you like people to gain from this amazing interview with you? 
I pray that this interview inspires someone to live their dream despite any obstacles and to find people who are like-minded to live their dreams out with. When I was 15 and learned that I was pregnant, initially I felt like I had earned jail time. When I became pregnant again at 17, I felt like it was a death sentence. The world had already predicted I was a failure and dumped me into the 'hood demographic black girl statistic'. NONE of the world's predictions came true about me. I changed the narrative. If I can do it, so can anyone who is reading this interview. YOU are the answer. Not the man, not the system, not your parents, YOU! You don't need anyone but GOD to help you manifest and live your dreams.  
For anyone interested in learning or joining forces with you and your company "That Girl", how would they be able to connect and follow you? 
Visit us here and click the That Girl Hub tab. Follow me on IG @iamthatgirlnatasha and @be_thatgirl_  and  on our YouTube Channel, Being That Girl.
Do you have any last words that you would like to share? 
BE THAT GIRL!
All images by Charlie G