Essyonna is the definition of a bad bitch. One look at her Instagram page, and it's hard not to fall in love. Her beauty is captivating, demanding attention in any room she walks in. But it's her fun, down-to-earth personality that will hook you instantaneously. 
The Minnesota native grew up to the likes of Avril Lavigne, Kesha, and 50 Cent, which speaks volumes to her eclectic sound. In addition to newer artists such as Doja Cat, Essyonna is drawn to artists who have their own unique sound and style, the ones that stay true to themselves in both their personal and professional life. 
Having moved to Los Angeles alone before the age of 20, Essyonna had to find her tribe, oftentimes shouting out her close-knit circle of friends for always holding her down. Throughout her career, she's landed standout roles in two standout Drake music videos: one being "POPSTAR" with Justin Bieber" and the other "Falling Back."
Fast forward to 2023, Essyonna spends every waking moment in the studio perfecting her craft. Her recent singles "Hate" and "Contagious" are just a preview of what's to come.
Sheen spoke with Essyonna in downtown Los Angeles to discuss her background, love for music, recording process, meeting her team, beauty go-to's, and more!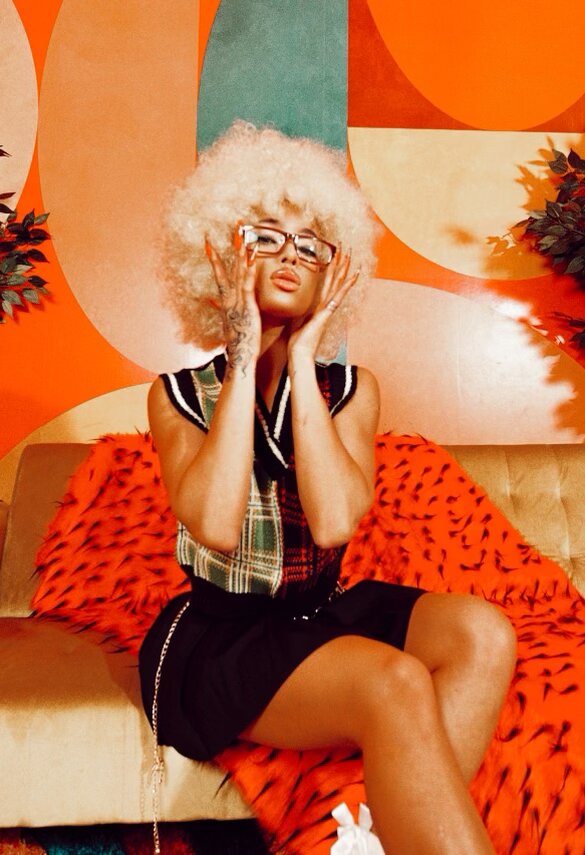 For those who don't know, who is Essyonna?
A shapeshifter, and really the most serious, unserious person you'll ever meet in your life. [laughs] Everyone always says "You have such an interesting personality. You seem so humble and calm..but  I'm a book with a lot of pages forreal. My personality and appearance can go this way and that way, but you'll always be entertained and inspired.
How'd you get your name?
Essyonna ,That's my government name. My mom was freestyling in the delivery room, she was making stuff up, but long story short I'm named after her, her name is Essie.[laughs] 
How would you describe your sound?
My style is definitely eclectic and unique. I can sing and play violin, I like to rap. I like to do hybrid music, so it's diverse but will still make you feel something. It's Essyonna, that's what it is. [laughs] That's the best way I can describe it.
What was the moment you fell in love with music?
When I was 4 years old. I saw the violin on TV, I don't know if it was a cartoon or some kid show. I said mom, I want to play that. She said "Okay." She signed me up for lessons, I'll never forget it because she really did. I didn't think she'd take my little 4-year-old self seriously. No she did, and I stuck with it. That always made me dive in deeper. 
I was always sneaking, listening to songs I wasn't supposed to be. I had a strict sheltered childhood, I went to a religious school. I'll be listening to Kesha and things I wasn't supposed to be listening to my mom was like "no no no." [laughs]. That sparked everything. I started recording my own songs when I was 18  in the studio. Everyone at the studio would always tell me I was a  talented singer, so after recording some records I was like I can do this everyday and I want to , every day of my life. 
First of all, the violin isn't the easiest instrument to learn. 
Yeah, it was interesting. I guess my long fingers? [laughs] Maybe they helped me pick up on it easily. But it was hard, a lot of hours. We had an orchestra and all that integrated in our school, so that definitely helped me pick it up faster.
What's your recording process in the booth? 
If we're making a beat from scratch, do that of course, then build from there. But if it's already made, I'll go in, lay melodies. My team and I will listen to my melodies that I like the best. I'll go in and do top lines, different hooks that I like. We build from there, different verses. Decide the direction: if I'm going to talk shit, if I'm going to be sad, whatever I want to do that day, but it always depends on how I'm feeling and the day really.
What can we expect from the "Hate" music video?
I traveled, so a lot in Japan. I had to, that's my dream place in the world. It's somewhere I always wanted to go. I really like the culture and aesthetic , it really resonates with me. I love anime and all those things. So I was like  I have to shoot my music video there. And everybody always says I'm the Hello Kitty girl, so it just made sense. You'll definitely see a lot of Japan, a lot of activities. [laughs]
What's your ethnic background?
I'm Cuban,Black and German  with a sprinkle of a few other things [laughs]. Everybody thinks I'm Asian of some sort especially because of my last name they get confused but I'm not. [laughs]. My it confuses people, it's Peschong. it's French, the "G" is silent. [laughs]
How'd you meet your team?
About 3 years ago, I was having a really bad session one day. I was in the bathroom about to cry. I'm standing in the hallway. Mr. Munday came out with his long hair, with no shirt on in the hallway. He said "I promise, I'm not usually half naked." I was laughing, because I was so upset. I explained to him I was having a bad session. He said "Come in, play me some of your stuff." I did, then stuck with him ever since. He always believed in me, then JSN joined a few weeks later and we have built a tight nit village of people over the years that we call our team. But it really started with me and Micky in the hallway. [laughs]
What inspired your song "Contagious"?
I was feeling myself one day, I had to get in there. I might have been havin too much fun. [laughs] That one was so fun one to record. it was literally the most random song I've ever recorded, but I loved it so much because it was such a vibe in the studio that day. And it's the first time me and my team  ever recorded together. 
What's the best advice Micky has given you?
He gives me a lot of advice, we spend a lot of time together in life [laughs]. Pretty much every day, it's always some new advice. Definitely, don't get discouraged by the outside stuff. Your music is your music, your art is your art. And that is a beautiful thing, regardless if a million people love it off rip or a hundred people love it off rip. Because if you love it, that's important and people will get to see how amazing you are. Don't get discouraged by what everybody does, trying to go viral for some quick gratification. That's not what it's about in the music industry, or at least it shouldn't be all the time . Art is a different thing. That's one of my main things I always keep in my head: stick to the art.
What are your beauty go-to's?
For skincare, drinking an insane amount of water. I drink a lot of water, that's a huge difference. People take it for granted, drink water. You're drinking soda and lemonade all day, where's the water? It makes a big difference. Also wash your pillowcases all the time. You have to wash your pillowcases because if you don't, bacteria.  For makeup, blush. I'm a blush girl. Put it on, give me life. [laughs] Lots of blush. 
What inspires your fashion style?
Really waking up, I literally wear what I feel like. I can't lie. If you see me one day and what I'm wearing, that's probably how I feel inside. If I'm wearing oversized clothing, it looks like this. Hella emo, I'm having that kind of day. You see me half naked, a little skirt or something, I'm probably feeling myself a little bit. It depends on the day.
Secret to staying snatched?
Don't eat sugar. Stop eating so much candy and fried food and drinking soda. I rarely ever drink soda, especially dark soda. And stop eating that pork. That pork will do it to you. [laughs]
What do you like to do for fun?
I have a dog, I love my dog. I spent a lot of time with my dog. I love my friends, my tight-knit circle. They keep me grounded, so I love to nourish them. And eat. I love to eat a lot, and smoke billy bong. [laughs]
Favorite food?
Sushi, I eat a lot of sushi. And veggie straws. The ranch ones, all of them. The wavy ones, I love every one. They have these barbecue ones, take me away.
What can we expect next?
Lots of new songs of course. Amazing visuals. I'm so excited to show all the videos and visuals, all the things I've created in my mind with the world. That's one of my favorite parts of music. I love recording, writing, all that. But to bring it to life and put it on the screen is one of my favorite parts. I love to be able to take my creative direction.
Photo Credits: Courtesy of Essyonna