From the City of Philadelphia Ashely L, uses her authentic point of view of Fashion to push boundaries in the Industry. She graduated with her Bachelor's Degree in Fashion Design from Miami International Art & Design (The Art Institute) in 2020.
In the summer of 2022, Ashely was nominated to present a Resort Collection for Atlantic City Fashion Week. She has also shown her Fall  Collection "PLANET OUTCAST" for Philly Fashion Week 2023.
She is known for her Edgy, Unusual, Asymmetric, and fresh perspective aesthetics.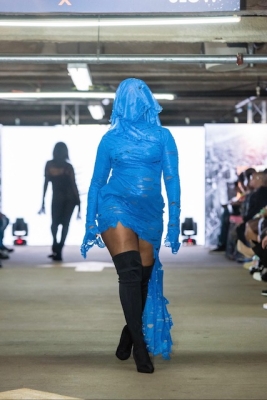 What inspires you? 
I am heavily inspired by both the hip-hop and rock & roll cultures. From the lifestyle to the music, It inspires me to be unapologetically myself and I love to use my fashion designs to express just that.
When did your passion for fashion begin?
From the ages 5 and 6, I could remember having a say in what my parents wore to special events and clubs. I truly enjoyed playing "dress up" so much that I eventually started using my mother's closet as a new option. Fashion is Art and I've always been moved by art since the "play-doh" and crayon days. I must say this has been my passion since birth.
What are your favorite Fall fashion trends? 
My Fall Favs are denim and leather fabrics. The best colors are red, burnt orange, black, and brown. Timberland boots and heeled booties.  Super cozy Loungewear and of course Halloween costumes!
Name 2 fashion icons who inspire you and why do they inspire you? 
Firstly, I'd say Virgil Abloh inspires me for many reasons but most of all he showed me it's possible for African American designers to become the creative director and lead designer of a foreign luxury brand like he did for Louis Vuitton Men.
Secondly, Thierry Mugler. He knew exactly how to bring sex appeal to fashions tastefully and expensively. He has extended the industry by creating haute couture that was out of this world. Most inspiring, he embraced non-traditional models by using drag queens, rap stars, and others.
How can readers stay connected: 
Connect on Instagram: https://instagram.com/le_mre?igshid=OGQ5ZDc2ODk2ZA==
Photo Credits: Photo Provided