Since the pandemic, we all have had a taste of remote work, and some of us don't want to go back into the office because we desire more freedom and control over our work lives. Well remote work expert Libryia Jones works to dispel the myth that working remotely doesn't just mean working from home.
Libryia, The Remote Work Queen, has worked remotely for nearly 15 years and believes that you can do great work from anywhere. She has a goal to help 10,000 moms land remote jobs so they can show up for their families the way they desire.
In 2016, Libryia took a group of digital nomads around the world for an entire year. Currently, she leads a community of over 20,000 women called Wandering Moms and teaches people how to land remote work. In addition to this, Libryia is also a contributing writer for Wrkfrce.
Always ready for the next adventure, Liberia and her daughter can be found pricing their next plane ticket or curating an itinerary- one passport stamp at a time! Her next endeavor is hosting The Quit Commuting Conference, a 3-day virtual event in August 2021 that will be the biggest remote work conference for job seekers.
You stated that you should be able to work anywhere remotely, where are some places that you've had the opportunity to work remotely from?
I've been fortunate enough to travel and work all over the world including Prague, Czechia; Budapest, Hungary; Paris, France; Chiang Mai and Phuket, Thailand; Cape Town, South Africa; Playa del Carmen, Mexico; Medellin and Bogota, Colombia; Lima, Peru; Hanoi and Ho Chi Minh, Vietnam; and all over the US including Miami, Denver, New York, Chicago, Memphis, and Oakland.
There are numerous remote work opportunities you can find on Jooble.
You've set a goal to help 10,000 moms to have the opportunity to work remotely. Why 10,000?
I chose an audacious number because I wanted to approach the goal with tenacity. I could have easily said "I can help 100 or 1,000 moms" and I may have stopped at just creating a course or just writing blog posts. But setting a goal as big as 10,000 encourages me to think bigger – how can we help MORE people. This is actually how the idea for The Quit Commuting Conference came about and how the idea for The Quit Commuting Academy I'll be launching soon came about as well – thinking big to achieve a big goal. 
With already so much that you are pushing and moving to help moms with, you are also a contributing writer for WorkForce.com. Can you tell us how that came about?
The Founder of Wrkfrce, Jesse Chambers, and I share the philosophy that work should be designed around our lives, not the other way around. He created a media company around that belief and reached out to invite me to join the team as an "expert" from the perspective of an advocate for people who desire to work remotely and specifically for those who identify as mothers.
Jesse and his wife work from an RV they've been traveling the US with and I have to say, I think they're some of the coolest people in the "future of work" space.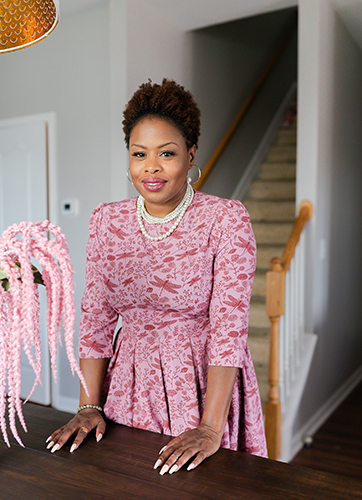 As of today, what would you say is your most memorable role?
My most memorable role was being in the first class of remote customer service agents at American Express working on their Delta Sky-miles card. I was working full time for The Home Depot corporate office at the time but, as a single mom who had recently purchased her first home, I wanted to make extra money, but my daughter was very young at the time. It would've cost quite a bit to cover childcare costs if I had taken a second job outside of the home. American Express allowed me to make money right from my home, my daughter could sit next to my desk and do her homework and ask me questions between calls. I could tuck her into bed on my "lunch" break. 
I call this particular role out because this was probably the first time, I realized that I could have a viable job from home, one with benefits, that paid well enough. In fact, the benefits were so good at American Express, I switched from my benefits at my "day job" to those. 
This was the job that really made me realize there are remote opportunities out there, especially for moms who need the flexibility to care for their families both physically and financially.
What is the future of remote work and the Importance of location independence?
The future of remote work is companies realizing that flexibility is a competitive advantage in the labor market. Employees now truly understand that they can be productive from anywhere and that most companies have the capabilities to allow for remote work. Those companies that offer flexible work arrangements will have an advantage when it comes to hiring top talent. Organizations that allow location independence, meaning it doesn't matter where in the world their employees are located, will have an even bigger advantage as it will not only open them up to global talent but provides a benefit to those who choose to travel or move abroad. 
The challenge for most candidates will be choosing to work for companies that have built a remote work culture and infrastructure that will support their career growth in a virtual environment. I do recommend candidates ask questions during their interviews to really understand how well supported they will be virtually. Some companies have done a much better job of building out a sustainable remote infrastructure than others. 
What is something that you would like to have the viewers receive from this interview?
The understanding and, better, the belief that there are so many options and opportunities available to do the work they do remotely, to learn new skills to work remotely, or to transition to other careers to start working remotely.
I have a course that teaches people how to find and land remote work, it's called The Remote Ready Bundle and it guides individuals through the four stages of landing remote jobs with 17 videos, 4 guides, 2 tools, and 5 resources. The course is self-paced, easy to get through in just a weekend, and costs less than $50!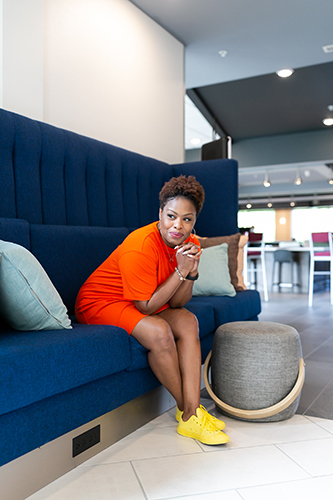 How can people connect with you and everything you have going on?
A great place to start is my website I also regularly share remote tips and information on Instagram, and each week, I host a live Q&A session on my YouTube channel every Tuesday at 6pm CT/7pm ET
All images by Erica J Simmons