Actress, Gail Bean portrays Wanda in the fan-favorite FX drama series, Snowfall. In the season's newest season, we continue to see Bean's character in a different light during the crack epidemic of the '80s. We wanted to catch up with the talented actress, writer, and poet to discuss what she wants each viewer to take away in the new episodes that roll out, filming during COVID-19, and much more.
Tell us about your role in the FX drama, Snowfall.
I play Wanda Bell on FX's Snowfall. I am your average girl from LA in the 1980's who has fallen victim to the crack epidemic. At first, I began as a drug dealer's girlfriend (Leon portrayed by Isaiah John). We were dating intensely, and he brought me in, and I began cooking the crack. In the '80s, we didn't know that touching it and being around it without the mask would also cause you to get addicted. I began using it as a party drug. It slowly but surely became an addiction. Now, in season four, we're in full blown crack addict mode.
What can you tell us about the fourth season of the series?
In this season, you can expect to see all of the characters struggle with some form of addiction, whether it be power and control, their emotions, their love for themselves, or their loyalty to people. That's the ride you will go on in season four. Wanda's journey this season varies from crack to just having fun. She's one of those characters who loves to have fun. I think she is addicted to the thrill of seeking that, the thrill or enduring all of the trouble that comes along with it. In season three, we saw a lot of funny from her. But in season four, life gets really serious. We've seen her truth come out, we've seen her get shot, so we start to see the life path that she has chosen. Her life path isn't the fun and thrill that she seeks and is addicted to.
What do you want people to take away from Wanda's journey?
The most important thing that I try to fulfill every time I step on set is to bring humanity to addiction and bringing it to an addict. As someone who's family and community has been affected from drugs and addiction, I just want to bring humanity to her life. So much has been normalized that we overlook crack addicts or addicts in general. We overlook it sometimes. We should see how it affects everyone around them and how it can affect their mental health. I try to deliver truth in her in every performance so everyone can see she is more than just an addict.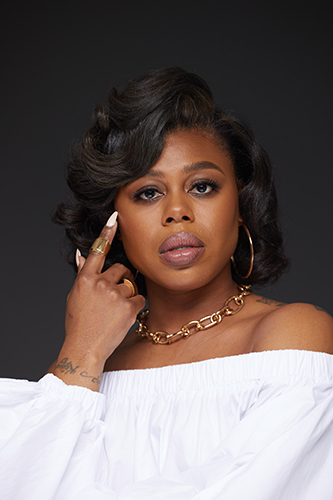 Did you happen to film during quarantine? If so, do you mind sharing your experience with us?
I have actually filmed two shows during the shutdown. I Found Love In The Time of Corona for Freeform – which, when I got cast in the summer of 2020. We were in full shut down. That was the first. I was very excited and also nervous and anxious to see that. They mailed me an iPhone and a rig that they made for me to hang over my laptop, while they were on Zoom. I recorded myself. So, I was the clapper, the person that yells cut, everything (laughs). It definitely got intense at times, I don't see how people can take on multiple roles in production, but it was nice to see and experience. I recorded myself, I cut the camera, and sent it back. When you're focused on the acting, you begin to forget what scene, what take, what number, so I realized how important everyone's job was. I shot that project during the pandemic and I was amazed when it came out. It was so phenomenal. I also shot Snowfall at the end of the year. We went back in September and that was time-consuming. You have to be so cautious to make sure everyone is safe, not just people on set but also the community is safe as well when we film on site. We were testing three times a week. It was worth it, we didn't have any cases, and successful shoots. We were able to bring season four for everyone! It was a nerve-wrecking, but we had to shoot where we could get a location or certain actors. It was all over but it was definitely like an actor's boot camp. It prepared me. Now that I've filmed during the pandemic, I can legit do whatever.
What are you currently working on and what can we expect to see from you in 2021?
I'm always working on something (laughs). This is my year of exposure as a creative. I am a writer, poet, I have a book out that is not your normal poetry style. It's my own style of poetry and rhythm. You can expect more poems from me, books, and more writing. I'm currently working on my own mini-series. I have a few projects that I've wrote that I am in the process of pitching. Just gaining exposure as a writer and producer as well as taking my acting career to the next level. I have a few acting projects in the works. 2021 is bigger and better.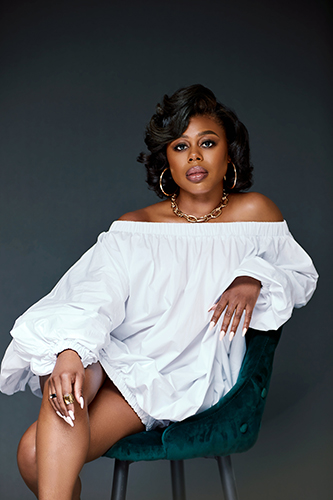 For more on Gail Bean, follow her on Facebook, Instagram, & Twitter.
ALL IMAGES BY STEPHON X
STYLIST: FATIYHA JOHNSON 
MAKE-UP: Nu Look By Lex
HAIR: STYLES BY LEIGH