When it comes to creating looks for some of your favorite TV shows created by the mastermind himself; Tyler Perry, Costume Designer & Wardrobe Stylist; Raiyonda Vereen is on the scene. 
She has created the looks for hit TV shows including Assisted Living, The Oval,
House of Payne, Ruthless, and most recently All The Queen's Men which is a new show staring Eva Marcille Sterling. Check out this exclusive interview with Howard Grad, Raiyonda Vereen on her journey in the fast pace, ever changing, thrilling, world of fashion.
How did you get your start in the fashion industry?
I attended Howard University and graduated with a degree in Business Marketing. I started out pursuing a degree in Fashion Merchandising, but my mom made me change my major because she felt that my talent in fashion design came naturally but I needed to learn the business. After college I got a job at Enterprise Rental Car, and I hated it, so my friends and I started our own entertainment company. We started throwing shows for independent artists. I was so determined to break into the fashion industry that my friend and I made resumes that included our individual work styling our friends. My friend Adiclere introduced me to one of the owners of a production company called Strange Fruit Films. They were looking for a stylist for a Pastor Troy video at the time. They hired me for the video and from that point on I began my career as a wardrobe stylist in the entertainment industry doing music videos. From there, the rest is history.  
What's a day in the life of Raiyonda Vereen
Typically, I get about 6 hours of sleep a night and sometimes I may wake up in the middle of the night to read scripts or create mood boards for a project that I'm working on. Depending on the day, I start with going directly to the office to meet with my crew or I will go shopping to create looks and closet building for the characters/actors. Some days are filled with putting together looks and others are full of fittings. It all depends. When we begin filming, I typically spend the day pulling the line for the actors, this is the process of laying out the costumes each actor will wear during the scenes for that day. After that I'll go to set to establish their costume on camera. 
Can you tell our readers the definition of a Wardrobe Stylist & Costume Designer? 
A costume designer is responsible for reading the script for the television show or the film to create the look for each character. Depending on what's in the script, it is my responsibility to design the costume and style the actor for the role they are playing and the scene. That also consists of balancing the color, texture, fabrics, and the appropriate silhouette.  
What has your life changed now that you are the Lead Costume Designer for TPS?
This role comes with a lot of rules and responsibility. I've had to find creative and effective ways to manage my time and crew so we stay on pace while remaining efficient so that the film crew and director can do what they do. Work has become more demanding, and I've had to get comfortable juggling multiple projects at once. 
With all the projects that you have worked on, which character would you say describes your own style?
Lilly on The Oval. I like to dress her very classy and on-trend with a lot of blazers and chic dresses. It reminds me of the versatility of my own style and gives her the ability to comfortably fit into many different environments. 
Tell our readers about your online boutique, ShopWhichBitch.
ShopWhichBitch is an online women's clothing boutique that sells on-trend items from sportswear to dresses at affordable prices. We recently celebrated our one-year anniversary and are preparing to release our second summer selections.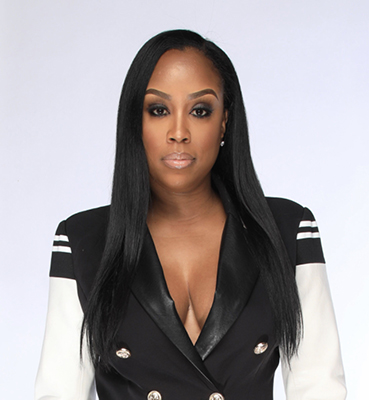 Tell our readers about your new project "All The Queens Men." How would you describe Eva's wardrobe? 
Eva's wardrobe depicts her boss energy. She wears a lot of pant suits and bold dresses to express her power mixed with a subtle display of masculinity with a feminine twist. Eva is known for her beauty and free-spirited personality, so I wanted to make sure that her costumes exuded a slight sense of sex appeal and attitude.
What's next for Raiyonda?
I would like to work on a period film that puts me in a position to win my first Oscar. I've also been working on a new Madea movie that is expected sometime in 2022. Outside of TPS I've been working on growing the shopwhichbitch brand and doing more mentoring and speaking to help other women like me to pursue their dreams.  
What is a quote that you live by?
Live life to the fullest. I like that quote because you never know how life will go and you don't want to live with regrets. 
All images by Cat Harper Photography