After not being able to find diverse games or puzzles, Amanda Wilson decided to change that narrative with A+X Puzzles. This amazing brand provides opportunities for children to see characters that look like them while developing key fine motor skills, such as hand eye coordination, shape recognition, and concentration. You'll learn new words and create wonderful memories for years to come. These puzzles were designed with YOU, your children and your family in mind. A+X Puzzles has something to offer for everyone. Check out this amazing interview below with the CEO.
Give our readers 5 adjectives to describe your brand! 
Fun, educational, intriguing, fresh and cultural.
What made you explore creating A+X puzzles?
When I was pregnant, I was creating my baby registry and couldn't find any diverse games or puzzles, so I decided to change that. I started sketching images when my kids were in the Nicu for 43 days and that's how we got started.
What has been the greatest lesson learned thus far along your entrepreneurial journey? 
The greatest lesson that I learned was that, in order to be successful in business you have to go after your goals with reckless abandon. I was told "no" many times. A lot of email pitches went unanswered, but I stayed consistent and authentic to myself and my brand. Another big lesson I learned was while scaling as fast as I did, I noticed that Black businesses do not need more mentors or webinars, we need more access to capital. This has become a big passion project of mine. I am happy that my publishing team and manufacturers recognized this, but most do not see how flawed the financial system is. We have to change that.
What challenges have you experienced during your entrepreneurial journey, and how have you pushed through them? 
A huge challenge I faced has been dealing with freight shipments during COVID-19. This global pandemic has affected the supply chain business heavily.
For other mothers and women looking to start a business what are 3 things that they should do before they start their business? 
Research your market. What is your industry worth? How saturated is the market? If you scaled today, how much would it cost to manufacture your product? Research is number one.
Hire help. I know we think we can do everything by ourselves and most of the time we can, but you will need help in order to grow your business. It is also imperative to hire help for your mental and emotional health and well-being.
Find your niche. Pinpoint what it is about your business that is different from the other businesses that are similar to yours? What is your story? These things will help you to identify your niche.
What is a quote that you live by?
"If your dreams don't scare you, then they aren't big enough" – Ellen Johnson Sirleaf
If you could collaborate with anyone on A+X Puzzles, who would it be and why? 
I would love to collaborate with Hebru Brantley, Kehinde Wiley, and Uzo Njoku. Their art resonates with me heavily and I would love our collective audiences to have their artwork adorned on our puzzles. 
What's next for Amanda Wilson and A+X Puzzles?
There is so much I have in store for the puzzle company and the brand itself. We are expanding our brand into more educational games, and we have television in our future.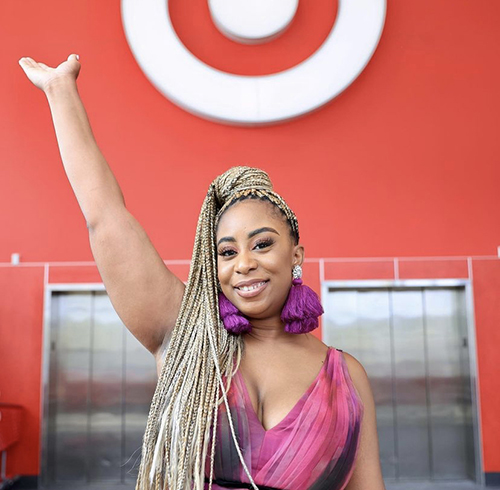 Follow Amanda Wilson on Instagram today.
Follow AX Puzzles on Facebook, Instagram, and Pinterest – @ThePuzzleQueen.
All images by Ilia Antionette