There's no spooky season without a good Halloween Margarita and Jose Cuervo got you covered. The Fall season is the best time to go pumpkin spice crazy. So, Jose Cuervo added the flavor to some new Margarita recipes, and it just made this Halloween more fun. For those who love tequila and pumpkin spice, you're getting the best of both worlds.
Jose Cuervo Halloween Margarita: Sip Halloween in a glass with this new take on the classic margarita featuring the flavors of fall!
Ingredients:

2 oz Jose Cuervo Tradicional Reposado Tequila
.75 oz Lime juice
.75 oz Pumpkin Carrot Spice Syrup

Recipe: Add one 15 oz can of pumpkin puree, 15 oz of agave nectar, 8 oz carrot juice, and 1 tbsp pumpkin pie spice to a bowl and whisk to combine. 

Garnish with a lime wheel and black salt rim

Preparation:

Run a lime wedge along half of the outer rim of a rocks glass and roll in black salt. Then set it aside.  Add all the ingredients to a shaker and fill with ice. Shake, and strain into the prepared glass filled with fresh ice. Garnish with a lime wedge.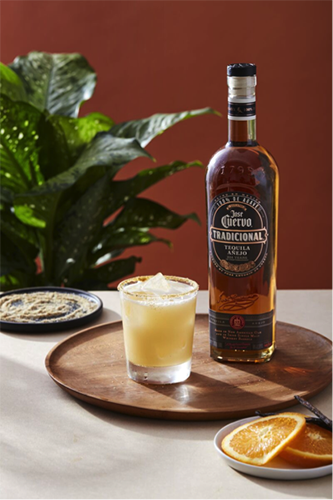 Jose Cuervo Pumpkin Spice Daisy Recipe: The Pumpkin Spice Daisy combines vanilla, tart lemon, orange, and a honey syrup that's finished with a pumpkin spice rim.
Ingredients:

For the cocktail:

2 oz Jose Cuervo Tradicional® Añejo
.75 oz lemon juice
.25 oz orange juice OR squeeze of an orange slice.
.5 oz honey syrup

For the Pumpkin Spice rim:

1 tbsp pumpkin spice
1 tsp sugar
1 tsp salt

Preparation:

Combine, shake, and strain over a pre-rimmed lowball glass with ice.
For more recipes visit Jose Cuervo's website.
All Images courtesy of Jose Cuervo