Get the Look: Megan Thee Stallion's Grammy Award-Winning Look
We love a glamorous Hot Girl Look
Celebrity Hairstylist brought the heat at the 63rd annual Grammy Awards when he created Megan Thee Stallions' show-stopping beauty look.
Deryck stated, For her red carpet look Dolce and Gabbana designed the entire look and we just followed the vibe for this stunning look."
He shared to steps to create this look below.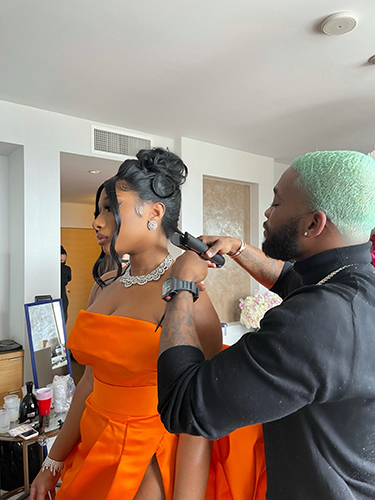 Red Carpet
Step 1: First, I started out with applying the Creme of Nature Argan Oil Heat Protector Blow Out Cream throughout the entire hair for full protection, before blowing out hair with Dyson Supersonic Professional edition dryer
Step 2: Then proceeded to curl set the hair with the Dyson Corrale Straightener
Step 3: French twisted the back of her hair and held in place with pins
Step 4: Used the Dyson Corrale Straightener  on the two front and back strands to make curly ringlets creating a flirty frame around her face.
Step 5: Finished with Creme of Nature Perfect Edges to complete the slayed look.
All content and images provided by NdotN Public Relations + Events