Ebone' "Naye Songz" Liggines is an award-winning video producer in Atlanta, Georgia. Ebone' got her start in the entertainment industry by creating branding/promotional content and music videos for various artists. She has over 10+ years of experience in the Video Production industry! She has worked at AT&T SportsNet, which allowed her to trim commercials for clients like Wendy's, T-Mobile, Disney, DreamWorks, and many others. This opportunity awarded Ebone' to work with sports teams and sports analysts like the Houston Rockets, The Rich Eisen Show, Pittsburgh Pirates, Colorado Rockies, The Dan Patrick Show, the Houston Astros, the Utah Jazz, and more. She was also responsible for editing and rebroadcasting Kobe Bryant's last professional basketball game in the NBA against the Utah Jazz. Ebone' was also a video producer and camera operator for SUVtv, which is an online broadcast network featuring basketball events in Atlanta, the Southeast, and other parts of the country. We had a chance to catch up and find out just what life is like for someone working in Video Production and to learn more about other great projects she is currently working on including some new music!
What sparked your passion for video production and what do you love most about it?
What sparked my passion for Video Production was the idea of being able to create and tell a story that could encourage and impact the world. I have always wanted my audience to get inspired or be motivated once they discovered who I am as a writer or producer regardless if it's via music or film. 
What new production projects are you currently involved in? 
Some of the newer production projects I am currently working on are television series like Who Runz ATL, The Divas and Gents of Atlanta, and Cocktail Wars. I shifted a lot of my focus back to screenwriting. One of my goals for this year is to have a few of my production projects greenlit. 
Outside of video production, you also have a music career, tell me about that and what new music you are currently working to release. 
Music and video production to me go hand and hand, so I think it only made sense for me to dabble a little in music. Actually, what many people don't know is, music was actually my first love. I wrote my first song when I was 13 or 14 years old. Over time and with much practice, singing became natural to me. I was a big fan of a lot of female artists like Queen Latifah, Missy Elliot, Aretha Franklin, etc. The type of music that I like to create is considered timeless music because it is something that you can listen to 5 or 10 years from now and get that same feeling that you got when you first listened to it. I am currently working on a few new singles that I would like to see get placement in television series, and film soundtracks. I will also be releasing my brand new single "Paradise" this year along with some other surprises.
There are so many apps and programs out there now for creating videos and editing, what helps you stay ahead of the competition?
 One of the things that help me stay ahead of the competition is always being myself and never being afraid to learn something new. That goes for both music and film.
What are some of the awards you have received for your work? 
Some of the awards that I have received for my work include Gwinnett County Film Festivals and I received the Diamond Award from Darwin Hobbs for my video production expertise at Hopewell Baptist Church. 
What advice do you have for those seeking to pursue a career in the entertainment industry? 
My advice for those seeking to pursue a career in anything is first to definitely keep God first because you are going to have to lean on him during your journey at ALL times. Always be ready and willing to outwork yourself because you are your own competition. Be ready to invest in yourself and yes that does include financially. Lastly, use all of your resources and learn how to do research.
Tell me about your company, iDREAM Productionz and some of the internship opportunities offered for youth seeking to make Video Production a career.
iDREAM Productionz is an award-winning full-service scriptwriting, music publishing, and video production company creating cost-efficient and affordable high-quality TV commercials, branded content web videos, corporate videos, scripted and unscripted television series and MORE. Our doors at iDREAM are always open to individuals who are interested in interning with us. We provide high school and college course credit. We also allow individuals who aren't in school to intern with us as well.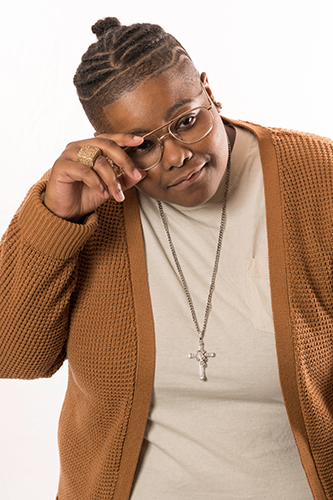 For more on Ebone' "Naye Songz" Liggines, click here!
Discover more about Ebone' "Naye Songz" Liggines by keeping up with her on Facebook, Instagram, & Twitter
All images by Ebone' "Naye Songz" Liggines