It has been proven haircare products that contain laurel sulfate tend to dry out hair, especially curly textures.  As a beauty writer, I am always interested in trying out new products.  I strongly believe that your hair benefits from alternating the use of various products rather than using the same shampoo and conditioner consistently. This statement definitely holds true in regards to deep conditioners – mix it up! After much research, I found a product called Hair Freaq by celebrity stylist, Nadia Vassell, who operates the Nadia Vassell Salon in the heart of New York City.  Nadia Vassell specializes in weaves, wigs, and straight styles.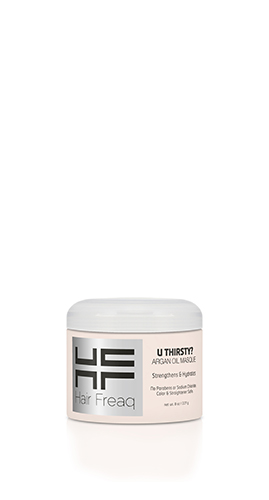 Not only do I love the name of the natural haircare line, but the packaging is appealing as well. The line offers an array of products for different purposes including its BLOW YOUR MIND REVITALIZING SHAMPOO to LUV ME FIRST HEAT STYLING PROTECTOR – all sulfate free. After use, my hair was clean, soft, and clearly luxurious.
For more information about Hair Freaq, click here!