The New York Times Bestselling Author and UN Ambassador show us how we can all be unstoppable.
FOR IMMEDIATE RELEASE
SHEEN Magazine, the Ultimate Beauty Guide is celebrating health/wellness and clean living from the inside out. So, take a moment – pause everything you've got going on and prepare to rejuvenate for a more clean and healthier lifestyle! This is your journey and you hold the keys to your happiness, health, and ultimately, your world. Today is your day – you can make it the best…but have you chosen to yet? Remember, it's just one step at a time!
To commemorate clean living and rejuvenation, we couldn't salute anyone other than Global Inspirational Leader, Platinum Recording Artist, and UN Ambassador, Dr. Juanita Bynum. Hailed as one of the most prolific prophetic voices over the last four decades, Dr. Juanita Bynum never ceases to amaze us with her power, passion, and poise.
"I have a strong belief system, and it's because of the word of God and because I know who I am. I have a sense of my own identity. When you know what and who you are, you don't entertain the gossip and negative criticism. I know that when you talk about me, you're killing you. If I respond to what you say, my DNA starts changing, and you start putting my life to death. So that's a good reason to ignore it, because I want to live."–Dr. Juanita Bynum
Our digital cover features none other than actress, Tanisha Long. From setbacks and feelings of giving up on acting, Tanisha Long's tenacious spirit prevailed, landing her the lead role in BET's hit show BIGGER!
"A lot of times we [black women] settle and then you are in this relationship for a year and you realize it doesn't match the life you actually want. In general, we need to do more for ourselves and less for other people" —Tanisha Long
Get the keys to a clean lifestyle with brilliant actress, Javicia Leslie, in our Beauty Spotlight feature. Celebrity makeup artist, Dr. Kym Lee-King has worked with some of Hollywood's biggest stars and shares her beauty faves with us while beauty influencer, Jasmin Moses helps us stay radiant all year long! From Mariah Carey to his salon chair, celebrity hair master, Dior Sovoa, drops the gems on achieving the hair of your dreams!
Our featured Stylist Spotlight, Roland Banks wows us with his classy, diverse, and edgy styling motif, while fashion designer, Bridgett Artise's 100% sustainable brand puts an entirely different spin on thrifting! Werk IT! Who says you can't be a trendsetter while working out? We've got you covered with trendy gym gear to give you a fresh perspective on working out!
Cherish This Day star, Xosha Roquemore talks working with Ava DuVernay, her flawless complexion, and what we can look forward to in the new series! The adorable McClure Twins share their lives as YouTubers and their future pursuits for On the Rise. Our featured Mandate, Actor Chris Attoh will make you want to put on your best fit and get ready to take your first date with the Ghanian heartthrob! And we just couldn't celebrate clean living without informing you on how to eat nice by making changes to your diet with vegan chef, Laci Swann! Are you ready for your body transformation? Award-winning body transformation coach, Jane Mukami, shares the guidelines necessary to transform! It's time to take your travel into your own hands and begin your jet setting, go queen GO!
SHEEN Magazine's March/April 2020 Clean Living issue hits stands on Tuesday, February 25th.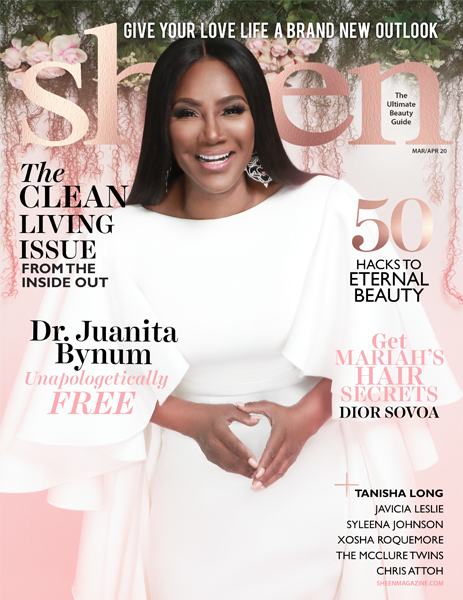 Written by: Associate Editor Eboyne' Jackson @iameboyne
Creative Direction by: Jessica Williams @jwilldesign
Makeup by: Tiffany Garlick @tiffany@garlick
Hair by: Karen Mitchell @beautybykmitchell
Style by: Tim B. @styledbytimb
Assistant Stylist: Rhonda Sampson @rhondazstylepage
Photography by: Sailey Williams @saileywilliams
Production Assistant: Maryann Anello: @iamanello_
About SHEEN Magazine
Sheen Magazine is The Ultimate Beauty Guide for the modern-day woman. The lifestyle and beauty publication is the preeminent voice on new trends, techniques, and products. Sheen Magazine is a national and international distributed publication. Published bi-monthly, Sheen Magazine maintains its influence by always remaining current on the trends of beauty, fashion, hair, and entertainment. The publication seeks to cultivate, educate, and motivate, encouraging the full potential of their readers. The Ultimate Beauty Guide and can be purchased nationally at Target, Walmart, Walgreens, Books-A-Million, and Barnes & Noble. Visit us online at SheenMagazine.com and follow us on Facebook, Twitter, and Instagram @sheenmagazine.