With natural beauty and an expert-level ability to harness the power of the internet, Dai Time is defining millennial stardom, one endeavor at a time.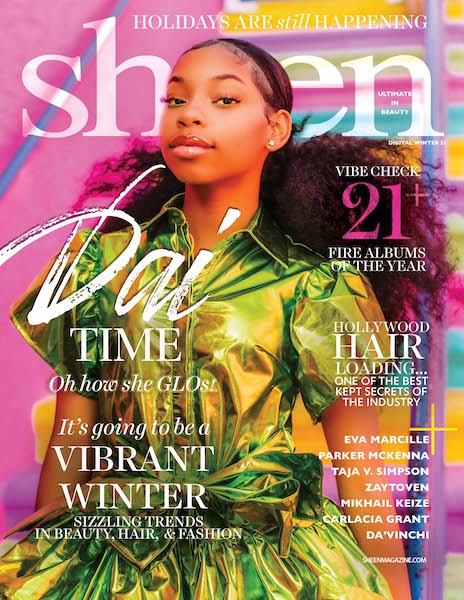 At 15, this young boss lady is no stranger to winning and what it looks like. I mean, Beyoncé sends packages to her house. Dai Time is on fire, showing no signs of slowing down any time soon, and we are here for it!
I had the pleasure of sitting down with this young mogul to discuss life and business.
You are on fire! Let's talk about how you got started. 
I started with a bit of ballet, then I moved on to competitive gymnastics.  I went on to competitive cheer until I was about maybe nine. When I got to the age of nine, I was like, 'Okay, I'm done being an artist. I'm done cheerleading. I'm done doing being a gymnast. Let's try something new.' So, I started to do interviews and I launched my magazine when I turned 10.
I love it. How do you do it all? Let's speak to your generation.
You know, it's hard-working on my time management a bit. I catch myself in a bit of a pickle, often, but I take some time to just slow down. Being able to stay organized with your schedule and setting certain times to do certain things makes it easy to manage.
My 11-year-old daughter follows you and we're in Chicago, but for whatever reason, she decided she want to skate because Dai Time is skating. When did you start skating?
Thanks! Skating is a hobby that I picked up after cheerleading. So what my mom would do was pick me up from cheer practice, which was a few hours, and then we would just go to the rink. I learned how to skate around the age of four. And then by six, I had started to actually learn that the skating rink is more than just playing tag with the rest of the little kids and I learned how to do different tricks. I met new people that taught me how to do tricks.
What are we working on now? Can you share how about the Entertainment Weekly campaign that you're doing to start?
Yes, Entertainment Weekly, reached out to me and they brought me on for this project, where Entertainment Weekly was interviewing people who had viral videos, and I was one of them. They just talked about the vibe [between my mom and I]. Then, I talked about my first viral video as well as my content including skating.
Let's talk about GLO dolls.
I am a GLO girl. Basically, the dolls are created to inspire young girls and boys all over the world. They brought us on to kind of take it a step further with real-life representation. All of the girls, there's six of us, including myself, we all have different personalities, we all like different things. And I feel like they brought us together to really show that, you know, being different is nice. And having six different personalities is really great. We really embrace each other's differences. And I feel like that was the entire goal of the campaign. So the show was pretty nice as well. The show is the six of us, we try different things. Each episode is focused on a different girl, but we're all in every episode. Yeah, we spent a week in Temecula, California, it was fun. Um, we went on a hot air balloon ride. What else did we do? We did an obstacle course from the house, I turned one of the rooms into a talk show for an episode. We even cooked for an episode. Not sure if it got added in.
So, do we have the details on the air dates and how we can watch it and support you and all the great stuff?
Yeah, so basically, The GLO Show is on YouTube. It's on the globe, girls YouTube channel. All seven episodes from season one is out.
So, what's next for you?
I'm always working on improving myself and improving my brand. I'm working on my goals. I do have a few appearances coming up on TV, you just have to check out my Instagram for updates because I can't really say anything as of now.
We are really excited for this Glo Up with our favorite GLO Doll, Dai Time!
Images by Marie LaFranque Photography 
For more information on Dai Time: