June is the start of the summer months.  Most of us are happily awaiting sunny days and late sunsets.  However, June is also National Men's Health Month.  Good health is a key factor even more due to our current health pandemic.  Author and Sports/Exercise Specialist, James Tate, has the keys to living beyond your weight loss for optimal health and wellness.  James recalls being blessed to naturally lose over 200lbs in 2010.  Since then his mission for the Beyond W8 Loss Total Wellness Center has been to motivate, educate and inspire people to lose fat in every area of their life.  Tate refers to fat as being: mental, physical, spiritual and emotional.
From childhood to adulthood, health and nutrition were never a focus for James.  However in 2017, James was in a bad auto accident that left him immobile for one year.  He quickly saw his weight go from 330lbs to 415lbs.  While undergoing years of physical therapy he was told that he wouldn't properly heal if he didn't lose the weight.  From there, James leaned on his faith and rededicated his life to Christ in 2010.  He began to pray for weight loss and healing in his life.  
This new journey began with the Daniel Fast and the study of every bible scripture that referenced nutrition.  At the end of 2010 James quickly saw a weight loss of 210lbs.  James applauds his faith as being the foundation for his weight loss and current health brand.  "My goal is to help people become "fat-free" in every area of their life," says James Tate.  His brand also encompasses children's books and apparel that are rooted in the biblical scripture, John 15:5.  
In observance of Men's Health Month, James says to look for these signs/symptoms of possible health concern:
Pay attention to your skin:  Tate reports that the skin is the largest organ so lookout for discoloration, odd-shaped moles and more.
Pay attention to your urine stream and stool:  Your stools will tell you a lot about your health and your urine stream can signal if there are issues with your prostate. 
James has also created the "Eight Steps to Better Health" model.  He reports that this model is also key in men's overall health and wellness improvement.  The 8 steps are:
Pray
Eat Right
Pray
Drink Water
Pray
Exercise
Pray
Rest
Maintaining health and wellness for men can also be stressful.  James advises that prayer, reciting scriptures and using positive affirmations are ways to assist in managing stress during this journey.  "There is a reason why God says to "fear not" 365 times in the Bible. He knows the damage that stress & anxiety can cause to our bodies and organs. So I pray often. I recite scriptures about stress and anxiety; and I speak words of affirmations to myself" reports James.  Tate was also asked what are some healthy and on the go snacks for men to grab.  "Some of the best quick & healthy meals are fruits like bananas, apples, etc. They are portable, not messy and pack vitamins and minerals that our bodies need" recalls James.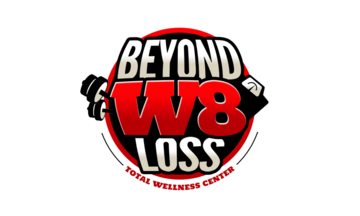 For more information on the Beyond W8 Loss brand please click here.  You can also connect with James Tate on Facebook, Instagram, & Twitter.
Writer, C. Scott, is a mother of one; author, social worker, early literacy interventionist and entrepreneur.
Logo created by Jimmy Barker of Artistic Liquid
The photo was taken by April Sims Photography