Grenada, the Spice Isle of the Caribbean, is a destination that took me by surprise. With its warm-hearted people, pristine beaches, and safety at every corner, this island is a treasure waiting to be explored. If you're like me and don't have any preconceived notions about Grenada, it's time to put it on your travel radar. This affordable and safe island is perfect for solo travelers, and I had the time of my life during my week-long adventure. Here, I'll share my experiences, the places I stayed, the delectable food, and the activities that made this trip unforgettable.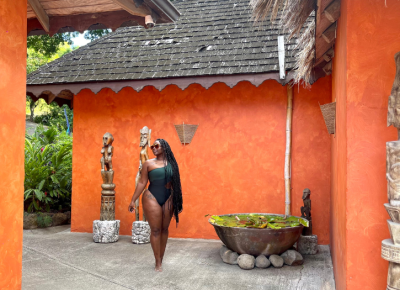 Where to Stay
Laluna Boutique Hotel: For a boho-chic vibe with a touch of luxury, Laluna is the place to be. It's perfect for honeymooners or a romantic getaway, nestled right on the beach. They offer yoga, spa services, and delectable dining options. The beachfront views will call your name the moment you arrive. @lalunagrenada

True Blue Bay Resort: This central location makes exploring the island a breeze. The resort hosts different themed nights with live bands and local vendors offering delicious dishes. It's a popular spot among locals for dining and staycations. @truebluebayresort

Seabreeze Grenada Hotel: If you're on a budget and planning a short stay, Seabreeze Grenada is perfect. It's conveniently located in the heart of the tourist area, within walking distance of various attractions.

@seabreezegrenada

 

Villa Kaya: Looking for a high-end villa experience right on the beach? Villa Kaya offers modern aesthetics, outdoor showers, and a continental breakfast. Perfect for a baecation with a partner who loves contemporary vibes.

@villakayagrenada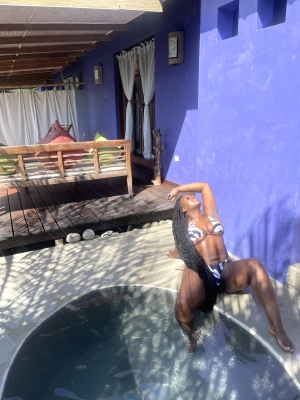 Activities
Real Grenada Tour: Explore the island with Real Grenada Tour, which offers an authentic experience. From river tubing to visiting waterfalls and interacting with monkeys, it's a perfect introduction to Grenadian culture.

@realgrenadiantours

 

Spicy Foodie Tour: Dive into Grenada's flavorful cuisine with the Spicy Foodie Tour. You'll enjoy authentic local dishes from roadside vendors, a Grenadian breakfast, and a refreshing hike to a stunning waterfall.

@spice.foodie.tours

 

Cooking Class at H&H Grenada: If you're a food enthusiast, don't miss the cooking class at H&H Grenada. I had a blast making fish cakes, curry chicken, and roti. Plus, homemade rum punch. The experience was both informative and delicious. @hhgrenada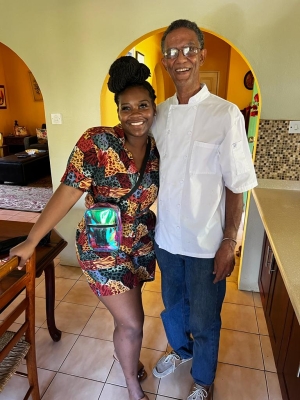 Where to Eat
Brown Girl Café Grenada: This is the place for great lunches, dinners, and coffee. The presentation and food are fantastic, and you must try the egg rolls.

@browngirlcafegnd

La Plywood Beach Bar Café: Located near Villa Kaya, it's affordable and offers tasty beachfront dining. You'll enjoy Caribbean music, Soca, and Afrobeats while savoring local delicacies.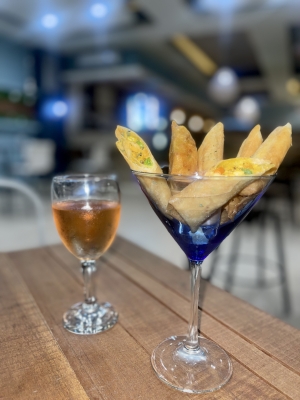 Nightlife
Lavo Lanes: Thursdays are for Lavo Lanes, a unique experience with bowling, live bands, hookah, and unlimited liquor. It's an absolute must if you're in Grenada.

The Junction: Fridays come alive at The Junction with live bands, DJs, and authentic Grenadian food. It's a blend of locals, college students, and tourists, all enjoying a vibrant atmosphere.

Rumous Bar and Hookah: On Saturdays, head to Rumous for a mix of music genres, potent drinks, and delightful hookah. Mondays are for karaoke, a fun night to sing and sip.

@rumousbarandhookahlounge

Grenada is a hidden treasure that won my heart. From the welcoming locals and delectable cuisine to the adventures and vibrant nightlife, it's a destination that deserves more recognition. The island's beauty is matched by its people's warmth, making it a must-visit. So pack your bags, grab some bug repellent, and head to Grenada, the hidden gem of the Caribbean. You won't be disappointed!
Relax
Nirvana Grenada is a place where the beauty of Grenada's natural wonders converges with modern luxury.
Nirvana was a delightful blend of tranquility and cleansing that left me feeling rejuvenated and utterly pampered.
The skilled hands of the masseuse whisked away the stress and tension from my body, lulling me into a peaceful slumber. They say that falling asleep during a massage means the masseuse did their job exceptionally well, and I can vouch for that!
But the real surprise was Nirvana's detox services. As a first-timer in the world of detox, I wasn't sure what to expect. It was a tad uncomfortable at first, but the journey was beyond intriguing. The process was as unique as it was eye-opening, and I couldn't believe what my body was capable of releasing. It's a cleansing experience I would recommend to anyone, even if, like me, you've never ventured into detox territory before. After witnessing all those impurities leave my body, I'm convinced that an annual detox session should be on everyone's wellness bucket list. 
@nirvanagrenada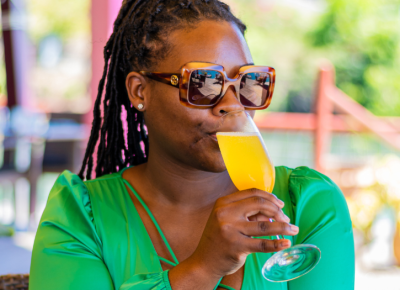 Links:
Photos Credits: Alex Jackson