The man of many hats, Griffin Matthews is known to be one of the most talented men in Hollywood. We're really not just saying that either. Matthews is a writer, director, actor, and activist. That doesn't include his full-time job as dad to two beautiful children. We saw him in Netflix's Dear White People back in 2019 and we've witnessed his captivating force in HBO's hit series, Ballers. More recently, we wanted to catch up with Matthews on his exciting new role in the HBO Max series, The Flight Attendant! In our exclusive interview with him, he discussed the new series, filming during a global pandemic, and much more!
Tell us about your role in HBO Max's The Flight Attendant.
I play Shane, who is one of the flight attendants and he happens to be a close with Cassie (portrayed by Kaley Cuoco). Cassie gets involved in a murder mystery and Shane is present. He gets pulled in for the ride. One of the reasons I wanted to do this project is because Shane has a secret inside of this story. I wanted to get a chance to explore that secret throughout the series. I think it's going to be a very exciting, bumpy ride.
We saw you starring in season five of HBO's drama series, Ballers. How would you describe that experience?
You know what's funny about that show is that I got to do it with two other actors that are playing a group of brothers. I love that I got to experience it as a family member. It's intimidating to go into a fifth season and Dwayne "The Rock" Johnson is the most famous and powerful actor in the world (laughs). On day one, they brought us in for rehearsal and they told us that we would never meet The Rock. The cast filmed the entire series and in the last week, the bring in The Rock to do his scenes by his self and whoever is in the scene with him. (Laughs) It was a crazy experience of being like 'Oh my gosh, I get to meet The Rock' and then we never met him. The word on the street is that he is the nicest, kindest, most professional guy. My experience with Russell Brand was great. He is honestly, one of the best actors I've ever been on a set with. He is a genius, he's brilliant, and he is wild, yet wildly talented. My takeaway from that experience was getting to work with Russell. I have so much respect for that man. It's sky high!
Can you tell us about the nonprofit, Uganda Project?
When I was 23 years old, I went top Uganda on a volunteer trip. That trip really changed the course of my life. I met group of teenagers, who were out of school surviving on their own, and their parents had been victims of the AIDS epidemic. I wanted to get them back in school and back on their feet. When I got back to New York City, I started this non-profit in hopes of getting them back to school. The Uganda Project's focus was not made to become this multi-million-dollar non-profit, it was to get a small group of ten students through elementary, middle school, high school, and a university. Some of them went on to Duke and medical school! It was created just to get them through school and send them on their way. We've had doctors, we've had nurses, IT technicians, businessmen and women, and more! We have two more students left and then I think we're going to call it with the Uganda Project. I feel like all goals of non-profits should be to end because if you've done the thing that you wanted to do, which what we wanted to do was empower the next generation of students. Now we've done that and we're left with two students, once they're done, we're done.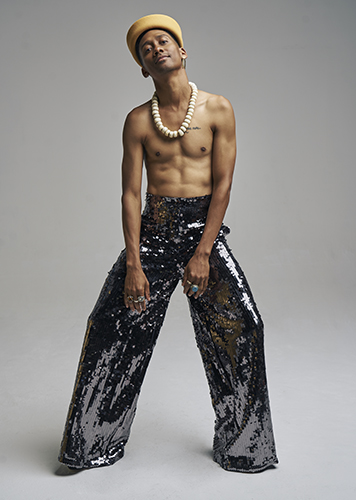 How has it been being a creative during this time of the global pandemic?
The best thing about this time that we've spent inside of this insane world was that creatives have to be creatives. It reminded me that my life is not just about acting or writing or directing. My life is much more. I'm a dad, first and foremost. I have a four-month-old in the midst of the pandemic and a 2 ½ year old. It reminded me that I was a dad. We got chickens and built a chicken coop. If you follow me on social media then you know it's called The Gay Chicken Coop (laughs). We're running a gay farm over here (laughs). It's cute and fluffy. I get about an egg a day if I'm lucky (laughs). We've spent time raising the birds, planting the garden, taking long walks, and doing endless Zoom meetings. Some for work and some with our family, which has also been amazing to connect with our family and friends. When life is going fast, you schedule lunches and cancel but now we're all home. We schedule Zooms and talk with our family and friends and see one another more than we did when life was "normal." I've been writing a lot and doing press for The Flight Attendant. We ended up shooting inside of the pandemic because we got stopped in February. We had to finish episodes 6, 7, and 8. That was interesting and intense. We had to figure it out while trying to figure out how to stay safe.
What can we expect to see from you in the future?
Well, I am developing a television series with Ester Dean – who is an incredible writer. It's a musical series. I've been working on that, in hopes of switching sides of the camera and go back to writing and directing. That's my next project!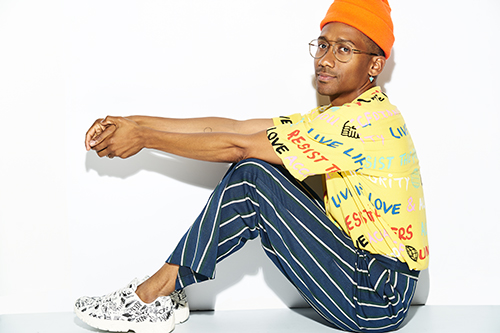 For more on Griffin Matthews, follow him on Instagram & Twitter today. 
All images by The Riker Brothers