Trish Ahjel Roberts is an author who is transforming lives with her knowledge of healing.  Similar to a caterpillar who evolves into a butterfly, our self discovery and healing after trauma is our human form of transformation.  Her new novel, Thinking Outside the Chrysalis: A Black Woman's Guide to Spreading Her Wings, is assisting women with knowing how to recover from certain traumatic experiences.  "When I started my own personal path toward healing, I became really attracted to the symbolism of the butterfly," states Trish.  "It really fascinated me that here was an insect nobody really paid attention to that could transform into such a symbol of beauty," continues Trish.
However early on Trish didn't think that her writing career would become a reality.  She decided to become a self-published author with the help of a friend in her Black Vegan Life group in Atlanta. From there, her inspiration through the life of butterflies transformed into her latest acclaimed novel.  Trish is hoping that women gain these 4 key concepts from her new book:
Open your lives to possibilities that you haven't considered before;

Take time to heal from your past while also releasing anger;

Fall in love with yourself by getting to know the real you;

Let go of some things, whether it be people or tangible items/goods.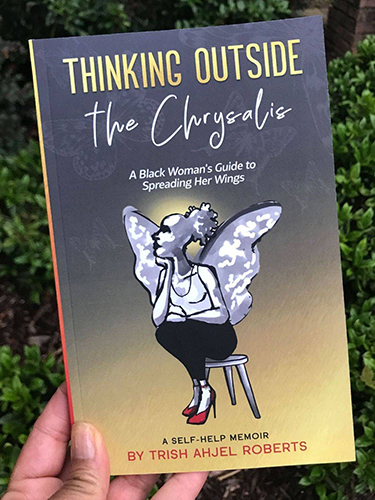 Thinking Outside the Chrysalis also includes a music playlist, social media support and also resources. "I wanted to counter some of the negative messaging by putting together resources to support positive growth," continues Trish.  She also has a history of helping women in many different ways beyond her new book.  "As a life coach, I know it's really hard to commit to changes without an accountability partner, so I created the Black Girl Butterflyz group on Facebook as a safe place for Black women to connect and seek out accountability partners if they don't have someone in their personal life who would want that role," continues Trish. In addition to Black Girl Butterflyz she also created the "Butterfly Mamas" group which shared self-help articles followed by group discussion.  "We all gave ourselves butterfly names. That was the first time I learned the word, "chrysalis," and the first time I used the story of the butterfly to create community," states Trish.  
Catch the great work of Trish Ahjel Roberts on July 5th at Atlanta's outside festival in the West End that is known as  "Healer's Alchemy".  She will be available with guided meditation, a book reading and also retailing her new book.  To connect with Trish, click here.  She is also available on Instagram as @vegan_honeybutterflyz; Facebook as @veganhoneybutterflyz;  Twitter as @trishahjel; YouTube as "Trish Ahjel Roberts."
Writer, C. Scott, is a mother of one; author, social worker, early literacy interventionist and entrepreneur.
All images courtesy of Honey Butterflyz