Most plan out birthday dinner parties, house parties or even vacations to celebrate their birthday.  Many revel in the thought of planning, saving and inviting others to help enjoy the festivities.  One day Karen Smith woke up and heard an inner directive of how she will spend her birthday in 2018.  The bad-ass fashion designer hasn't looked back since.  Karen knew that she wanted to train with a master goldsmith but she didn't know how it would come to be.  "I literally woke up one morning and heard a voice say "you're going to spend your birthday in Dakar!" Heeding this directive, I got online to start to look for opportunities to take classes and found none," Karen states.  
After being paired with a Senegelese man who taught in the US for years she began her journey.  "His first response to the query was "does she know that we have a saying in Senegal that 'women don't wield the hammer'?"  I admitted that I didn't and when he asked if it mattered, I said it didn't, that I was called there and was committed," Karen explains of her initial meeting with her Senegelese master goldsmith.  "His response was "good!" and within 18 hours, I had been connected with a master goldsmith who was willing to teach me traditional techniques; I had an apartment to rent; and the names of three expats who spoke English and were just as encouraging and as excited as I," she continues.
Karen is now a first generation metal artist.  She designs, fabricates and custom makes wearable art and sculptures.  With the use of methods such as fold forming, stone setting and more; Karen uses mediums such as sterling and fine silver, 14K and 18K white and yellow gold; and high quality gemstones.  In 2019 Karen explored her teaching by starting her own Oakland based program.  Karen Smith founded We Wield The Hammer  to bring awareness to the use of metalsmithing as a means for economic development, artistry and creative expression for young BIPOC women and girls around the globe.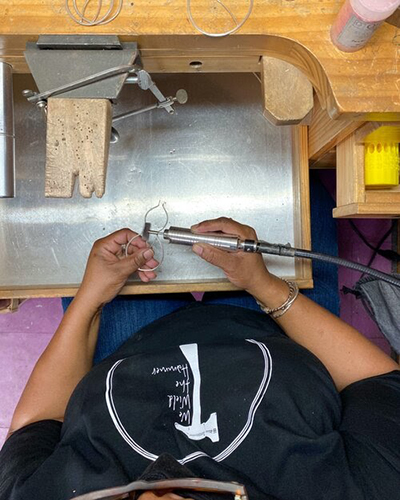 We Wield The Hammer teaches the basics of creating while using metals and basic designs to complete 8 week sessions.  Sessions are offered 4 times throughout the year.  The program is held at the Crucible which is also the industrial arts school where Karen is a faculty member in Oakland, CA.  COVID shut down access to in-person learning.  Karen is seeking separate space for autonomy as the program continues to grow.  "I have always paid attention to the little voice that instructs me to move or stop, to open or close. I believe it comes from my ancestors as well as the artists who have inspired and influenced me.  That voice those many, many months ago led me to my calling; WWTH, I believe, is a part of the rent that I pay to live on the planet," Karen expresses.
Karen is using her artistic skills to project new possibilities of creative expression among young girls and women who may not have known that this power exists.  Her Black Girl Magic is planting seeds for our future to see the world through art, sculpture and fashion design.  Her efforts require ongoing support in various methods. Donate today to support the vision of We Wield The Hammer and shop their merchandise as well.  Connect with Karen and the organization on social media as well.
Writer, C. Scott, is a mompreneur, educator, social work and more.  Follow her on Instagram and Clubhouse as @curls_coils.  Follow her preschool journey on Instagram as @beautifulshadeslc.  
All images courtesy of Karen Smith