It is no secret that, besides clothing and jewelry, hairstyles are a major contributor to the lasting and most popular fashion trends in current media and entertainment culture. A "lewk" can be made or broken based on the hair do that tops it off, literally. What's even more undeniable is the influence Black culture has had on the current hair trends that have become so mainstream, today. But what most of the world doesn't seem to comprehend is that our hairstyles are not just for fashion, they are for safety too. Black women are the authors of protective styles– finding creative ways to nurture our hair and "put it away" in order to ensure it stays healthy, hydrated, and stress free (man, if only we could do this with literally everything else). We moisturize, we twist, we deep condition, we cover with weave, we steam, we braid, we shave, curl and wave. Our hair is our crown, our glory. From the hydrated TWA (teenie, weenie afro) to the lemonade braids, here are 7 of the most common hairstyles and tips for Black women to implement all summer 2020 with Arcani Coil Care.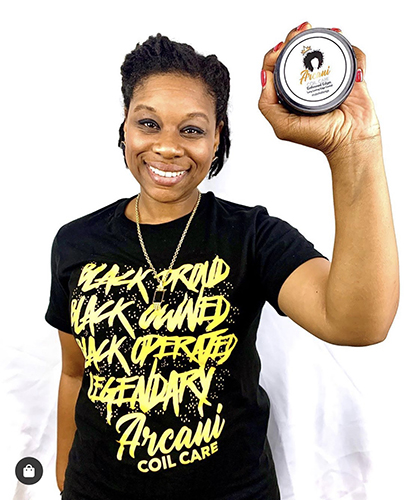 When in doubt, braid it out: The ever so trendy box braids style is a staple protective option for women of color during the summer aka vacation season. Whether gearing up for a girls trip, a staycation, or baecation, box braids are a top choice for versatility, durability, and overall coverage to keep your hair secure and healthy. Combined with the Arcani Strong Hold Braid & Loc Gel, your tresses will never be stressed this hot summer season!
The Afro: Your hair doesn't always need to be teased, pressed, or coiled. Sometimes, the best maintenance we can provide is to let our scalps breathe. Wearing your natural hair with little manipulation other than a simple moisturizer to avoid sunburn, allows your scalp to rest from combs and brushes and gives your hands a break from putting in the work, especially since we are socially distancing and it is likely you won't get to make that trip to the hair salon anytime soon (sorry, sis). But don't worry! When maintaining your voluminous puff, rest assured that your hair can be shiny and soft with the use of the Royal Roots Hair Butter*.
TWA (teenie, weenie afro): Don't be ashamed of your big chop! While others are burning up from the hair around their ears and neck, you will be out and about feeling a breeze from your scalp to your stallion inspired knees! Hydrate and get great definition for those curls with the Royal Curls Coil Defining Gel!
Deep conditioner and finger coils: A good twist out can go a long way. Seriously. If you do it right, your twists can last for a while and when you unravel them? Tuh, you're on your way to looking heavenly with all that body and volume! Get into it, using the Royal Roots Deep Conditioner for smooth, weather resistant hair that will last!
Co-Wash and Go: Maybe you don't want to shampoo so regularly because you don't want to strip your hair before going out to enjoy the sun. We get it. Thank goodness for Co-Wash. Deep massage the conditioning wash into your hair and choose the style you want…or don't! You can wash and go starting with a thorough cleanse with Royal Roots Black Carbon Anti-Dandruff Shampoo. Clean hair is the best canvas to apply the right conditioner and styling product!
A well oiled scalp and sew-in, for the win: Listen, if we're being completely honest, we don't always feel like doing much of anything to our hair, especially when it's hot outside! Sometimes it's best to just put it all away and get a wig install and that is OK! But, before we braid it up and cover it, we want to make sure that our hair will be protected under the wig cap for however long we choose to wear it. Applying the Arcani Follicle Stimulator is good nourishment for the scalp while your hair is tucked away, keeping it breathable so that your hair can continue to grow healthily in your protective style.
Learn your moisture method: Taking care of natural hair used to seem like a daunting task because there was so much to learn and unlearn! For example, who immediately knew what moisturizing method worked best for their hair? We sure didn't! But there are amazing products available that help us learn our hair so that we can get the best wear out of our coils, regularly. The Crown You Care Package from Arcani houses products that help you maintain healthy ends, lock in moisture and style your hair with ease!
Content and provided by Arcani Coil Care