Actor and artist, Roman Banks will be making his debut tonight on Disney+'s hit series, High School Musical: The Musical: The Series tonight! Ahead of his big debut, we wanted to catch up with him to discuss his experience working on the exciting series,  his character Howie, music, and much more!
Tell us about your experience working on High School Musical: The Musical Series?
Working on the show has been really fulfilling. It was one, the first job I got after finishing my Broadway run. I dropped out of school for my Broadway run I asked myself if this was a lucky job or can I continue to do this and support myself as an artist. Being an actor and musician is something I really take importance in. I have a lot of value in it. It feels wonderful to continue and focus on my career. At the root of it all, it was fulfilling especially in the pandemic because my industry was potentially shut down. We didn't know when we would come back. To be able to work on this show that I am so proud of, that recognizes so many different types of people during the pandemic is something really fulfilling. I don't take it for granted at all.
In what ways would you say you connect with your character, Howie?
For sure! The great thing about Howie is that he is an original character, in a sense that I grew up doing theater, this is my first television show. I never got to originate any sort of role. It was a blank state. The team looks at you and questions how you will be able to do it. The really fun thing about him is that I could bring a lot of myself to portray him. It was amazing because it caused me to look at myself in a way that I never have before. I had to find out what I wanted to get across to people with this character in order to connect with our audience. A big thing that helped me relax about the whole thing was that when I stepped on set for the first time wearing Dickies and a pair of Jordans. The costume designer told me he loved what I was wearing. I showed up back on set for my fitting and sure enough, he had a pair of Dickies and some Jordans so that ended up being my wardrobe for the show. There is a lot of me in Howie from the moment I auditioned, I knew we were very similar. I knew it would be very natural for me to ease into this character. I think a lot of that is going to show onscreen.
What can we expect to see when your character makes his debut on May 28th?
I'm really excited for this because I'll be celebrating this moment with my family and close friends. You can expect to see a glimpse into Howie and who he is, where he works, and his domain. You'll get to see a bit of his territorial side in the debut. It's all in good spirits, I believe he is just navigating the situation the best he can. You'll see who he is but there is so much more to see. It's definitely a proper introduction to him.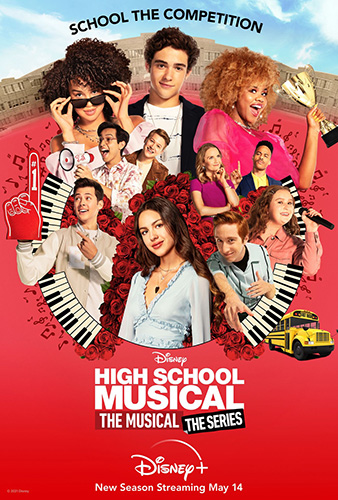 Can you tell us what inspired your EP, Days?
Days came out last year. To be honest, I wasn't fulfilled in that moment of my life. I was on Broadway, my dream came true, but when it ended it had me asking, what now? The cast was so small, so it left I'm with a lot of free time. I leaned towards music, and it was just about taking my ideas I had for songs and creating something special. I took that free time to work on those and before I knew it, I had a bunch of songs that I was really proud of to share with others. I took a week off from the show, recorded the whole thing in my friend's basement, and we put it out. I'm still very proud of it to this day. It just talks about the different sides to me, especially during that time. It made me think a lot about how I value my own emotions. Every song in my opinion is different and is me giving freedom to myself to feel any sort of way, on any day. It's seven different songs with seven days of the week so I thought it was perfect to name it Days.
What are you currently working on and what can we expect to see from you in 2021?
Right now, I'm working on myself in a lot of ways. I'm working on my own personal health and redefining what I grew up thinking it was to be. Music! I'm working on music and plan to put out more music this year. The real think I'm trying to do is tell myself that there is always time. There is no rush. Young creatives [especially with social media], have so much pressure. When you feel like your excellence is ready to share, that's when it's ready to share. It's not when someone is asking for it. I'm working on myself and music, that is what is going on right now. I'm excited to share more as the year goes on, especially as people get to learn Howie as the series goes on.
For more on Roman Banks, follow him on Facebook, Instagram, & Twitter.
All images courtesy of Disney+