You know and love actress, Dara Reneé from Disney+'s 'High School Musical: The Musical Series' but did you know that this young star is a triple threat in the world of entertainment? The creative talent is also known to spearhead the music industry in multiple forms whether it be singing, songwriting, or producing her own beats. We recently had the opportunity to sit down with Reneé to discuss her character, Kourtney on the hit series, her upcoming projects, and much more!
Tell us about your experience working on High School Musical: The Musical Series.
Wow! First of all, I would just like to say that I am so honored to be a part of such an iconic franchise. I grew up watching all the High School Musical movies. To be a part of it as I am, I mean I was fine with being in the background (laughs), I just wanted to be in it. My character is full-fleshed and is getting more time to shine. I'm grateful to film and to film with everyone has been a dream come true. Everyone is so talented and so nice. I just love all of them! They're all being superstars and I am so proud of everyone.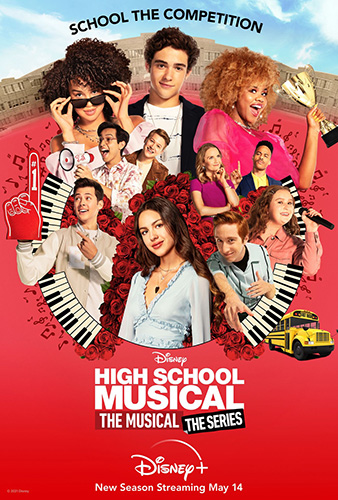 How would you say you relate to your character?
Yes! It's actually so funny, I auditioned for every role except for my own. Finally, they gave me Kourtney. The description wasn't even out yet. There wasn't really a breakdown for it, they kind of told me she loves makeup and she's a straight A student. When I heard that, I was like that's me in high school! I knew I would have so much fun with the character. When I read the script, I fell even more in love with her. I connect with her so much. She is a little more bold than I am. She will say things that I would be nervous to say. I just love how she is able to continuously be herself and know herself. She isn't scared to take chances. Specifically in this season, season two, she is discovering herself, learning how to be vulnerable, and showing that it's okay to not always have your guard up. She is beginning to understand that you don't have to worry about anyone else or feel like she has to protect anyone to learn the things she has to work on to be a better person. To be able to help other people, she's got to learn about herself more.
How has it been being a creative during this time of COVID-19?
Oh wow. It's been a rough time for everyone. I must say I'm grateful to be a part of a group that is able to go back to work. I understand that this pandemic has been disastrous for so many communities, including my own. As a creative, I hope that our show is able to provide an outlet to those who are still struggling due to their own challenges of the pandemic. Being able to still help people though donations and other different ways is important to me.
What are you currently working on and what can we expect to see from you in the future?
Ooh! Well, I must say this year I have had a lot of time to think and work on myself. I've been having my issues working on myself and loving myself. I've just been taking time to learn how to love myself again. Everyone has those insecurities. This year, I am working on music, which is going to be super fun. I've always wanted to take a crack at writing my own music and producing my own beats. Also, I have a new show coming out on Disney Channel called Magic Bake Off, where me and my little brother [I will now call him my little brother, because I love him so much] Issac Ryan Brown. We host this baking show competition for young bakers. They come in and they're literally so amazing. They shock us every time. They're ages nine to 14 and they compete for the Magic Bake Off trophy. They make these delicious cakes with all these fun Disney themes, and it is so much fun! I can't wait for everyone to see how talented these young bakers are and see how funny Issac Ryan Brown is as well as Graciela Gomez, who is a chef on the show as well. Everyone really put their foot in this season, and I am so grateful to be a part of it.
For more on Dara Reneé, follow her on Instagram & Twitter.
All images courtesy of Disney+