"When you are with someone that you know you love, don't use money,
looks, culture, etc. as an excuse to break that up." – Roza Patterson, xoNecole interview.
In honor of Juneteenth, Call Me Ace and his beautiful wife, Roza, created a playlist dedicated to their Love, Connection, Spirituality and Joy! The couple met during Ace's college birthday party in 2011, and even though their relationship was long distance, the connection between Ace and Roza grew stronger, according to an interview with xoNecole. In the interview, they both talked about how they knew each other was the one. For Roza, she patiently waited for a sign from the Lord. With Ace, he knew Roza was the one when he was praying and writing in his Journal. He heard the question 'Has Roza wronged you in any way?' and knew then that they could make it through anything together. The two tied the knot in 2016 and have been inseparable ever since. Even with challenges and fears within their marriage in the beginning, Ace and Roza chose to trust God, learn with each other and put one another first.
Celebrate Black Love with the couple as you listen to their Juneteenth Playlist and read what each song means to them.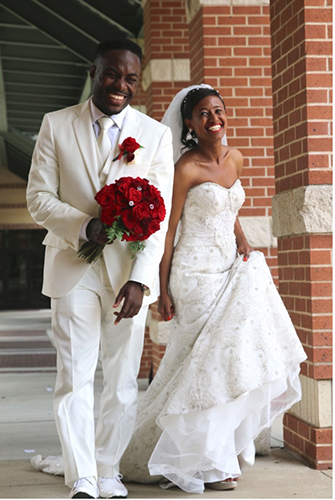 Shai – If I Ever Fall In Love (Acapella Version) – "This was the song we danced to on our wedding night. But it goes deeper than that. As a Valentine's Day present early in our dating, Ace created a Build-A-Bear teddy bear for [Roza] that, when you pressed one of the paws, would sing this song." ~ Roza
Mario – Just A Friend 2002 (Nickelodeon Video Version) – "Before we got married, we were friends. In fact, so much so that we had a "friendship contract" signed and dated…a few months later, we started officially dating." ~ Call Me Ace
Alicia Keys – If I Ain't Got You (Official Video) – "This song is love in its purest form. We care less about growing our material possessions and more about growing our intimacy and relational depth." ~ Roza
Shaggy – Angel feat. Rayvon (Official Music Video) – "I was never incarcerated, but Roza has been there for me in my lowest moments. So I wanna show the nation my appreciation! She's my darrrlinnnnn' angelllll!" ~ Call Me Ace
Call Me Ace – Love Goals feat. Taylor Taylor (Official Music Visual) – "this song truly captures our love and support for each other – how we don't measure our success by our accolades, degrees, or jobs, but rather on how we serve and uplift one another as well as grow closer to Christ." ~ Roza
Images courtesy of Brianna Régine Visionary Consulting