June 19th is the annual time to commemorate Juneteenth.  It's the historical recognition of the day in history in which slavery ended for African-Americans.  The holiday is short for "June Nineteenth" and is observed as the longest running African-American holiday.  It's the day in which we celebrate our freedom.  The holiday originated in Galveston, Texas in 1865 to mark the day when federal troops arrived in the state to ensure that all enslaved people were freed. 
Each region has their own way to celebrate and honor this holiday.  In Annapolis, Maryland there will be a two day celebration known as Annapolis Juneteenth 2021.  Some may wonder why an event of this nature would be held in the state's capital of Annapolis?  Annapolis was the main port of entry for enslaved cargo along the Chesapeake Bay.  The planning and founding dream of this project came at no small feat for Mrs. Phyllis Tee Adams.  "I had a dream of a huge festival on a field. Three days later I had another dream and heard the word Juneteenth. I said if it falls on a Saturday, I will do it. So when I checked the calendar and it fell on a Saturday, I decided to move forward at the beginning of the Pandemic," she explains.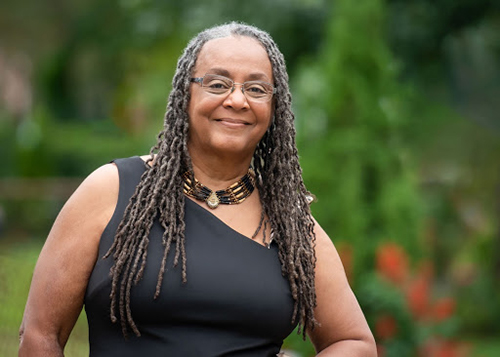 This first-ever celebration in Annapolis has the theme of "Honoring Our Past and Celebrating Our Future."  "It is day to honor our ancestors for their fight for freedom, educating our diverse community as we celebrate legacies and accomplishments that will be forever ingrained in history," explains Mrs. Adams. The inaugural event will kick-off with a VIP Reception on Friday, June 18, 2021.  The VIP Reception will honor Unsung Heroes in the community ranging in ages 13-80.  "Many times we overlook the ordinary people doing extraordinary things. Now it's time to let  the world know who they are," she continues.  The VIP honorees are as follows:
Fellowship Award- Apostle Craig N. Coates
Trailblazer Award- Speaker of the Maryland House of Delegates
Heritage Award- Carroll H. Hynson Jr.
Pathfinder Award- Alderwoman Sheila M. Finlayson
Independent Historian Award- Vincent Leggett
Jubilee Award- Sandra Solomon
Goodwill Ambassadors Award- Benjamin & Allan Griffin of B & A Driving Academy, LLC
Pillar Award- Peerless Rens
Community Champion Award- Toni Strong Pratt
Youth Ambassador Award- Makenzee Adams-Hunt
Future Leaders Award- Jailyn Beckett, MaKaiya Collins, Jamar A. Turner & Jordan Reese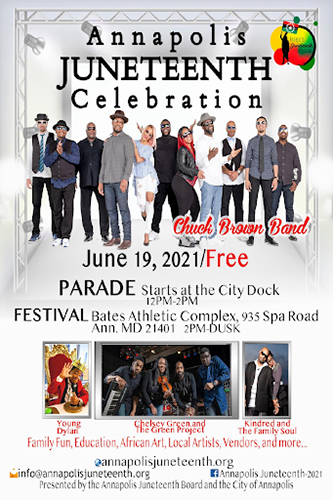 The celebration will continue on Saturday, June 19th with a parade followed my a music festival.  The parade will start at the historical Kunta Kinte statues at the Annapolis City Dock at 12 noon and will lead up to the Maryland Hall.  Following the parade, the celebration will reach the festival grounds at the Bates Athletic Complex.  The festival will feature food, activities, vendors and two stages with live entertainment. The entertainment will include but is not limited to Kindred the Family Soul, The Chuck Brown Band, Young Dylan, Expressions Dance Group, Chelsey Green, Divine of Annapolis and more.
This community celebration is the first of its kind in honor of Juneteenth.  It will be a historical weekend to remember, full of love for the past, present and future.  Consider your ancestors.  Honor your freedom.  Acknowledge those who are changemakers in your community.  However you desire to celebrate; honor those who paved the way for the longstanding holiday of Juneteenth.  Learn more about Annapolis Juneteenth 2021 here and follow the event on social media.
Writer, C. Scott, is a mompreneur, author, social worker, early literacy advocate and more.  Follow her on Instagram and Clubhouse as @curls_coils. Visit www.curlscoils.net and mention "Juneteenth" for a special on our writing services.