We gathered some of the best travel tips from author, speaker, wife, entrepreneur, and avid traveller, Heather Lindsey. Married for ten years and with three small children under the age of seven, Heather gives us a glimpse into her life of family, faith, and travel. After spilling her travel secrets in a two-part blog post from 2016, I had to get the latest scoop on any new hacks that she's been utilizing recently. From family trips, to girl trips, to baecations, Heather is the queen of traveling in style, comfortability, and affordability. With a love for travel and travel hacking, Heather tells us how to lavishly travel the world for free…or at least on a budget!
Heather, we're so curious about your adventures and how you became a travel extraordinaire! Did you always know you would have a lifestyle and ministry of frequent travel, or do you consider it a happy accident?
It was definitely a happy accident, and I feel like the Lord kind of put it in my lap. I didn't travel at all growing up actually. I grew up with 24 siblings and we're all adopted, except for one. When you have that many kids, you're just not going anywhere! Plus, my mother was a stay at home mom and my father worked at the Ford Factory, so we didn't really have the money to travel. I think I got on my first plane when I was 16 years old to go to Chicago from Detroit, so it was a really quick trip, but I never really traveled. Growing up in such a large family you have to be resourceful. Now when I travel, whether it be for ministry or vacations, I like to figure out efficient ways to make trips cheaper.
How far in advance do you start planning your vacations and how do you pick the destinations?
I'm big on planning. So, about a year out I plan where we're going for the next year. For 2021, I know all of the places that we're going to…if the world opens up! My 2020 was struggling because we had a few trips planned, including my husband and I's 10-year anniversary and vow renewal trip that I've been planning for three years. But, due to the pandemic, here we are in Atlanta…so this year's trips are on hold for now! In terms of picking vacation spots, I have a bucket list. I have a running list of places that I want to visit on my phone in the notes section. If I'm researching a place online or I see a gorgeous picture then I'll do some quick research on what the place is like and see what kind of hotels and restaurants they have.
That's clever! What are the top 5 places on your bucket list right now?
I've always wanted to go to Israel. That place has been on my bucket list for a while because that's where Jesus walked! We're actually taking a group with us to Israel next year. Phuket, Thailand was a trip planned for this year as well, so it's back on my list. Greece, Florence, and Bora Bora are also on my bucket list!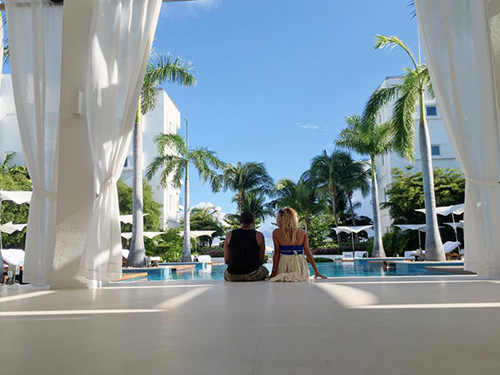 What are some of the biggest misconceptions people have about travel? Any tips to overcoming traveling fears or anxieties?
One of the biggest misconceptions is people feeling like they have to be rich to travel lavishly. You do not have to be rich to travel! We have literally gone on trips with just points from rewards programs. It's amazing! I tell people and post it on social media all the time, and people still think we spend so much money, or they attribute it to our business. Nope! I use my personal miles and I have paid only $11 for flights before! Another misconception is, people thinking that places aren't safe. Honestly, if you look at a crime app you'll probably see that you have crime down the street from your house, your school, or your job! I don't walk around with that fear. Wherever I go, I just trust that the Holy Spirit is sending me. I believe that Satan tries to steal our rest, and therefore you won't plan that trip because you're afraid of all these fears. But, God didn't give us a spirit of fear, but a spirit of power, love, and a sound mind (2 Timothy 1:7). So, if you want to go, just go! And enjoy it!
How do you rack up points and save money on flights and hotels?
First, I sign up for lots of rewards programs! One time, I went on a mommy trip to Miami. I flew first class. And my flight was only $11.20 because I used my rewards. In addition to that, with my earned points, I stayed at a five star hotel that typically costs $700 a night, and I only paid $150 for 3 nights in total! So, I really paid only about $160 for that whole trip. Secondly, whenever we travel, I use Hotels.com. If you stay in their hotels for a certain amount of stays, you get one night free. And it adds up! I also really like Aeroplan. It's essentially a website where you compile all your miles, and you can get more bang for your buck on there. Another thing that I've learned is if you follow airlines and what's going on with them, sometimes you'll find out that some airlines partner with other airlines and your miles can go further. For example, with Delta and KLM, I link directly to the KLM website when I go to book and my Delta Sky miles go much further. If I'm going to book something I usually go through KLM or Aeroplan, and that's been super helpful. Lastly, I swear by American Express. I think it's amazing because we just put everything on there like our security, our groceries…and we have to pay it off at the end of every month, so we gain points from that. I promise you, with some discipline, you can do it. Get a credit card through a company that will give you benefits and deals, and use those points!
Wow, that's awesome! Can you tell us a little bit about your strategies for budgeting, especially for those with expensive taste?
I swear by sinking funds, which is basically a fund where you contribute towards a goal that you know you have coming. With sinking funds, you've already prepared for your purchases, so it really helps with not feeling the weight of spending money. And I have a sinking fund for everything. I have a sinking fund for Christmas, and I've been saving since January so we're already good for Christmas this year. I had a sinking fund for our 10 year anniversary and vow renewal trip. I had a sinking fund for my husband's birthday gift this year and I transferred that money over to my credit card, for points! Pulling aside money every month is going to be really important even if it's just putting $5, $10, or $20 into those different accounts. It will add up. When you're on your trip you should have the money from your sinking fund so that you can really enjoy the trip. 
I also really love this new site that I found called truebill.com. It helps you find subscriptions and track bills. With this site, I realized that I was being charged for eight months for my kids' Gymboree class that I canceled…eight months ago. So, I was able to call and get a $500 check from them just from the TrueBill app. And Truebill can also negotiate on your behalf. When they noticed that our security bill was a little bit high they negotiated for us and was able to make our bill lower. It's something I recommend everyone to have.
Luggage can also be a part of travel costs. Do you have any advice on how to make the most of your luggage space? 
I'm the type that likes to stuff everything in my carry-on! But, with my luggages I roll my items and that helps a ton. And for my kids, I put things in Ziploc bags for organization. We stay at a lot of AirBnB's, so wherever we go I like to check to see if there's a place that has washer and dryer. It always helps to pack basics and then I can wash them when I get there. Even if you're staying at a hotel, you can call ahead of time to see how much it is to get some items washed.
Where are your favorite places to travel to with your husband, with your friends, and with the whole family? 
We love Cabo! And it's pretty close to the United States. I felt really safe, and the weather is gorgeous. Another great place is Aruba. It's called the Happy Island and they say it's sunny 360 days of the year, so when you go it's almost guaranteed that it won't rain. Also, for family trips, we love Hawaii. We've taken our kids on Disney cruises and to this day they still ask when we're going back. 
As a vegan, how are your experiences with food when traveling? 
It's very hard. I like to use HappyCow.com. It tells me what vegan restaurants there are in the area I'm going to. One big tip is to always carry Activated Charcoal pills. I have gotten food poisoning a few times both inside and outside of the U.S., and when I take an Activated Charcoal pill it clears it right up. One time, I was getting ready to preach in North Carolina, and I got food poisoning. I took a pill, laid down for a second, and when I got up, I was totally fine. So, always carry that with you, because you could get food poisoning anywhere. You can get the activated charcoal pills from any store like Whole Foods, Amazon, Publix, or Kroger.
As a frequent traveler, what is one simple thing you find to be very helpful when traveling? 
People always forget: you can carry your own food on the plane depending on what it is. I always eat vegan so I can never eat the plane's food, and end up bringing my own. My go-to is a mock vegan chicken salad from Whole Foods. I eat that with grapes and crackers, and I always pack apples, almond butter, some granola, and some more fruit. And you can travel with it! Also, if you have small children, you can actually take your own water and all they'll do is test it to make sure that it's okay. Just tell them, they'll test it! 
Ok, rapid fire round of questions: Aisle or window seat? 
Window seat!
AirBnb or hotel?
That's a tough one but I'll have to say, lately, Airbnb.
Follow an itinerary or do you go with the flow?
I used to go off of an itinerary but my husband is not as structured as I am, so now we go with the flow.
When you catch flights: Do you dress for style or comfort, and what is your go-to outfit?
I go for comfort! I usually wear Lululemon or Fabletics leggings, a Zara regular black tank, some running shoes, a fanny pack so I can easily access things, and a sweater wrapped around my waist because I freeze on the plane. 
If money wasn't an object, what once in a lifetime experience would you do?
I would love to stay in a cave hotel!
Keep up with Heather Lindsey on her official website.
Follow her on Instagram & YouTube now!
All images courtesy of Heather Lindsey