I am a daughter, a sister, a wife, and a mother. I am a scientist by trade, a savvy business owner by determination, and a lifelong learner driven by excellence.
I started my life as a Chinese minority in my birth country, South Vietnam. As a former "Boat Person" refugee, I have been given a second chance at life here in this beautiful, free country, which I never take for granted.
Please tell our Sheen readers  more about yourself. 
In my previous careers as a corporate professional, a businesswoman, and now as a speaker and author, I've always surrounded myself with leaders in the industries who looked for avenues to excel, grow, and serve in any given situation. They inspired me to be my best version of myself in everything I do. I have used the synthesizing and analytical skills that I learned throughout my life to adopt, adapt and propel forward. Now, I use my pen and the microphone to amplify my message to help others find their power and inner strength.  
According to the Chinese Zodiac, I was born in the year of the Water-Tiger. I had no idea how powerful my inner strength could be because of all those turbulent years of living in a traumatized family and war-torn society in Vietnam. I bought into the Eastern culture's concept that I would not be happy unless my parents were happy and the people around me were happy. My perspective changed when I was old enough to establish my own foundation of thoughts. 
My biggest accomplishment was when I shared my story on the TEDx stage. It was the most daring and vulnerable activity to do. The truth is:
You don't have to be born in the year of a Tiger to be brave.
We all have inner strengths like no others.
You can claim it when you are willing and ready to roar.  
What does it mean to pivot, and how are you pivoting during the pandemic?  
Pivoting to me is being willing to change the direction of your goals and plans when they are abruptly interrupted, to adapt to the unexpected chaos that disrupts your paths. Being a former refugee who survived a ravaging war, my family and I learned to pivot every turn, at every adversity that came our way. From the harrowing journey of escaping Vietnam communists and crossing the ocean to rebuilding our lives from scratch in America, we've done it all. 
I've learned that you can't control the situation, but you can control the action you take during the crisis. You should pause and take a moment to re-asset your strengths and talents and apply them to the new situation. Many times, the latest, unfounded opportunities that can better serve you, your family, and clients present themselves.  
The Pandemic brought the gift of time, as I spent more time at home and focused on writing the memoir that I intended to write for the past um-tee years. It was a blessing that I completed my book in seven months with editing on Zoom meeting with my team. 
However, it also triggered the anxiety and Post Traumatic Stress Disorder of the uncertain times I had in the refugee camp. As masks were scarce in the early months during the Pandemic, I quickly used my sewing skills by making over seven hundred masks in three weeks for healthcare providers, restaurants, and construction workers. It felt good to make an impact. It gave me the motivation to keep writing. 
When the lockdown extended, I quickly adapted to the new technology by using Zoom to make worldwide connections, build relationships and collaborate with many mastermind groups. I created a live stream video every day on Facebook, a space to share conversations, incite hope, and encourage growth through embracing change. I recruited a friend to co-host, and together we've been shining a spotlight on other people's thriving stories. Fourteenmonths later, the platform is still growing more vital as we continue to meet wonderful people and share their fascinating stories.  
You can join us if you want to share your thriving stories with our audience by clicking here.
How did you make it out of Vietnam, and what was it like for you?  
I fled Vietnam with my family when the communists took over Saigon in 1975. The oppressions were unbearable. The people's lives in democratic South Vietnam had turned upside down, and our only option was to flee or die. 
Together with five hundred others, we crammed up in a wooden boat with little belongings. We sailed out to the open sea without knowing how we would survive the ocean or where to go. It was like jumping out of the plane and hoping someone would throw you a parachute. 
I was only sixteen at the time. It was a vulnerable age, and I had very shallow roots in both Vietnamese and Chinese traditions. In coming to America, my family, and I grappled with holding onto our heritage and embracing the new Western culture. I struggled with my own identity and felt misfit for many years.  
My limbo experience, first-generation immigrants/refugees, no doubt was very similar to millions of others who first came to this country. It was painful and challenging, but very remarkable. It was a necessary pain and challenge to go through, but very rewarding to rebuild our lives in a foreign land. Those challenges helped define my growth and my faith in God, who believes in me.  
Please tell us more about your book and where can we purchase your book?      
I Did Not Miss the Boat is the coming-of-age story of an adolescent girl who struggled to help her family assimilate into a new country while searching for her own identity. From surviving the vast South China Seas, pirate raids, and uninhabited Indonesian Islands to surviving high school and family life, I did not experience a typical American upbringing.  
This book was written with the intention of preserving a piece of history of the lives of ordinary people in the post-Vietnam war, and to give tribute to all the brave refugee parents, who sacrifice everything to obtain a chance of freedom for their children.
For an autographed copy, you can purchase the book on my website.
The paperback and ebook Kindle can be purchase on the Amazon website.  
What are some of your greatest accomplishments?  
Does having a long marriage count as an accomplishment? I have dated and married my soulmate for over three decades and raised a kind, diligent, and respectable son who always inspires me to be a better mom. That is one of my most outstanding personal achievements.   
I am also proud to be the first to graduate college on both sides of the family. My biggest humanitarian accomplishment happened while I was employed by one of Merck and Wyeth's most significant pharmaceutical companies. For 17 years, I met and worked with wonderful people in the science world of chemistry. There, I was a co-inventor of several patents on anti-HIV drug discovery and development. Out of thousands of compounds I synthesized, one had made it as a drug to the market to treat HIV-AIDS in 1998.  
Deciding to leave my corporate job and pursue my risky dream of being a solopreneur was terrifying yet rewarding. Despite the market crash in 2008, I went on to beat the odds and had a successful business. My proudest moment was when I celebrated Distinctive Designs' tenth anniversary on stage, presenting the "Window Fashion Runway for a Cause." We raised over ten thousand dollars to benefit Laurel House, a Domestic violence shelter in Norristown, PA. I was proud that I was in a position that I could give back to the community. 
My biggest personal growth accomplishment was sharing my story on the TEDx stage and writing my memoir after. I was stoked to find out that my TEDx talk is now being featured on the big TED Talk platform. All of that would not just happen without the support of my family, mentors, friends, and peers. God is good, and life is sweet! 
What advice would you give someone who would like to embark on your expertise? 
My advice for everyone who wants to start a new business is to immerse themselves in the industry they want to be in. As Benjamin Franklin said, "An investment in knowledge always pays the best interest." I would go a step further. Don't only invest in knowledge but also surround yourself with leaders in that industry. Find a mentor, teacher, or coach who can give you insights into that industry. Volunteer, trade in your time to mentor others. The only way to learn fast is to share what you learned. Don't hesitate to ask. The worst you can get is a NO, but a YES will give you many possibilities and unknown potentials. 
What sense of purpose have you drawn from your culture or your community?    
When I was young, I blamed and resented the disadvantages and baggage of a turbulent family and an oppressive society. I felt half-baked and ashamed of having a refugee stigma. As I grow older and have a child of my own, I began to appreciate the resiliency, the hard-working, and the determination values that my parents had instilled in us. I appreciate my roots and the sacrifice my parents made to give us the privilege to exercise our freedom. I want to honor their legacy by helping women break their silence, proactively seek change, and live a life of passion and purpose. It's my mission to follow my parents, making an impact on changing lives. 
What else can we expect from you in 2021?
This year will be a bursting energy year for me. My book and my Thriving Conversation on Facebook that shines a spotlight on others continue to connect me with people worldwide. 
My memoir "I Did Not Miss the Boat" also has opened so many new opportunities. I have been invited to be interviewed on many podcasts on the Zoom platforms during the Pandemic of 2020 and now spilling into 2021. I will continue to engage in many speaking events, virtually and on stage in person. COVID-19 also gave me the gift of time to complete my Holistic Coaching program from the Radiant Coaching Academy. I am now a ICF (International Coaching Federation) accredited Certified Holistic Coach. I am ready to inspire and to work with women to help them transform by proactively embracing change, to take control and thrive so they can live a happier life.
I also have plans to travel and do my book tour across the country and abroad.   
One of my other projects is introducing my book to all the libraries and high schools in America. It will bring awareness of diversity and inclusion values to preserve a piece of history in the Vietnam War era and the Asian AmericanHeritage in this country. 
Many readers have encouraged me to submit my book to screenwriters and producers, possibly turning it into a movie. I will dedicate some time to pursue that as well. 
Another side project is a chapter of my story, in a compilation book "Top 25 ChangeMakers- How Florida Entrepreneurs Thrived during Challenging times" was published in March of 2021.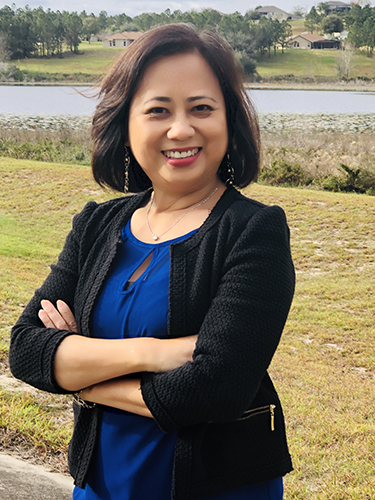 Where can we find you?
You can find me on my website or on many other social media platforms: A Thriving Conversation Facebook, Lea Tran Tedx, Lea Tran Book, Lea Tran Author Facebook, Lea Tran LinkedIn, Instagram,and YouTube.
All images courtesy of Lea Tran