Tamryn Iyer lives by the motto that we all have the opportunity to make the world a brighter and kinder place. She shares this optimism with her clients as the founder of Impact 17, a social enterprise that helps clients build their social media footprints and reach their greatest potential. Tamryn's journey, however, started with working at a non-profit and then founded Impact17. She put this on pause and ended up teaching English in Vietnam for sometime. While she was there, she discovered her entrepreneurial passion. This led her back to South Africa where she's built her reputation as a network marketing guru. She has clients – past and present in Mauritius, Nigeria, Botswana, Zimbabwe and South Africa
Join us for an exclusive Sheen Magazine interview with Tamryn as she discusses her career, her passion, and the inspiration she draws from her culture and community.
Who is Tamryn Iyer?
I am a graduate in Social Sciences from Rhodes University. I worked as an intern at a rape crisis center where I handled social media and held empowerment talks. I also worked as an English teacher—aka an educational rock star—in Vietnam. I am part of the Global Shapers Community, a division of the World Economic Forum, and, more specifically, the Durban Hub.
My time and energy are devoted to my startup, Impact17. Impact 17 is a social enterprise startup that utilizes social media to empower and facilitate social change. From helping entrepreneurs launch their brands through Instagram to working with organizations and giving them content direction, I enjoy the ever-changing interweb and how we can make the best use of it.
I recently founded Enso, an e-commerce platform with exclusive products like home furniture. This is coming soon.
I am adaptable. I love traveling. I survive on coffee and I believe that we can all make the world a brighter and kinder place to live in.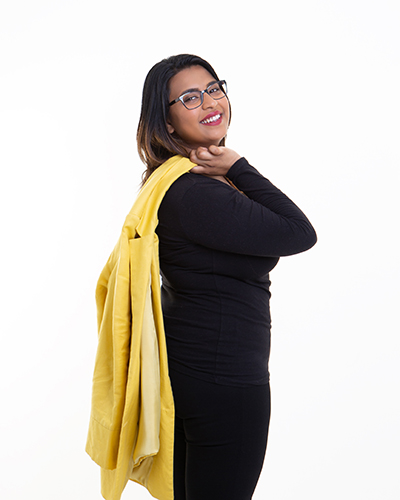 What does empowerment mean to you?
To me, empowerment is a parallel feeling. It's feeling on top of my game and always knowing that I can learn something every hour of every day. It's knowing my power, my worth, and my accomplishments. It's also knowing that there's so much more to be done.
Tell us about your mission in the world of entrepreneurship.
To put it simply: everyone does something amazing and my job is to help them share it with the world. This is done through the correct use of media and marketing via digital products like logos, flyers, campaigns, etc. Everyone knows what needs to be done, but sometimes they need a little inspiration from the outside. I am that person.
Tell us about your business and its ability to impact a nation.
Impact17 helps all kinds of businesses reach their potential online. I work with businesses with various budgets, not only those with massive startup capital. Social media needs to be done correctly to have maximum impact. We also work according to the different brands and personalities of our clients, which is what makes us a preferred supplier!
How do you use your expertise to influence others in network marketing?
I don't try hard to sell my services. I focus on providing the best service and maximum value to my clients. Their happiness organically gets me more work. So, yes, VALUE! Whatever product or service you deliver, provide the best version of yourself or what you are offering, and you will get very far.
What are some of your greatest accomplishments?
Founding a startup at 21 years old is one of my greatest accomplishments. I'm also proud of spending 10 months in Vietnam and then leaving to pursue my entrepreneurial dreams.  
What advice would you give to someone who wants to mirror your success?
Do it and embrace every emotion that accompanies the journey—the celebration, the rejection, the friends you make and the friends you lose, the side comments, and the public accolades—embrace it all. Also, keep learning. Things change daily so stay on top of your game!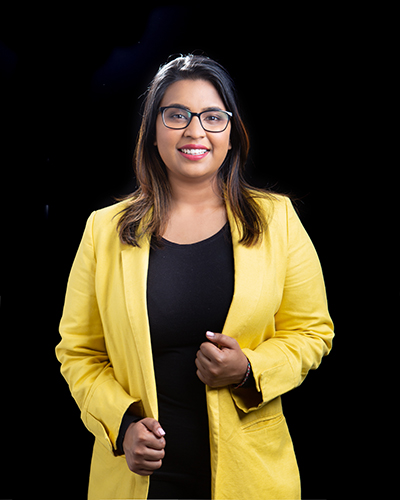 What sense of purpose do you draw from your culture or community?
I am South African Durban Indian, and my culture is Telugu. It's my everything. I love my culture and how it places so much on the power of females, even if they are often forgotten. My culture embodies who I am and weaves itself into my daily life experience. It's where I get to be present with my family and friends.  
Where can we find you and learn more about your work?
On my official website, Facebook, and LinkedIn.
All images by Sandra Keddie Photography