"Work hard, do the work, put your best foot forward and get results" is the quote that fashion designer, Shanita Walker lives by to get her through her journey … When you think about that quote and view Shanita's work you can defiantly see that she works hard and has put her best face forward when it comes to her designs.
Newark New Jersey native and now Atlanta resident, Shanita Walker is a true force when it comes to design. Her attention to detail and craftsmanship is impeccable. She can make anything that you envision, however, ladies are in love with her best selling signature sequin skirts. I promise if you have one of these hot items you are bound to turn heads. Check out this exclusive interview with Shanita Walker…
If you had to choose, clothing item you could design every day, what would it be and why?
If I had to choose a clothing item, I could design every day, it would be a Sequin Suit. I love how you can play with the masculinity of a good suit but make it feminine and boss-like.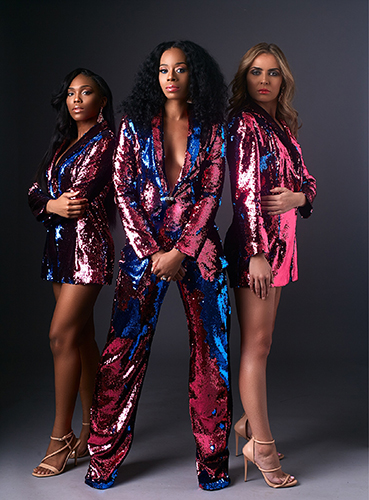 Who are your top 3 dream clients and what would you design for them?
My top 3 dream clients are:
Monica – I've already created an amazing sequin tuxedo set. I am currently waiting to cross paths with Monica and let her know her custom made design is ready for her to wear.
Traci Ellis-Ross – A beautiful sequin wide-leg jumpsuit. I love her height and how much class and spunk she mixes together with her styling. Her style has always been a favorite of mine.
Beyoncé – I love designing for the women with beautiful curves. Beyoncé's body and styling have always been an inspiration for me to design beautiful silhouettes that can show off a woman's curve in the chicest and bossy way.
How did you get your start designing clothes?
I started designing clothes as a way of curing my inner pain I endured during my adolescent years. I always felt beautiful more on the outside than inside at times in my life. Fashion has been my scapegoat to be free and look as stylish as I wanted to be. I used clothes and styling as a mask to steer people away from asking "how are you" or "what's wrong with you?." I wanted people to compliment me on what I was wearing and where they could find the pieces.
It wasn't until I realized all the money I was spending on clothes back to back, that I could easily design all the styles I was wearing. I went to my family friend/mentor Mrs. Buela McKinnon, a sewer and asked her to teach me the ways of sewing and designing my own clothes. I was Mrs. Buela's apprentice and soaked up everything she taught me. Still to this day, I call Mrs. Buela for advice and tips.
Along your journey have you had any mentors who have helped you along the way? If so, what was the best advice you have been given?
Yes, I have two mentors who I rely on for anything I need. Those two mentors are Mrs. Buela (seamstress) and Nate Hutson (another close friend and designer).
The best advice given to me by Mrs. Buela is "My child, the best tool you will ever have is your hand, use them as a gift to create a lifestyle you want". I will forever always remember this advice given to me because through the cuts and bruises I endure with my hands, I can pat myself on the back and say, "I created these designs with these tough bare hands, I hold the power to create an avenue where I can be free and have people wearing my designs.
The best advice given to me by Nate Hutson is "I see you as the future and I want you to be a better designer than I am". The reason why he said this to me is because of the endless open door opportunities self-made designers have nowadays. All the resources are easy to obtain at a fingers grasp.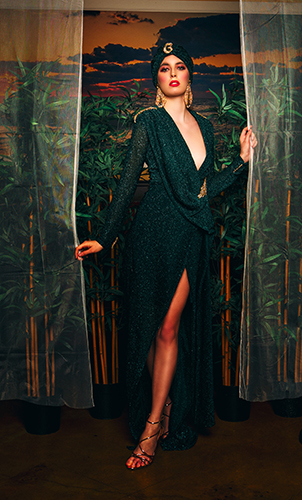 We are all going through various emotions during the COVID-19… How are you keeping yourself inspired during this time? I am loving your new mask and turban combo.
Thank you so much for the love and support on the new COVID-19 Sequin Face Mask and turban. Yes, you can definitely wear them together as one combo. Keep safe and healthy in a fashionable way.
 It is such a tragic time that we are currently undergoing, however, I won't let this pandemic stop me from doing what I love to do. Though it is scary what COVID-19 is doing to the world, we can't let fear stop us from making people feel good and happy.
I figured if I can make people look good why not also keep them safe which is why I decided to create reusable sequin face masks. I want to be a helping hand in flattening the curve.
What advice would you give other aspiring designers who are thinking about getting into your field?
The advice I would give to those wanting to pursue a career in fashion designing is to always put GOD (whoever you worship/believe in) in your plan!!! Do not think about starting anything else without faith. Also, believe in and create a lane for yourself, there is no such thing as competition when you know what your design is something no one can credit themselves for. Be your own boss and make sure you have a small support system; be open to criticism.
What's next for the S. Denton Collection?
I currently released my new Velvet Variations Jogger Set Collection earlier this month that I am excited about. Promoting and showcasing this collection to different people has gotten me raving reviews. The collection represents a fun and fashionable way to style up a jogger set of many colors and prints with heels, boots to sneakers.
This year of 2020, S. Denton Collection will be introducing my supports/friends to new ventures and designs I have lined up. Without giving too much away, you can get a glimpse by subscribing to my email list and following me on my social media account (Instagram preferably). Stay tuned!!! You haven't seen anything yet!
For more on S. Denton Collection, click here!
Follow the brand on Facebook & Instagram today!
All images by Kevon Richardson