Today is National Book Lovers Day!  What better way to celebrate than with a new book release.  Children's author, Katrina Denise, has penned two books thus far.  Her third release is a coloring book for children titled:  Color Me Successful.  This release is an inspirational book for girls that explores various career aspirations from A to Z.  Katrina has a background in Education and uses her professional insight to pen amazing offerings for children to enjoy. Here's what Katrina told us about her inspiration, career outlook, love for children and beyond:
What inspired your career in education?
I originally pursued a career in television production with a goal of producing children's programming. After working in the production field and advertising, I felt a strong pull to work with kids in another capacity. Eventually, I became the assistant director of a learning center.  In speaking with parents about their concerns regarding academic progress or lack thereof, I felt that if I were in the classroom, I could make an impact! They wanted teachers that could connect with their children and were passionate about teaching the whole child (life lessons, curriculum and out of the box teaching).
Why was it important for you to create your new coloring book for girls? 
I distinctly remember seeing Debi Thomas, an African American Figure Skater, as a kid, and thinking, "wow, an African American ice skater?"  It was inspiring to see someone who looked like me and that was a female excelling. Recently, women like Lupita Nyong'o, and Beyonce have made history. Children often see women in film and music, but we are doing it ALL! I wanted young girls and especially those of color to know that there are countless career opportunities that exist. Yes, we are pilots, race car drivers, chefs, NFL referees, Vice President of the United States! I want to empower them to not only dream it, be it and color the world they imagine with diversity.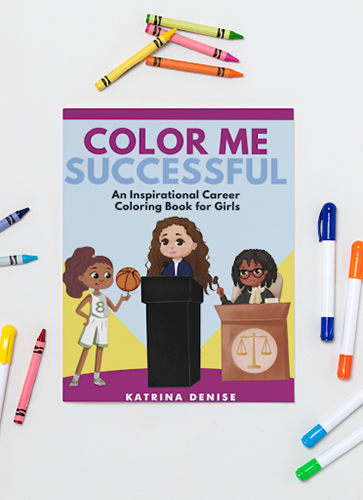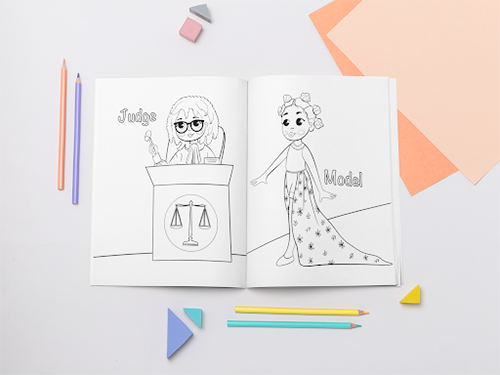 How can education impact a person's career outlook? 
As educators, we provide the foundational skills needed for any career. However, we also teach students about the world, to include community partners, helpers and careers. Students are often asked what they want to be when they grow up. While the question itself is geared towards increasing an awareness of job opportunities and helping kids to think about their futures, if children only learn of a few careers or only see males of a single race dominating those professions, we haven't presented a healthy career outlook. If educators can teach about a president, of which we currently have only had males, they should also highlight female leaders or Presidents even if from other countries, to show that leadership in that capacity is not gender specific. Career day can not just be filled with traditional careers like a police officer or a doctor, seek out the scientist, florists, and equestrian too. Educators can teach content standards science and also highlight professions where those talents are utilized. Students will often inquire as to when they will use the skills taught in math, show them careers that require them and expose them to things they didn't even know existed.
What takeaway points do you want families and children to have when using your new book? 
I want families and children to enjoy coloring and being creative, but learn about new careers. My hope is that a child begins to asks questions about what it takes to be in that career or what the job entails. I hope families will seek out women in those professions and become inspired by their success. As children color, I hope that they color the world the way they imagine.
How can readers connect with you? 
"Readers can connect with me on my website which is www.katrinadenise.com or on Instagram@authorkatrinadenise."
What are your upcoming projects, events, etc?
This book is a part of a series of Color Me Successful Books. The next project will be the boys edition.
Katrina Denise is an author to watch as she continues to provide our children with authentic books to empower their learning, imagination and self-esteem.  Connect with her brand to follow her author journey.  She's not only an inspiration to children but to book lovers of all ages.  Happy National Book Lovers Day.
Writer, C. Scott, is a mompreneur, social worker, educator and lover of all things literary related.  Follow her online as @curls_coils.  
All images courtesy of Katrina Denise