Betül, also known as @turkuazkitchen on IG has millions of views, and if you're on IG you've seen her 'made from scratch' recipes before. She's a cook who never shows her beautiful face as she allows her hands to do the talking. Everything from breakfast, to healthy snacks, dinner, and dessert; there is nothing she hasn't made. Aside from making all food from scratch, she even puts her own twists on cooking by making different foods from all over the world!
When did your love for cooking start?
When I was 8 years old! My mom used to prepare real dough for me to play with instead of play dough as a fun baking activity. I used to spend time with it all day and my mom would bake whatever I created at the end. I remember making some kinds of bread and it was the first time for me to meet my passion. When I was 10-12 years old, I used to watch several baking and cooking shows on TV. I was a dreamer at that age, I used to pretend that I was the host of those shows, showing my baking skills to the world. After I became 14, I started to spend much more time in the kitchen, trying to cook and bake even the most challenging recipes. Cooking is my childhood passion and I am really glad that my passion is still very flaming.
We see that all of your videos have you cooking from scratch, have you always cooked from scratch?
Yes, and thank you for noticing that! I love to make everything from scratch, over the years this has become a habit of mine. I try to present my recipes the way how I learned them in the first place, starting from scratch. When everything you make is homemade, and from scratch, then the resulting flavor usually turns out much more delicious since you can easily adjust everything to your liking.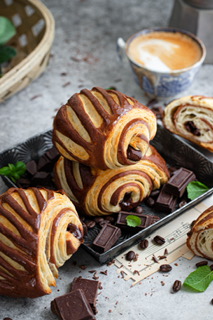 What has been the most difficult dish to make?
I can't think of anything specific that was really difficult to make, but I think the hardest recipe to perfect was the croissant (or viennoiseries in general). It took me a long time and a lot of failures or mediocre results to get the perfect one. For example, when I recently developed a pain au chocolat recipe that could be made with a simpler method, I had to make 5-6 tries from scratch. I think I made about 100 pain au chocolates, and although we shared most of them with our neighbors, I believe we still have some of these chocolate croissants in the freezer 🙂
Where you ever criticized for a certain dish you made?
Well, this question brings a lot of funny memories. I mean there hasn't been any specific food, but there has been a period in my life when I have been criticized regularly, like every day 🙂 My mother is an extreme perfectionist. After I was 17, I was responsible for cooking the dinner at home and my mother would always find a point to criticize every dish I made, just like a hard-to-please master chef.
Are there ever days you don't want to cook?
I definitely don't like to cook during vacations. I feel like it goes against the vacation soul, so I am not happy when my husband books a place with a kitchen 🙂 I don't know how, but if there is a kitchen, I somehow find myself baking something in the kitchen. It's like magic, I guess.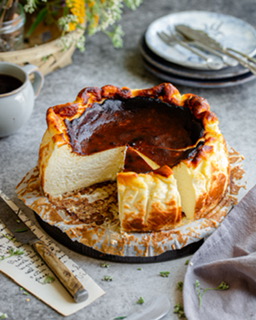 How long does it take you to film your cooking videos?
When I first started to make those videos, it was taking my whole day. It was very difficult to prepare and shoot the recipes because I did all the shots by myself and I had to work a lot on the styling. Now it takes around 2 to 4 hours depending on the difficulty of the recipe. But I guess it still takes me 4-5 hours to recover the damage in the house during shooting days.
How did you feel when your first cooking tutorial video went viral?
Excellent question, you made me go back to that magical moment, thank you. I realized I had never thought of that moment before.
Needless to say, I was over the moon! My husband and I watched the video over and over again and read all the beautiful comments for like ten times. I always find the idea of touching millions of people's lives all over the world -even for less than a minute- magical, and that moment was when the magic started. But I must say that success is addictive. The next day, I immediately started preparing for the new video.