Music artist, Jabari Johnson is currently the lead guitarist at The Potter's House in Dallas, TX. Prior to that, he played and wrote his own music. His first single, "You Are Holy" was a hit in the world of gospel. Today, Jabari has just released a brand new single titled, "Fixed Fight." We wanted to know all about his new single, his experience at The Potter's House, and much more! Check out our exclusive interview with Jabari Johnson below!
Tell us about your new single, "Fixed Fight."
The song was birthed in Louisiana. We were out singing "Have My Way," which is the first single I'd put out. "Fixed Fight" just came out of nowhere. It was a moment, a vibe. I thought it was a vibe that most people could relate to, not knowing that we would be facing a pandemic. "Fixed Fight" speaks to the people saying, 'Hey, I know what you're going through, but the ending result is victory.' You have to walk in victory and be victorious. It may not seem like victory right now, but you have to believe with your whole heart.
Do you mind sharing your experience as the lead guitarist at The Potter's House?
Great experience! I've been there for three years. Listening to the word every week and having the access to ask questions about life and business is a great experience. A lot of people don't have that access to a man of God like Bishop Jakes. We have an awesome team! The whole praise team has made it such a great experience for me.
You released your first single five years ago. What have you learned about yourself and/or the music industry since then?
I learned that I don't have to change my sound to fit in. There is enough room for everyone. A lot of people get in and think they have to adjust their sound so people will like them more. People just feel like you're a copycat if you're out here trying to be like someone else. The future itself is between you and God. I feel like being in the industry has taught me to be myself, take care of your business, and be 100% with yourself always.
What can we expect to see from Jabari Johnson in the future?
A lot of hot music! I have a lot of great things coming. "Fixed Fight" is a hit but I know the other songs on the record are bangers too (laughs). In the future, I'm not holding back. I'm giving God 100% of all that I have because he's given me all that he has. It's about to be lit. I know we're going through a pandemic right now but I'm just speaking it into existence. The season is going to the greatest seasons of my life.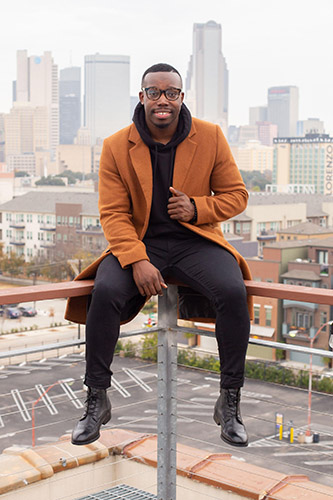 For more on Jabari Johnson, follow him on Facebook, Instagram, Twitter, & YouTube.
All images by eOne Nashville