In an effort to provide fashion lovers across the nation "Affordable Luxury" products, Jade McFadden built her ultimate fashion and lifestyle empire through her brand, The Jade McFadden brand. We caught up with McFadden to discuss her love for fashion, the idea to combine fashion and lifestyle, and much more in our exclusive interview.
When did your love for fashion come about?
I can't tell you a specific age, but honestly, it's almost like I was born into fashion! My mother, who is deceased was very into the fashion and beauty industry! She had a great sense of style! She always looked very modelesque and classy! Even though, I was only 10 years of age when she passed away, I feel I have a lot of her in myself. My father, who is also deceased, had a great sense of style! He was athletic, but also had a very nice collection of suits and hats! 
What gave you the idea to combine fashion and lifestyle to make your brand? 
Well, when my business partner and I first started the brand, we knew that it needed to be unique! It needed to stand out from any other brand. It's almost like a "One Stop Shop". I truly feel there is something for everyone!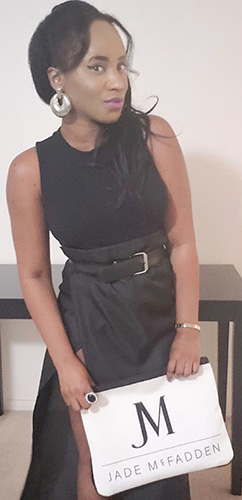 What all does Jade McFadden offer?
The Jade McFadden brand is a very unique fashion & lifestyle brand. We design and sell high-quality clothing, shoes, bags, jewelry, accessories, home décor, and various lifestyle products for women, men, and kids at reasonable prices! We call it "Affordable Luxury". We've recently expanded our brand by adding a personal care category which includes beauty and grooming products for women and men!
Why was it so important for you to create a brand that is considered "Affordable Luxury"? 
It's a balance of high and low. It's sort of right in the middle! High-Quality products that you don't necessarily have to pay an arm and leg for, so to speak. Some products are less expensive, while some are more expensive, depending on cost to produce and time spent to design that specific product. I work very hard to make sure the aesthetic of this brand is clean, classic, cool, unique, yet fun!
Hence the expression we love to use, "Vintage-Inspiration, Mod-Liberation."
What are you looking to accomplish in the years to come?
A legacy. 
For more on Jade McFadden, click here.
Stay connected with Jade McFadden on Facebook and Instagram.
All images courtesy of Jade McFadden