It seems like every day there's a new designer that's ready to break down doors in the arena of fashion. Meet Jayda CEO of Jaell she a native of Houston but Atlanta made. Jayda has created a lane for herself with her high-end garments ready to storm the runways of Milan, Paris, and New York. I recently had a chance to sit down with her and get some more insight into her creative process.
What is the inspiration behind Jaell?
The inspiration behind JAELL has changed so much over the years. Believe it or not, I actually created the idea of JAELL when I was 7 and made it into a business in middle school so originally it was just a way for me to create and express myself, but now it is much deeper than that now. The inspiration behind JAELL is to tell stories that are a light to the world; when I create my goal is to not only inspire others but also help them speak without saying a word in my clothing. I like to say I bring fashion and faith together to create exclusive looks. The fashion is the designs of course, but the faith represents my newfound relationship with God and by merging these two in my creative process it allows me to create on a completely new level.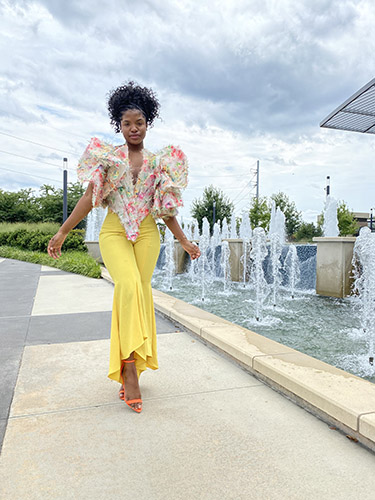 What is the process for creating one of your beautiful pieces?
The creative process for designing a piece varies! Sometimes I just look at shapes or objects that eventually inspire my sketches. Other times, there may be a specific emotion or story I want to display so I try to draw what that looks like in fashion form and my new favorite way of doing things would be draping. Which to me is basically free styling with fabric and pinning and cutting whatever comes to mind on a mannequin. These are the ways I typically start a project and from there I get into the actual sewing.
Who is a client you would love to work with?
There are a few people I would love to work with actually. There are a few inspiring black businesswomen that I would love to design for like Maja Sly or Donni Wiggins and there are also some celebrities I would love to work with like Ciara, Tracee Ellis Ross, Lori Harvey, and Sevyn Streeter.
How has living in Atlanta, GA helped your brand grow?
Being in Atlanta has helped me so much! I arrived in Atlanta a few years ago when I was eighteen years old for college even though I didn't graduate, I firmly believe I was meant to be here; I've made so many connections, built lifelong friendships within the industry but most importantly this is where I was able to grow and figure out who I am as a designer. Atlanta truly did push me to figure out how to make a way for myself and the lessons I've learned here will be used in my business forever.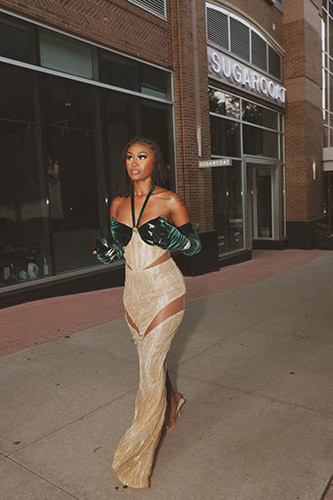 How can black fashion brands be recognized more in the industry?
I feel like black fashion brands can be recognized more by continuing to create our own moments. There is this saying that I recently learned, and I remind myself of it: it states: "If you want to increase your income, increase your value." I also look at it from other perspectives, if you want to increase your brand growth, your exposure, your network, engagement, etc. it starts with increasing your value. In other words, Improve you. I used to be so thirsty when it came to getting an opportunity, I kept telling myself if I just get "so and so to shout me out" or "if I just get this person to wear my clothes, I'll be good" but now that has changed. I focus more now on improving my craft, business and content and as a result it has brought me more opportunities. If we put more energy in just creating super unique projects that are true to ourselves and of good quality, I believe everything else will follow!
All images courtesy of Jaell