We first fell in love with stage and screen actor, Jahi Di'Allo Winston when we witnessed him as Young Simba in Broadway's The Lion King back in 2014. More recently, he was cast in the action film, My Spy and we simply just can't get enough of him. The young, hardworking actor is here to let everyone know he's just gotten started and promises more great projects for his fans around the world. We caught up with him to discuss his role in the upcoming film, Charm City Kings, future projects, and more!
Tell us about your role in Charm City Kings.
In Charm City Kings, I portray Mouse. Mouse is a 14-year-old kid, growing up in West Baltimore. He has a fascination for a biker group in the city called Midnight Clique. He has idolized them ever since he was young. He was intertwined with the clique because his brother was a member of the clique. The clique is symbolic for his brother and really just his journey growing up as a young man.
How would you describe your overall experience working on this project?
I found it to be very great and challenging. I say that because I didn't want Mouse to come off as a stereotype wanting to be a boy in a pool of young black characters played by young black men. I hope I achieved that. It was a great experience and I say it was a challenge because of the environment and what the story is inspired by. It was an incredible experience overall.
Ahead of the film's release on October 8th, 2020, what can viewers expect to see?
Viewers can expect to see a fresh outlook and perspective of Baltimore. There's a familiarity in the story of not just Baltimore but any inner city. I think what we're doing is very adamant in the element of humanity. Hopefully people that view it can resonate with it when it's released.
Is there anything you're currently working on that you can tell us about? What can we expect to see from Jahi Di'Allo Winston in the future?
I have a film calling up called The Violent Heart, it also stars Grace Van Patten, Mary J. Blige, and Jovan Adepo. It includes a great cast of actors and is directed by Kerem Sanga. I'm really excited about that! I don't have too many details to share right now but be on the lookout for that!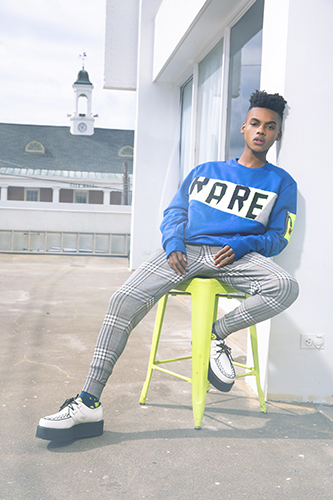 Charm City Kings premieres on HBO Max on October 8th, 2020.
For more on Jahi Di'Allo Winston, follow him on Facebook, Instagram, & Twitter.
All images by Will Kennedy