Celebrity Chef, Jake Smollett is known as a beast in the kitchen but his latest project has us excited to see what all he can truly bring to the table. Smollett's exciting new YouTube web series titled, Raw features the celebrity chef serving a three-course meal, a handcrafted cocktail, and much needed conversations on relationships, sex, and much more. With special guests appearances from Estelle, Lena Waithe, King Bach, and many more, we were dying to get all the details. In this exclusive interview with Jake Smollett, he shares everything we need to know on this new project.
Tell us about the inspiration to create the show, Raw.
The inspiration came four years ago. I just wanted to create a show that is true to life. I wanted to bring my friends into a space where we could talk about sex and relationships. I have friends that are engaged, married, and all sorts but whenever we get together, I'm usually cooking and we're talking shit (laughs). I wanted to create a show where I could have dope people over, cook, and talk about the interesting topics of life.
What can viewers expect to see in the first season?
For the first season, we shot six episodes. It includes dope guests such as Lena Waithe, Estelle, Erica Ash, and many more great people. People can expect to see all the guests discussing intimate, personal details about themselves that they probably haven't shared anywhere else.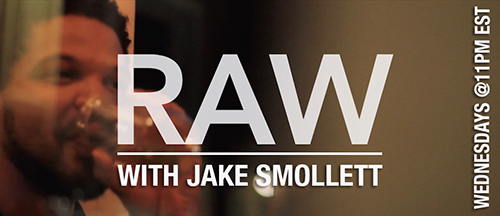 How would you describe your overall experience working on this project?
The overall experience was amazing honestly. The set was at my house so it was a very chill environment. The crew is dope and it was so chill. A lot of the guests that were included in the first season were family friends so it was relaxed, chill, and a great environment.
Is there anything else you're currently working on that you could give us insight into?
Other than the first season of Raw, I have a show that I do with my sister called Living By Design on CleoTV. We just got a second season which will premiere June 20th, 2020 and will include 16 episodes!
Raw is now available on YouTube! Click here to watch today!
Stay connected with Jake Smollett by following him on Facebook, Instagram, & Twitter.
All images courtesy of Jake Smollett