James Hunt, popularly known as "The Credit Whisperer to Pro Athletes," is a man everyone needs on their radar. His story is truly remarkable – from overcoming homelessness to creating a multi-million dollar company, he's made it his mission to help people around the world address their financial troubles and to take action! We had the chance to sit down with Hunt to discuss how millennials can build and maintain wealth, upcoming projects, and more.
Why are you referred to as the "Credit Whisperer to Pro Athletes?"
I am the person athletes and top celebrities come to with their credit issues. There are secret conversations that are had between the client, and these private matters are so big that they must be discussed at a whisper. What they are dealing with is on such a big level that I find myself whispering in my office, so I don't reveal the details even in front of employees. I am made aware of everything, from what they own, or what they are renting…I see their debt, everything. I am the person they trust to safeguard their financial issues and I give them the solutions to fix them so they can maintain their public image.
Do you mind offering your best advice to our readers when it comes to credit?
The best advice is always to be proactive and to know what is in your credit report. These days there are numerous websites that will give you all three credit reports and all three credit scores for free or for just a dollar. There is no excuse for someone to say they were not aware of their issues. You have to be aware and also be proactive by aggressively going after any and everything negative that is in your credit report. More importantly to be actively involved in building your credit. It is an ongoing process that will last forever. You are always in pursuit of a higher credit score that can take you to the next level and make any purchases that require credit, personal or business. 
How do you believe millennials can best build and maintain wealth?
My advice would be to consistently save as much money as you can save – putting it aside and building a substantial nest egg that will help you get to the next level. If you have an apartment now, you want to eventually get into a home. Making that step is not just something you wake up one morning and decide to do. Anticipate the life that you want and plan it out. You must make sure that your credit is always up to par and that you are living within your means. This means you have to defy the temptation of running out and grabbing the latest pair of Jordans, Gucci or Louis Vuitton when you know it is going to hit you in your bank account and delay your goals.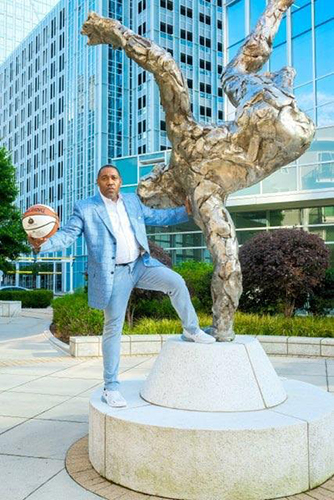 What are you working on now and what can we expect to see from you in 2022?
I am currently working on a book with former NFL player LaQuan Williams, entitled "Dropping The Ball." It is a book that talks about NBA and NFL players who have been successful on the court or on the field and have made millions of dollars for what they do with a basketball or football – but they drop the ball as it relates to handling their financial issues. It is targeted towards the rookies and current players so they don't make the mistakes of other athletes before them. I want to help them learn from the mistakes of those other athletes so that long after their professional careers, they have set themselves up financially to get the things they need and to live a successful life for themselves and for their children.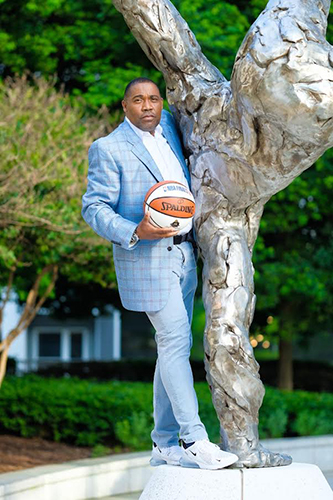 For more on James Hunt, click here.
Follow him on Instagram today!
All images by Elijah D. Davis.