Moët Hennessy became partners with Shawn "Jay -Z" Carter's, "Ace of Spades" after purchasing fifty percent of the company.  Jay-Z established the ostentatious brand in 2006 with Sovereign Brands and ultimately purchased their stake in the business.  Jay-Z's ownership in Armand de Brignac, also known by the populous as "Ace of Spades," is one of the many arms of the billionaire's business.  Before the sale to Moët Hennessy, Jay-Z had one hundred percent ownership in the champagne brand. "Ace of Spades" is known as the ultimate party champagne with the only known bubbly spirit sold in the 'Midas' 30 ml bottle.  The ornate bottles are coated in colorful metallic platinum with pewter labels and are hand polished.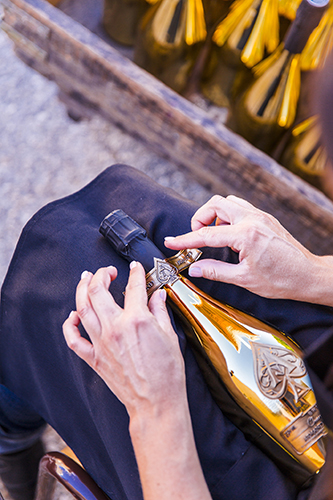 Jay-Z launched the brand publicly with the 2006 video "Show Me What You Got" and most recently on Meek Mill's "What's Free".  He's instinctively used his musical influence to create a 500 million dollar champagne brand.  It all started with the dismissive remark made by Cristal's managing director, Frédéric Rouzaud, when he told The Economist he viewed Cristal's association with rap 'with curiosity and serenity.  He also replied, 'that's a good question, but what can we do? We can't forbid people from buying it. I'm sure Dom Pérignon or Krug would be delighted to have their business" when asked if rappers hurt the brand.  Rouzaud's racist comments created the beginning stages of "Ace of Spades" when Jay-Z banned Cristal from his club, businesses and stopped exalting the brand in his music videos.  His actions were copied by other rappers and creatives.  It left a gap that was quickly filled by Jay-Z's creativity and business acumen.
On CNBC's "Squawk Box," Jay-Z stated he chose Moët Hennessy because "they are aligned with our thinking and thoughts.  The way they care about products and creating products.  It had to be right.  Moet Hennessy does it the same way."  In response to why he created the champagne brand, he stated "we were happy being consumers of his brand(Cristal).  Those comments forced us to build our own thing.  It's a happy day and I feel vindicated from that time."
Moët Hennessy's is clearly smitten with Sean "Jay-Z" Carter's business prowess and ability to promote the brand to a diverse global market. "Jay-Z created a new market of its own, at the very high prestige level of the industry. Bringing new consumers to the world of champagne in a very disruptive way.  That brand marketing became a huge success and we've been observing for the last few years" said CEO of Moët Hennessy, Philip Champs.  Moët Hennessy is the wines and spirits arm of LVMH, the luxury brand company.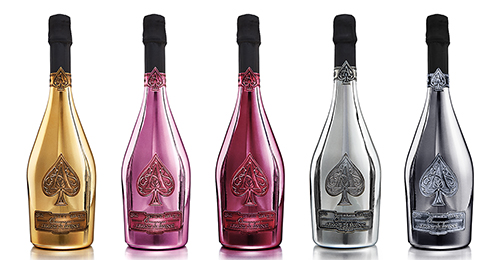 ABOUT MOËT HENNESSY
Moët Hennessy, the wine and spirits division of LVMH, regroups twenty-four Maisons, recognized internationally for the richness of their terroirs, the quality of their products and the craftsmanship with which they are created. The LVMH Group also holds renowned wine estates through "LVMH Vins d'Exceptions."

ABOUT CHAMPAGNE ARMAND DE BRIGNAC.
Champagne Armand de Brignac is a range of prestige cuvées that offer uncompromising quality and taste, [crafted by 13th-generation champagne growers, the Cattier family. Drawing upon more than three centuries of experience in the region, the father and son winemaking team create each distinctive cuvée] with exquisite attention to detail, including the selection of only the most emblematic vineyards, taking solely the first and freshest portion of the cuvée press and blending a unique trio of vintages. Each bottle is finished by hand with the application of French pewter labels and hand polishing. A small and highly skilled team of just 18 people touch a bottle from pressing the fruit to departure from the cellars in France. The result is a champagne that echoes unparalleled luxury and craftsmanship.
The Champagne Armand de Brignac collection is available in limited quantities around the world and is comprised of Gold Brut, Brut Rosé, Demi Sec, and the ultra-prestige single varietals, the Blanc de Blancs and Blanc de Noirs. To learn more about Champagne Armand de Brignac, visit www.armanddebrignac.com.