Industries and businesses are constantly growing and many entrepreneurs and creatives are finding their niche in these industries each and every day. Youtubers, Tik-Tockers and influencers are thriving as content is always needed and people are eager to see something new. When you think of the beauty industry, what immediately comes to mind? Is it your favorite makeup artist? A bomb makeup brand? A skin care routine you swear by? The beauty industry has grown and crossed over into the nail world, embracing every shape, set and polish. With the nail industry evolving over the last two years, Jazmin Gresham decided to hop right in and embrace an industry that she's loved since she was a little girl. She is the founder of NAILCON, a multimedia platform that launched in 2019 dedicated to nails, nail care and wellness. "Our sole purpose is to create a community that celebrates nails and consciously addresses social issues as well as community causes." 
Being a nail lover myself, Jazmin and I happened to cross paths at a networking event, and the rest is history! It's inspiring to see a Black woman creating a platform for any and everyone that adores a great nail set all while understanding the nail industry's history. I was able to chat with her and get the inside scoop of how NAILCON came to be.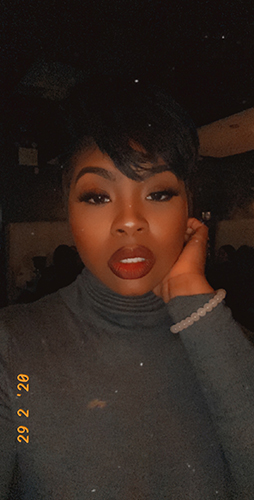 When did you discover your calling? When did you decide to start NAILCON?
After being rejected from grad school in early 2019, I was sitting at my kitchen table asking myself "what's next?" Everyone kept telling me "you really need to do something with your nails; fashion is cool, but nails are your staple". Then one day while chatting with a friend about attending Beautycon, (please note that this friend was already drilling the nail idea into my head) I said "how awesome would it be if there was a nail convention like Beautycon? Where people can meet their favorite nail artist and brands can connect with consumers but still incorporate other realms of beauty with nails being the epicenter" Elated, I said to myself "I can do that!" I looked up at the ceiling and decided to call it NAILCON. It's one of my fondest memories to date, and here we are.
What inspired you to start your brand?
I wanted to create a world aka a convention that has all the bells and whistles I'd like to see as a consumer. Plus as a nail lover, I knew the industry was underserved and lacked community. It was clear people didn't see the industry as a luxury service or a much needed service by the way nail artists were treated vs professionals in other realms of beauty. Also through my travels to different artists, whether state to state or internationally, everyone echoed the same sentiment wishing they had a place to call home and for the world to see them as professionals who did more than clean hands and toes.
What is the purpose of your brand? What do you want to accomplish?
NAILCON was built to educate and inform stylishly with content, events and interactive chats; to build a family of like-minded individuals (#NAILCONbabes) who appreciate the beauty of nails as well as its trend-setting culturally-based history. After doing the research, traveling and learning about the industry, I had crossed paths with a number of nail techs and professionals who led me to realize that my love for the industry was deep and that I needed to create a platform to share my findings.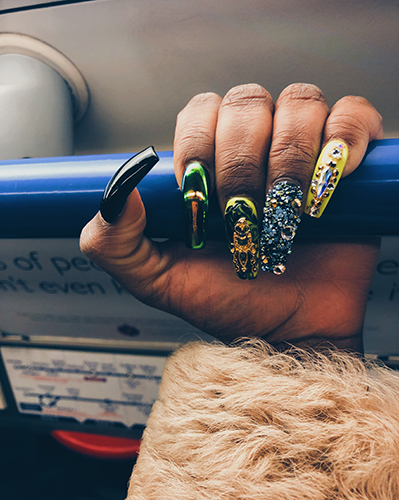 What is your background as far as studies/school/etc?
I received my degree in Fashion Marketing & Management from the Illinois Institute of Art-Chicago. Previous to attending my Alma Mater, I attended DePauw University in Greencastle, IN. majoring in Women's Studies with a minor in Economics. After discovering my love for learning the business of fashion, I knew it was imperative for me to immerse myself in its history and education.
While completing my degree, I moved to NYC to intern for a really cool handbag designer for Neiman Marcus, Anthony Luciano, and the rest was history. From there, I had the luxury of working for well-known brands such as DVF, Coach, Ralph Lauren and Todd Snyder as the Executive Assistant to the head of Creative.
These experiences gave me insight into the creative world, and more importantly business and how one cannot work without the other. The exposure to these brands and being able to gain a great network, gave me an overview of high level thought leadership and how to properly run a brand, especially coming from a startup background.
What do you think the nail industry needs more of?
It would be awesome to see a healthy number of brands and nail artists/technicians/manicurists collaborate, or even better, for brands to cast a wider net of Brand Ambassadors. I truly believe the industry would be much further ahead if brands supported professionals (financially and with educational resources) and put a higher focus on educating the consumer creating brand awareness.
Please be sure to follow NAILCON on their official Instagram page for all updates, fresh content and awesome live chats with artists and entrepreneurs in the industry! Also, check out their website and subscribe to be the first to know about specials, giveaways and more.
This feature was submitted by Rakiya G.
Freelance journalist and copywriter. I am a gifted wordsmith and creative writer always striving to make editorial magic and shed light on Black and Brown creatives. 
All images courtesy of Jazmin Gresham