Congratulations to the always fabulous Ms. Jody Watley! She has done it, again – returning to the UK Soul Chart Top 20.
Everybody is talking about the new JODY WATLEY Dance/Remix EP – a must-have in your playlist!
Watley dropped a surprise special collection of Alex Di Ciò Dance/Club remixes on October 22. Alex Di Ciò, a world-renowned producer and remixer has contributed to all of her recent Top 5 UK Soul Chart releases, including 2020's "Winter Nights" the 2018 Number 1 Single "The Mood" with mega support from BBC, Mi-Soul, DeLite, Solar radio and more.
'RENDERINGS'  is currently at No. 17 and steadily climbing up the UK Soul Chart with additional global support in the Netherlands, Germany, France and Italy.
The album which consists of five tracks, kicks off with "Not A Single Day Goes By." A song about losing someone close, the track is something that many these days could probably relate to on a certain level. Despite being mournful in sentiment, the production by Di Ciò captures a slight joy thanks to the up-tempo rhythm of the drums and searing guitar provided by Levi Seacer, former member of Prince's New Power Generation kicking off the set with a seamless blend of contemporary dance funk and rock.
Beyond the USA and other international territories, Watley is a regular staple on the UK radio and charts dating as far back as a former original member of the trio Shalamar and steadily in her own award winning solo career since her Grammy winning debut in 1987 and throughout each decade with an eclectic range of releases and collaborations.
The legendary trendsetting pioneer in music, video, and fashion took to social media to thank her fans and the DJs for their support. "Thanks so much to all of the DJ's spinning "Renderings" Top 20 Entry on this week's UK Soul Chart and those downloading/streaming. The entire vibe is uplifting and thoughtful from start to finish – I definitely wanted people to want to dance again, as well as highlight beautiful abstract artwork – bringing those elements together." – Jody Watley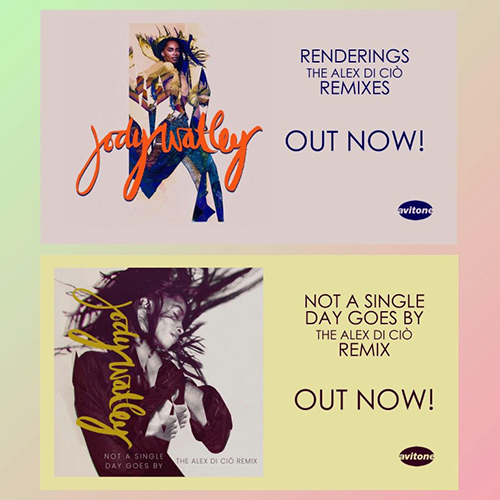 You can connect with Jody Watley on social media: @jodywatley
"Renderings" by Jody Watley is now available on all digital platforms.
Check out Jody Watley's latest anthem song, "Not A Single Day Goes By" here.
All images provided by Jody Watley