Gospel artist, Jonathan McReynolds has captured the hearts of millions of listeners around the world since he first began his career in 2012. In the span of his career, he has won eight Stellar Awards and his album, Make Room topped the Billboard Gospel charts! McReynolds' latest release is a single titled "PEOPLE" so of course, we had to discuss all the details with him. In this exclusive interview, McReynolds opens up about his new single, his book, Make Room: Finding Where Faith Fits, and what you can expect to see from him in the future!
Tell us about your new single, "PEOPLE."
"PEOPLE" is my latest single. I'm really excited about it. I think it really speaks to humanity and our general struggle, dealing with people, the ups and downs, and realizing that we put people through that too. We're not just victims. If we can accept grace from God then maybe we also need to give grace to others as well.
Your last album, Make Room debuted at #1 on Billboard gospel. What would you say inspired the creation of it?
Life was getting crazy for all of us. We have a lot of business things going on, we have a lot of ideas, friends, social media platforms, and followers. They all take up our time. It's very necessary that even while we're being blessed, we don't neglect our relationship with the blesser. It's important to me to make sure that I didn't more for God than I did with him. I simply had to make room.
What made you want to release your first book, "Make Room: Finding Where Faith Fits."
A lot of time as a singer or preacher, you get an opportunity to say one thing. As a singer, you have to say in about four minutes in a song. I wanted to expound on what I believe it really meant to make room for the different areas in your life. This book allowed me to do that. I got to talk about making room for God in your circle, your dreams, your ambitions, goals, and in your environment. It was important for me, educational, and I hope it resonates with people in the same way.
Are you currently working on anything you could tell us about?
Stay tuned! We've just released the video for "PEOPLE." I'm excited to show the meaning and thoughts I had. It's a cycle of grace that needs to be shown. We are working on full body of work to accompany "PEOPLE." I'm excited about that as well. We have a lot of cool things coming up such as BET's Sunday's Best as well as the Stellar Awards that I will be hosting. Plus, there will be touring towards the end of the year. Stay tuned!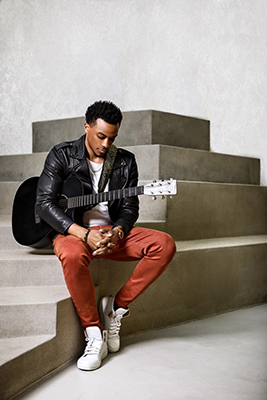 For more on Jonathan McReynolds, click here!
Stay connected with him by following him on Facebook, Instagram, & Twitter.
All images by Joe Flip Wilson