Moxy has made history and brought us a one-of-a-kind entertainment news show that is syndicated over 215 stations! Veteran reporter, Julissa Bermudez and Olympic Gold Medalist, Sanya Richards-Ross both made history with this exciting new show as the first two women of color to host an entertainment magazine show titled, Central Ave.  We caught up with the two history-making women to discuss the new show, why it's so important, especially during a global pandemic, and much more!
Tell us what we can expect to see out of the show, Central Ave.
Julissa: You can expect to see entertainment news, pop culture, and stories told like you've never heard/seen them before. Just when you think you know the story; with Central Ave. we're so invested that we break down every story and angle.
Why do you think this show is so important to release, especially during a global pandemic?
Sanya: I think that our show is the right show right now because this time has definitely reminded us that African Americans and minorities are having a unique experience in the United States. As we think about how pop culture, celebrities, and all the issues impact us. I think it's important that these stories are told by authentic voices. As Julissa mentioned, we're fortunate to have diversity in front of the camera, even more so behind the camera. Our team is diverse and when we tell a story, it is thoughtful with so many perspectives being considered. We think right now, when people are asking why so frequently, our show answers those questions from a very thoughtful place.
How has quarantine life been for you two as hosts of an entertainment show?
Julissa: Quarantine personally for me, being that I was [and still do] living alone in the beginning has been very introspective. I've had to keep myself busy and thinking about the current time we're in. We're living through this but what is the meaning behind everything that has been happening? 2020 has thrown so many curveballs our way. We've had to pivot and figure out what it is out of life that we want. I've gone through levels but for a show like Central Ave. to be happening during a pandemic and for us to be working on this show has really made me think about how much pop culture/entertainment news affects our lives more than ever. Who are you influenced by? Who are the celebrities that you have looked up to for so long? During this time that is so eye-opening. It makes you think deeper than you never thought before.
Sanya: Quarantine life has been a blessing and a curse. I think that is what a lot of what 2020 has been. It has pulled a lot out of us as human beings. I love to travel, I feel fulfilled, a better wife, and mom with that so it's been hard to lose some of those things in the early stages of quarantine where we were home every day, most of the day. My husband's business was hit really hard by COVID, but it has taught us the same thing that it has for most of us. It has made us stronger, lean more into one another to support each other, and re-evaluate our lives. I believe we're coming out of this even stronger. It hasn't been easy, but I feel blessed to have this opportunity to be on Central Ave., work again, and do something groundbreaking. It's amazing to be the first at something again, I never thought that would happen again for me outside of sports. It has been great, but I have a better appreciation for life and for opportunities like this like I never have before.
Julissa: Yes, you certainly don't take advantage of things that were so routine before. It's a blessing now because before you really didn't think you would miss those things as much [the little things]. You don't know what you can do until you have to do it.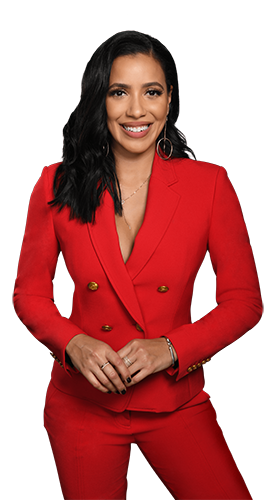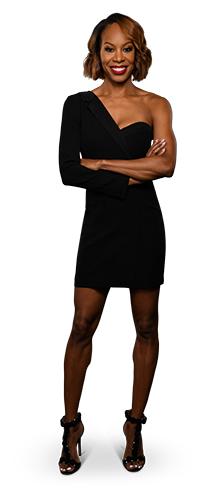 What are you guys currently working on or what can we expect to see from you all in the future?
Sanya: I am working on Central Ave., I'm super passionate and excited about this show! I'm looking forward to seeing how far we will grow. Hopefully, we will go from a weekend show to a daily show for many years. I have a project that I've worked on that I am passionate about, it's called Mommy Nation – it is a blog created to specifically support Black moms as we create incredible content, provide one another with resources, and merge together. It's growing tremendously and I'm excited about it. I'm a mom so I'm always investing in my family. Outside of those projects, I am excited and fortunate to still work with Nike and NBC. I hope to be at the Olympics next year (laughs). I hope the world opens up, but I will continue to grow and expand myself beyond sports. I hope to inspire other women in sports to do the same.
Julissa: Of course, working on Central Ave. as well. I'm passionately working on a beauty product. If you follow me on socials then you know I am very much into the beauty world. I have transitioned into not just being a host but also a beauty influencer. I'm currently developing my very first product. We've been in this stage for quite some time now, like anything that begins from scratch. I'm learning so much step by step. I hope to finally launch! I had a major setback due to COVID but I'm hoping to launch at the top of the year, it's all about timing but it is in God's hands. I'll strive to make it the best product as I can without giving too much away. It is a nod to where I was born which is the Dominican Republic. I hope my community and everyone outside of the community embraces this and feels beautiful when they use it.
Follow Sanya Richards-Ross on Instagram today!
Keep up with Julissa Bermudez by following her on Instagram now.
All images courtesy of Central Ave