Over 3,000 attendees are expected to gather together at the Riverfront park in North Charleston, South Carolina on Saturday, June 19th to celebrate Juneteenth. The vital American holiday commemorates the abolition of slavery in Texas on June 19th, 1865.
With a strong emphasis on community engagement, the event serves to educate attendees on a wide array of topics ranging from the importance of the black vote, the importance of education empowerment, the power of community, and everything in between.
Cultivating a strong sense of community engagement, education, and empowerment at least 3 youth from the local YWCA will take a stand and uplift each other as the elders pass the baton to the next generation of youth who are bold and epitomize power rising. They are the highlight, pride, and joy of the Freedom Fest.
They gather to declare freedom and to commemorate the emancipation. Octavia Edwards is calling it "the celebration of the journey to Freedom for the community, by the community."
Right on the brinks of the Cooper River, reflections of strength of our ancestors stare back at us from the waters. It reminds us that there is still a mirror etched upon the waves that flow back and forth from the sea – reminding us of our true colors, self-image, and worth as they settle into still waters.
The popular venue features a large meadow and performance pavilion as the fest kicks off with live entertainment, youth poetry, a unify stroll ending with a grand fireworks finale.
The waters nearby serve to remind of the long journey our ancestors made to the seaport state of South Carolina. Rich in black history, the city of Charleston is a landmark 80% of African American's can trace an ancestor back to Charleston, SC.
With a special Emanuel 9 commemoration right before the grand fireworks finale, what Edwards wants most is for attendees to feel liberated. "It's the feeling of liberation that I want to resonate throughout the festival," Edwards tells Sheen.
Edwards recently sat down with Heart & Soul Magazine to discuss the 3 years in the making of Juneteenth Freedom Fest Charleston celebration.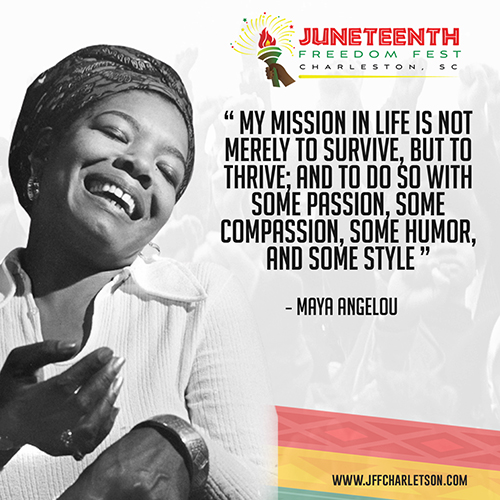 What type of impact do you want the festival to have on the culture? 
The type of impact that I want the festival to have on black culture is a sense of pride, empowerment, and liberation. Our mission is to Edutain and provides our people with resources that will empower them and their children. We have endured so much oppression as a people and still, we stand and fight for true freedom. Juneteenth Freedom Fest Charleston is about our community coming together and celebrating us and commemorating those who have sacrificed to get us where we are today. And, we are still going to have a fantastic time.
Charleston is abundantly rich in black history due it being a major seaport that brought our ancestors into enslavement to disperse them into other states. In what ways will this gathering educate attendees on breaking generational bondages and chains? 
Yes, Charleston is definitely abundant in rich black history because The Port of Charleston was the largest slave port in the United States and most enslaved Africans passed through the city. According to the International African American Museum, "Nearly 80 percent of African Americans can potentially trace an ancestor who arrived in Charleston." Nonetheless, education remains the foundation to breaking generational bondages and chains but raising your consciousness is key and a process that takes commitment through studying and becoming engaged in our community. African American and Black history in Charleston runs deep, especially when we discuss the Gullah Geechee people. Even right now I am learning more about my Gullah Geechee ancestry. What I find very empowering to just know is that we had Gullah Geechee Warriors that literally fought for our freedom and engaged in guerilla warfare. Look up the Gullah Wars. This was something that was a well-kept secret, for the simple fact that knowledge is power. Our heritage in Charleston is rich and unique. Those who attend will leave feeling liberated.
You partnered with the YWCA to bring 3 youth poets to the stage. In light of so many youth feeling silenced and voiceless, what type of influence do you want them to have on each other? 
We must create or provide a platform for our youth to use their voice. The youth have a lot to say, and we should listen. The influence that I want them to have on each other is to inspire one another. Inspire each other to stand up and speak up, to be a part of social change, and do not be afraid to challenge the status quo. By having our youth involved we are preparing them to be the future that they need to be. I am a mother of four daughters. Having them be a part of this celebration and witnessing 3 YWCA youth poets using their voice is what I am most excited about.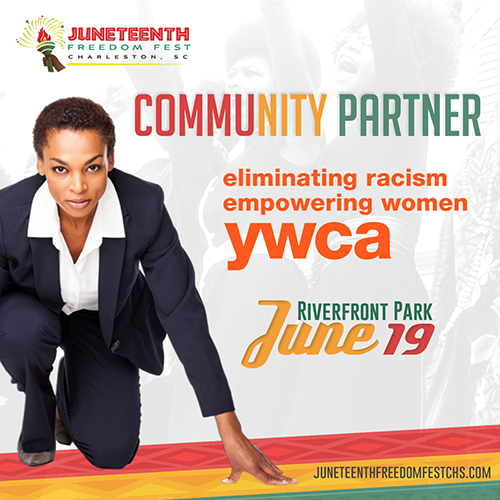 For more information, click here.
This article was written by Jessica L. Dupree and edited by Mattie Reaves 
Art of Daniel Green 
photo submitted by Candice Cohen