If you love to travel like me then you know how easy it is for your luggage to be grabbed by the wrong person or even stolen at these busy airports. I've tried many things like placing bright colored ribbons or even stickers to make my luggage stand out so that I can decrease the chances of someone assuming it belonged to them because it looked like theirs.
Well Justina Ware not only had a goal in mind for creating luggage and gear that stood out for travelers but creating gear with more melanin designs. What better way to keep up with your things if it looks exactly like you right?! No confusion there by any means!  She started a company called Custom2Fly to address the lack of melanin representation in regards to accessories in the marketplace. As an avid traveler, she wanted her luggage to be a reflection of herself through a character. She noticed that in her hometown (and also where she resides now) of Toronto, Canada that this was especially hard to find.
"We took it one step further and also offered customization! How cool would it be to have your face (as a drawing) on your luggage? Or to have the special child in your life as a cartoon on their backpack?" says Justina Ware.
Justina states that her inspiration for getting involved in the accessory industry comes from her love for travel.
"I love to travel! It was hard to find accessories that represented me (and those that look like me) so I decided to be the one to start."
Having been in business since May 2019, she knew that creating customized products would help make customers feel more confident and excited to show off their unique gear when traveling. Justina mentions that since the start of her business she has experienced great success with travelers as well as with the children who enjoy the colorful life like backpacks! She plans to continue to connect with those interested in her products and mentions she has some other major projects in the works that she will be sharing with the world soon!
"I love going to another city and being able to connect in person with those that are interested in the products. I've also got a few other things in mind but I won't reveal them quite yet! Stay tuned!"
Outside of offering luggage, Justine gives customers the chance to purchase unique passport covers, and even customized blankets!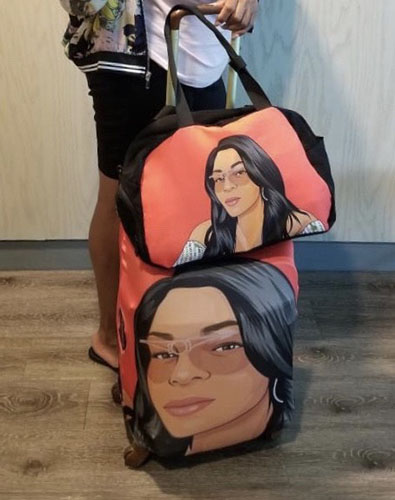 Connect with Justina Ware and discover more about her brand by visiting the Custom2Fly website.
Instagram, Facebook, & Twitter.
All images courtesy of Justina Ware