When I think of my MUST-HAVE products that I have to use on a daily, Kanti is definitely one of my top 3. Being a woman of color I have dealt with some of the same struggles that other women of color have dealt with; blemishes, acne, dark spots etc.. However, when I found my PERFECT skincare regime it was a definitely a major relief. Kanti was created to un-komplicate skincare for people of color and help them find their glow. They are are a modern, homegirl approved skincare brand, catering to the needs of melanated millennials. Since sharing is caring, I wanted to give our readers a exclusive interview with the owners of the brand to get their backstory and more…
What's the backstory on how you started Kanti? 
Keamone F: As a dark skinned island girl, growing up in the small island of Antigua, I always struggled with self esteem and self love. I come from a place where you were made to feel less beautiful if you had a darker complexion, and for years I believed exactly that. I didn't think my skin was beautiful at all – I hated being "so black". It wasn't until my sister, Alisha (who is now the Co-Founder of Kanti) introduced me to skincare in college that I realized overcoming self-loathing would begin with me learning to love and appreciate my skin. Fast forward to now, skincare has become a source of ultimate self love for me. Taking care of my skin makes me feel more beautiful than ever and I have grown to truly be in love with my skin and who I am. As a content creator and micro-influencer, I have been blessed to be able to connect with other women who have gone through similar trials when it comes to being comfortable in their skin. I have been able to bond with them over the topic of skincare, whether it's giving product recommendations, helping them create a regimen, or just sharing tips. It became my purpose to help them. It became my purpose to create a skincare line that would address all the common skincare concerns for my fellow melanin-rich women. Since both Alisha and I are passionate about skincare, we decided to join forces and create a skincare line to help un-complicate skincare. Kanti is our way of helping girls and women just like us learn to love the skin they're in and feel beautiful no matter the complexion, no matter the genetics, and no matter the skin concerns they might face.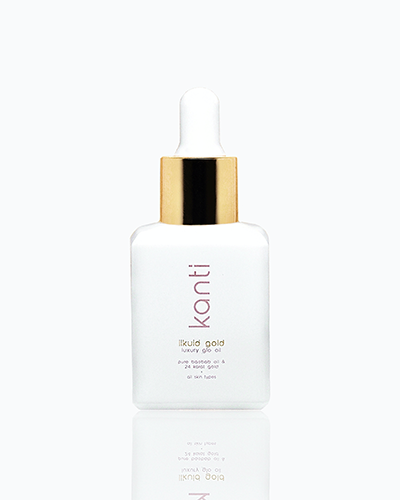 How has COVID affected business and what have you all done to pivot during these current times? 
Alisha Ricki: Just like many small businesses, Covid 19 has definitely presented us with unexpected challenges this year, but it was an even bigger struggle for us as a new brand. The virus notably hit the US right when we officially launched our brand and first product – Likuid Gold, back in March and it definitely threw our plans and projections completely off the rails. Logistics that we had planned with room for error, became a complete nightmare. The launch campaign we had worked so hard to create saw little visibility, as people began to panic & turn their attention to all things coronavirus. Everything that could have gone wrong, did. With a humble start-up fund, we had no choice but to think fast. In an attempt to stay on track for this year's goals, we quickly shifted our launch strategy and leveraged our network to generate as much organic reach as possible. We were forced to delay our pre-order shipments for over a month; which really made us uncomfortable, as we didn't want to leave a bad first impression on our new customers. Thankfully, our community was very understanding throughout this tough time, and they showed up for us in a way that we couldn't have predicted – and for that we're super grateful!
What has been your favorite "Quarantine go-to makeup looks"? 
Alisha Ricki: Although I LOVE makeup, I've always loved a bomb bare-faced moment even more; so I've been happily skipping out on makeup, while taking extra time to indulge in my skincare routine during quarantine. I always top it off with Likuid Gold to give my skin that healthy glowy' look every single day, and I've been loving the care-free vibe of it all.
Keamone F: I live for glowy, barely-there makeup, so when it comes to quarantine, I loved having an excuse to wear less makeup if any at all. I've finally perfected the "your skin, but better" look that basically leaves me with a healthy, luminous & natural looking complexion. Tinted moisturizer, concealer, brows, some mascara & popping lip gloss has been my go-to.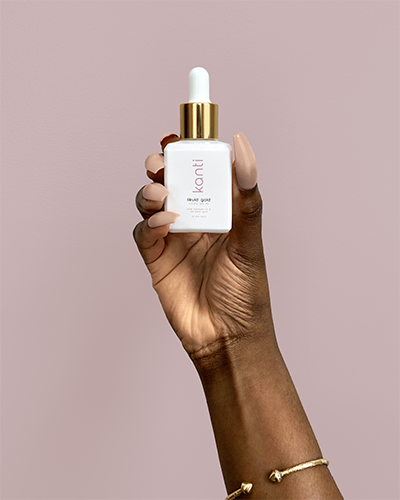 I have been using your product since receiving it in the mail and I can honestly say Kanti has definitely superseded my expectations. So in your own words tell our readers what makes your product stand out? 
Keamone F: Simply put, it's the world's best facial oil lol But seriously, what makes Likuid Gold so special is that it's a unique blend of baobab oil & 24 karat gold – that's it! It's super simple, but super powerful at the same time. We didn't want to add any fragrance, dyes, or any of that extra stuff. We gave it to you straight so that you would be able to experience the straight benefits of the ingredients. Our baobab oil is ethically sourced from the heart of our motherland and remains in its purest form. When coupled with 24 karat gold, you get a multi-benefit oil that not only delivers extreme moisture without ever being greasy, but also boosts collagen production to reduce fine lines/wrinkles, improves skin texture, protects against free radicals and helps correct hyperpigmentation. The best part is that it actually works for all skin types!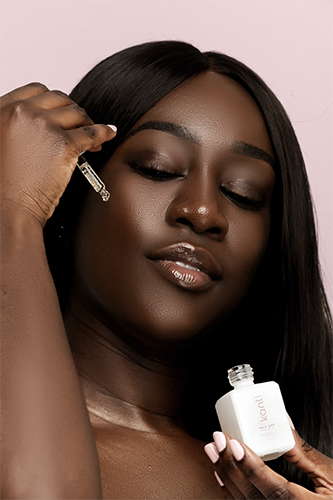 Millions of people read Sheen Magazine and I strongly believe in the power of manifestation, so who is on your list of the top 3 people who need to be using Kanti products? 
Alisha Ricki: Let's be honest – everybody needs Kanti in their life (laughs) – because we make our products with love and they're bomb! But, it would be an absolute honor to see Rihanna, Jackie Aina & Beyoncé enjoy Kanti. These women have been advocates for inclusion, black female-empowerment, and loving the skin you're in, since day one. They've been such an inspiration to us both and I think their core values and work ethics are exactly what Kanti aims to embody.
What next for Kanti ? 
Alisha Ricki: We intend to roll out a full line of skin care products that hit all the basic skincare needs while catering to our community's biggest skin concern – hyperpigmentation. Our original plan was to have our 2nd product launch this summer – but COVID19 has delayed our timelines; so we're hoping to have that launch in December. Lots of great products coming within the next year, so definitely stay tuned for that!
What is your favorite quote?
Alisha Ricki: "Whether you think you can, or think you can't – either way you're right" – I truly believe that everything you want to achieve and possess in reality, you must first visualize in your mind and then relentlessly act accordingly – mindset is the foundation of success! 
Keamone F: "Grow or outgrow – either way, keep growing" This is my life mantra because I believe that growth is inevitable. Good things can't come without growth. It is uncomfortable, & sometimes painful but growth is the only way we can allow ourselves to become our best selves.
Follow Kanti on Social Media at: @kanti.us
For more on Kanti, click here.
All images provided by Kanti