The founder of D.O.P.E Healing, a concierge IV therapy and wellness clinic, Keisha specializes in helping clients unlock the healing power of holistic health. With over 5 years of experience at the helm, Keisha is an ER travel nurse who specializes in Pediatric and Adult Emergency Medicine. Her love for helping others was initiated at a young age and, over the years, has revolutionized that experience by infusing comprehensive wellness methods for clients all over the country.
Who is Keisha Brown?
A woman that values every role that makes me who I am, Daughter, Mother, Wife, and CEO.
Each role allowed me the ability to create and nourish. And bringing that to fruition along this process has made me better and more appreciative of those in my life that helped guide my footsteps. Keisha is merely a reflection of those that have loved me into who I am today.
Was being in the medical field always your dream growing up and what lead you to become a nurse?
Growing up, I couldn't have seen this career for myself. I never imagined myself working in a hospital or with patients and blood.
As a teen, I always had a heart for people and wanted to do everything I could to take away their troubles.
As an adult, I found a career that values empathy and support and I took that foundation to a career that would improve the life not just of myself but my family and those around me.
I was fortunate to find something that provided an income while making an impact.
What led you to want to become a Traveling Nurse?
Wanting to do more with my career.
I felt stagnated in my position and wanted to take my career into my own hands.
I wanted to recharge by obtaining new skills in new locations. The new scenery was nothing more than a breath of fresh air and allowed me and my aspirations to want to achieve and strive for new heights.
When it comes to nursing, and all that it intel's, what is it that keeps you going and pushes you to remain in the nursing field, especially during these trying times?
Nursing for me is not just a job but is a reflection of who I am. A person that believes in making a difference by helping the person next to me. Being a comfort to a person in their time of need or trouble.
As a nurse what I find most rewarding is saving a life, taking away the pain that a person endures.
Being a shield, being a protector, being a lifeguard
Knowing that there is someone who is hurting, knowing that after I help one, there is another case, another person, who still needs help. That makes it all too real, that my job is more than just a job. I am needed. Making me and my profession invaluable.
When the pandemic was first acknowledged, what motivated you to continue pushing forward daily?
Being a nurse on the frontlines did not begin with the pandemic, for me every day I had a duty/ responsibility to help. The pandemic only illustrated how important first responders are needed and valued.
Can you tell us more about how infusing a comprehensive wellness method for your clients all over the country became a benefit to your clients and what are the methods you use?
Traveling across the country increased my skill and comprehension of patient healthcare. It began in working not just in different locations across the country but with different departments with new roles and responsibilities. I learned in the different fields, new skills to make me an overall better nurse.
You are currently the primary nurse with Tyler Perry Studios and Warner Brothers studios, can you tell us how that came about?
I served as lead nurse for both companies, it was a humbling and rewarding experience. I received a call while working in Florida as Lead for a testing facility, that Tyler Perry wanted nurses to test his staff and crew to resume production in a healthy and safe environment. He set the trend for providing a safe work experience during the peak of the pandemic.
As the founder of D.O.P.E Healing, can you tell us more about it, and what does D.O.P.E stand for?
Delivering Only Positive Energy. I was in a dark place at a time, even with the career. Being a DOPE person is what I aspired to be, and by helping people I was doing just that.
I found a new way that I can be of use and to make others feel better. And from there I used my experiences and skills to bring health wellness to my community with covid testing, IVs, vitamin shots, and vaccines.
I am building a rapport with my community and bringing awareness to healthy living and showing that the healthcare community can be trusted again.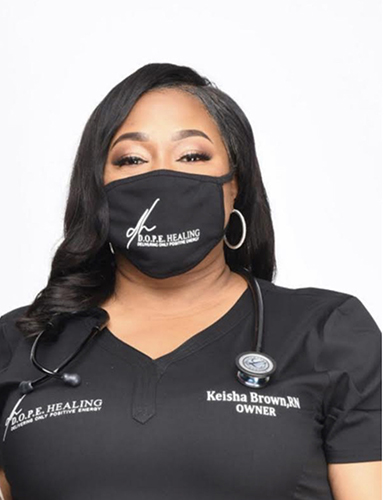 For those that may be interested in starting a career in Nursing, especially as a traveling Nurse, what advice would you give them?
As a nurse there are many rewards, however, those are for those dedicated and believe in what they are doing. I would advise that you make sure that this is a CAREER you want to do. Don't chase the money, the money will follow but you have to possess compassion and empathy. You take an oath to heal, help and protect.
As a traveling nurse, it's important to have your basic foundation of your specialty and skill set. Be aware and ready because you don't get as much on the job training, there is no long orientation. Know your basics, Mind your bedside manner. If you don't have it, get some quickly.
Be confident in what you're doing as there is no one there to hold your hand. You are there to fill a void.
How can people connect with you and everything you have going on?
Reach out, I do my best to make myself available to my clients and if there is someone out there who I can help guide their steps on their own path, I am willing to help. I'd like to be that support and/or resource because I understand the difficulty of branching out to a dream of your own.
I am available on my website, on Instagram, or email: dopehealingatl@gmail.com
All images by Nathan Pearcy