Kenya Sheats is on a mission to share her journey to self-publishing her first book '100 SHEATS.' The new book allows readers to explore Sheats' trials and tribulations through self-love, entrepreneurship, anxiety, transformation, and success! We wanted to catch up with her to discuss all the details on her exciting book and much more!
Tell us about your first self-published book, "100SHEATS."
100SHEATS is an inspirational memoir expressing God's love through vulnerability. It's also my perspective on life, on reality and how to navigate through it.
The word SHEATS is actually a play on my last name and it's also an acronym for: Self-Love, Hope, Entrepreneurship, Anxiety, Transformation, and Success, which are the chapter titles in my book.
Readers can expect to receive contagious inspiration, original stories, 2 weeks of devotionals, journal entry space, motivational bible verses, empowering affirmations, wisdom, and more.
What do you hope each reader takes away from this book?
When I created the concept of 100SHEATS, I wanted to make sure that readers could relate to what I was going through and writing about. I believe we all share similar struggles, adversaries, and life experiences, we just all have a different way of coping and overcoming those things.
However, we still can learn from one another and piggy-back off of the behaviors and solutions each of us choose to embrace and implement with hopes of coming out on the other side whole, renewed, forgiven, healed, and rejuvenated.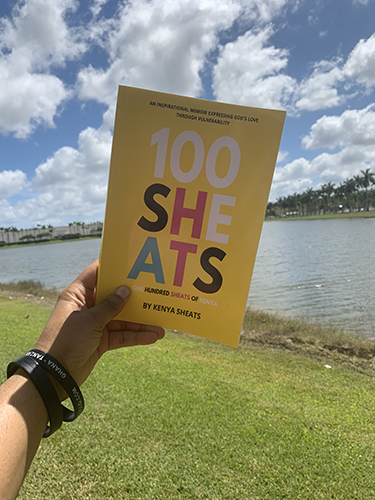 Do you mind sharing with us the tragic event that involved gun violence that inspired you to focus on writing and self-publish your first book?
Back in November 2019, my childhood bestie, Keon "Coop" Cooper who I have known since middle school was murdered on the Southside of Chicago. It's crazy because he was from Flint, Michigan and when growing up he would tell our friends and I how the crime there was so bad, and that people were dying there everyday. I would have expected Flint to be a place where this occurred, not in Chicago. And I'm not saying that he was a bad person because he was far from it. I believe he was at the right place with the wrong people and they took advantage of his kindness and caught him slipping and off guard.
I remember getting the news, I was visiting my grandmother and when I woke up the morning of November 3rd and scrolled down on Facebook, I saw someone posting RIP Keon. This took a toll on me because he was an active user, like he would be online every day and he would put a smile on our faces with just the things he would post and say. I'm sure his followers and friends got used to his comedic ways and how much of a loving father he was.
With this being said, my 28-year-old friend was no longer with us after 15 years of friendship and that broke my heart tremendously. I felt a pain I've never experienced before throbbing at the core of my soul. I didn't take this sense of violence too lightly and it still doesn't sit well with me today. However, for me to overcome the pain, I called out on the name of Jesus, asked for him to mend my brokenness and did what I only know to do best, which is to start writing. And that's how 100SHEATS was born.
My pen and journal have become my go to counselors in my time of adversary. I'm always giving birth during a tragedy because using that pain as fuel only helps me to see things with a newer perspective and for me to take advantage of the time and opportunities that I still have and to do so with purpose, with greater intentionality. I am my brother's keeper and I am sure he is with me as I travel on this new path of destiny called "Authorship."
Do you mind sharing your best advice to our readers to get through our current pandemic?
If you are anything like me, I encourage you to continue to put your faith in God and turn from the spirit of fear because that's not what he has given us. I have seen God do many things and forsaking his own is not one of them.
I know this pandemic has more to do with what we can't see beyond the surface, which is why I've decided not to lean onto my understanding but to acknowledge God because he will direct my path. I've learned that focusing on what I can control versus what I cannot has given me this peace of serenity, hope, expectation, and creativity.
I know a lot of people like to focus on "The Rise and The Fall" but a Pastor said one Sunday morning that he now focuses on "The Fall and the Rise." I believe for things to get better they have to get worse, and we have already seen worse as a country, nation, world, and as individual people.
Honestly, if we are technically at the bottom, then we can only go up from here. So I want to encourage you to find a happy place, whether that may be painting, drawing, watching your favorite movies, listening to your favorite artists or albums, working on that book you've been procrastinating to write or to finally turn that idea into a small business.
Now is the perfect time to really get our minds on straight, to rest, reset, and refocus because times are changing, and it depends on what we do in this time that will make a difference once this pandemic is over and done.
My book 100SHEATS is written to inspire people to hold on and never give up, to learn how to love themselves as well as forgive themselves in the process. A Lot of people are out of tune with who they are and who God has called them to be, and now is the time to figure it all out. We can longer allow our "busyness" or our excuses to hinder us from reaching our highest potential. So, without further ado, please get a copy of 100SHEATS and share it with your friends, family, or colleagues. This one is for the house, the church, and for the non-believer.
Are there any upcoming projects you can tell us about? What can we expect to see from you in the years to come?
Yes! I am currently working on launching a podcast as well as creating an EP for 100SHEATS which will be available on all streaming platforms. I'm also planning a book tour and I plan on helping other first-time authors write and give birth to their first self-published.
Great things are on the horizon, so please stay tuned and how you can do so is by visiting my website and following me on Instagram.
Featured Image by MyWay Media