It's time to give praise and that's exactly what we're doing this weekend! Tune in on Sunday, August 23rd to experience the 35th Annual Stellar Awards airing on BET at 6pm EST, there will be a rebroadcast at 9PM EST and trust us you don't want to miss it! COVID-19 isn't stopping us from giving praise and shouldn't stop you either! Here at Sheen Magazine we salute this year's top-tier nominees and are excited to celebrate all the nominees and winners on Sunday. Sheen magazine had a chance to catch up with Grammy nominated Artist and Gospel Singer, Koryn Hawthorne about her new single "Pray" and what fans can expect from her in 2020. Check it out in this Sheen Exclusive!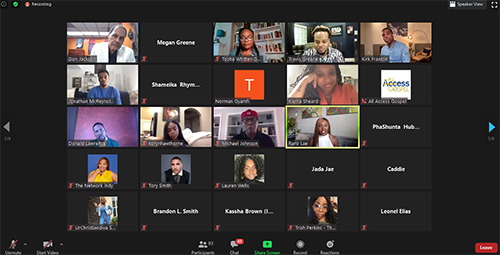 The entertainment industry has been immensely impacted due to COVID-19. Yet, we're still celebrating and giving praise. What does it mean to you to be recognized and celebrate during these uncertain times?
It means a lot to me really and I'm really excited to be amongst Gospel Legends like Kirk Franklin, Jonathan McReynolds and more. I'm grateful and I want to be an inspiration now more than ever.
Your latest song "Pray" is definitely on repeat nowadays. What was going on through your mind when you wrote this song and decided this is what the world needs now?
I wrote the song last year in 2019, before the pandemic began. I went into the recording studio and everyone in the studio, we just became vessels of God. The funny thing is, it was not supposed to be the first single, the devil was busy and tried to fight. However, God's timing is always perfect and on time. I believe the song is more relatable now more than ever. Praying is essential and I'm just honored to be the messenger.
What's next for Koryn Hawthorne? What can our readers expect from you in the future?
My Album is dropping September 18th. You can definitely expect possible television opportunities and the rest hmmm…I'll just keep to myself. (she laughs) I'm excited for what God has in store for me and for everyone to witness. Amen!
Again, Be sure to check out the Stellar Awards airing Sunday August 23, 2020 at 6pm EST on BET!
Stay Connected with Koryn Hawthorne on Facebook and Instagram.
Featured Image by Rob Ector