The Grown Star shines bright as a powerful voice for young Black women
FOR IMMEDIATE RELEASE
Your inner beauty is your power. Don't let this harsh world's opinion of beauty make you feel less about yourself because you are beautiful. Wake up, workout, participate in self-love, and self-mental elevation. Let the world see your beauty unabashedly! SHEEN Magazine celebrates YOU, and pays homage to your effortless beauty and resilience. Our illustrious Beauty issue personifies that natural is the forever beauty trend that will never go out of style.
To pay homage to our Beauty issue is none other than the outstanding actress, Kyla Pratt. The celebrated actress and singer is synonymously known for her role as Penny Proud in the first Black animated series for Disney Channel, The Proud Family. In our cover story exclusive, Kyla Pratt reveals her perception of beauty, and shares her journey as a young Black woman with well over three decades in the world of entertainment.
"I can't sit here and say I have perfected feeling amazing and beautiful because we are all human beings, and we all have our days. I realize that when I do things that I know are good for me, I feel better about myself, physically. Whether that's working out or some type of cleanse to where I'm only putting natural things in my body that makes me feel better.  It's going to affect me mentally."—Kyla Pratt
Our double cover features comedian, influencer, and serial entrepreneur, Pretty Vee. The hilariously candid, superstar shares how her authenticity and confidence in her own skin led her to her rise in fame.
"It's all about enhancing. Internally you have to be beautiful and externally you want to be the same way. Having beautiful skin is an absolute must and taking care of that skin with natural products is very important. I want women to feel great about who they are."–-Pretty Vee
Snowfall star, Angela Lewis connects the dots on how having gratitude creates a beautiful life, while self-proclaimed cultural muse, Kimberlee Brown Mighty, reveals the beauty products that create her very own iconic makeup look. Atlanta based MUA, Teisha, dishes on how to stay afloat in an ever-changing beauty industry. Join the celebration of a SHEEN milestone with the OGs of our very own IG Beauty Tour!
Our featured Stylist Spotlight, Erie LaRen discusses how the struggle to find clothes that catered to her body transformed into her very own line. Smooth on and off the court, WNBA star, Ty Young shares what it takes to create a successful fashion brand in our exclusive Designer Spotlight. This isn't click bait! We've got you covered with the most Instagrammable trends soaring through our feeds!
Southside Chicago native, Edo turned peer pressure and depression into his own creative artistry in our Artist Spotlight. Side Hustle star, Jacques Chevelle recounts his mission to represent minorities through his comedic work; while certified personal trainer, Nicole Singletary whips us into shape for a better, stronger lifestyle. We had the opportunity to tap into the inspiring story of how Alexis aka "She Just Left" walked out on faith and made the MOVE. And we've got a buffet laid out for you to have a seat at the table, as we consume the beautiful art of food and expression with celebrity chef, Chef Way of Cookinwithway LLC.
SHEEN Magazine's March/April 2021 The Beauty issue hits stands on Tuesday, February 23rd.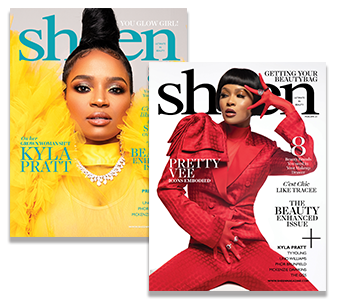 About SHEEN Magazine
Sheen Magazine is The Ultimate Beauty Guide for the modern day woman. The lifestyle and beauty publication is the preeminent voice on new trends, techniques, and products. Sheen Magazine is a national and international distributed publication. Published bi-monthly, Sheen Magazine maintains its influence by always remaining current on the trends of beauty, fashion, hair, and entertainment. The publication seeks to cultivate, educate, and motivate, encouraging the full potential of their readers. The Ultimate Beauty Guide and can be purchased nationally at Target, Walmart, Walgreens, Books-A-Million, and Barnes & Noble. Visit us online at SheenMagazine.com and follow us on Facebook, Twitter, and Instagram @sheenmagazine.