Lamar Dunn, popularly known as Superman to his followers is a man on a mission to help others become more aware of health and wellness skills. The Troy, Alabama native has only grown more motivated during our current pandemic to help others. We caught up with him to discuss how we can stay in shape during COVID-19, learn how he stays motivated, and much more!
Where does the nickname Superman come from?
Great question! The name Superman actually generated from my followers and supporters. When I started my fitness journey several years ago, I basically documented my entire journey on social media. My supporters saw my transformation and witnessed me grind day in and day out. With that mindset to get up and stay active, my followers got to see how I changed my life and found a way to stay inspired and motivated to change my lifestyle. I take time to inspire others by keeping it honest and 100% throughout the process.
Can you describe how quarantine life has been for you so far?
Honestly, quarantine life has been pretty interesting for me. I've been able to turn a negative into a positive by reaching out to my followers in an engaging fashion. I want to keep others motivated during this time because this pandemic has really hit people hard mentally. This has inspired me to change someone's life by giving them some type of inspiration during this time of quarantine. We should focus on what truly matters in life and stay positive. This pandemic has taught me to focus on family and peace of mind. This has given me time to think more, focus more on my business and endeavors, and rest. A lot of times, I'm my own worst enemy because I tend to go hard sometimes. This pandemic has allowed me to rest and recovery in order to take care of my body – physically and mentally.
What are you doing during this time to stay motivated when it comes to a healthy lifestyle?
For me, I tell people all the time that you should remind yourself daily why you started your journey, what your goals are, and where you want to be. I wake up and remind myself why I got into this lifestyle and why I want to be healthy. I came from a situation where my doctor warned me that I was in bad health. I was at risk of having a heart attack and/or stroke. That is my daily motivation. I remind myself of that conversation I had with my doctor. You have to find your why and your purpose to live that healthy lifestyle every single day.
What advice would you offer our readers to stay in shape during the pandemic?
The best advice that I can give is to keep a continue mindset daily. Remember that your health is wealth. You must treat your body like it is your most valuable asset. The reality is when we're in great health, we're able to excel physically and mentally. One of the biggest tips I want to leave people with is to use this time to learn to meal prep or develop a routine. We all have extra time on our hands now. Use this time to develop a healthier habit and lifestyle. Learn to get healthy, learn meal recipes, or even get in the routine of working out. We have time now to develop those healthier habits. My advice is to create a habit and use this time to your advantage.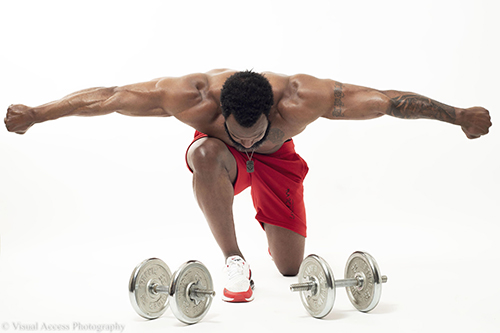 What can we expect to see from you in the future?
I have some super exciting things coming up. The saying goes, "Superman always returns." One thing that you will see from me is my return back to the body building scene. I'll be competing on stage hopefully in the very near future. Superman is returning to the stage. You're also going to see an expansion of my Stay True movement. The movement is to inspire others to go after their goals and never quit. That's the mindset of my business. I want to continue to expand that and help educate people around the world to go after their dreams. One tidbit that will probably shock a lot of people is that I'm going to explore and get into acting again. I've taken on some new roles so be sure to be on the lookout for me.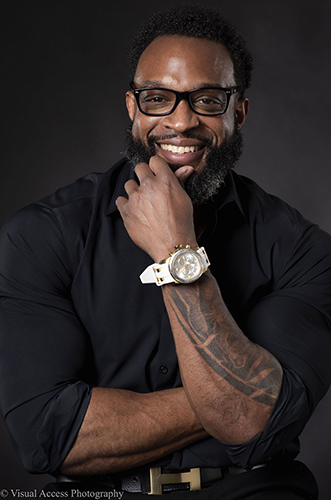 For more on Lamar Dunn, click here.
Follow him on Instagram now!
All images by Bo Harris of Visual Access Photography.